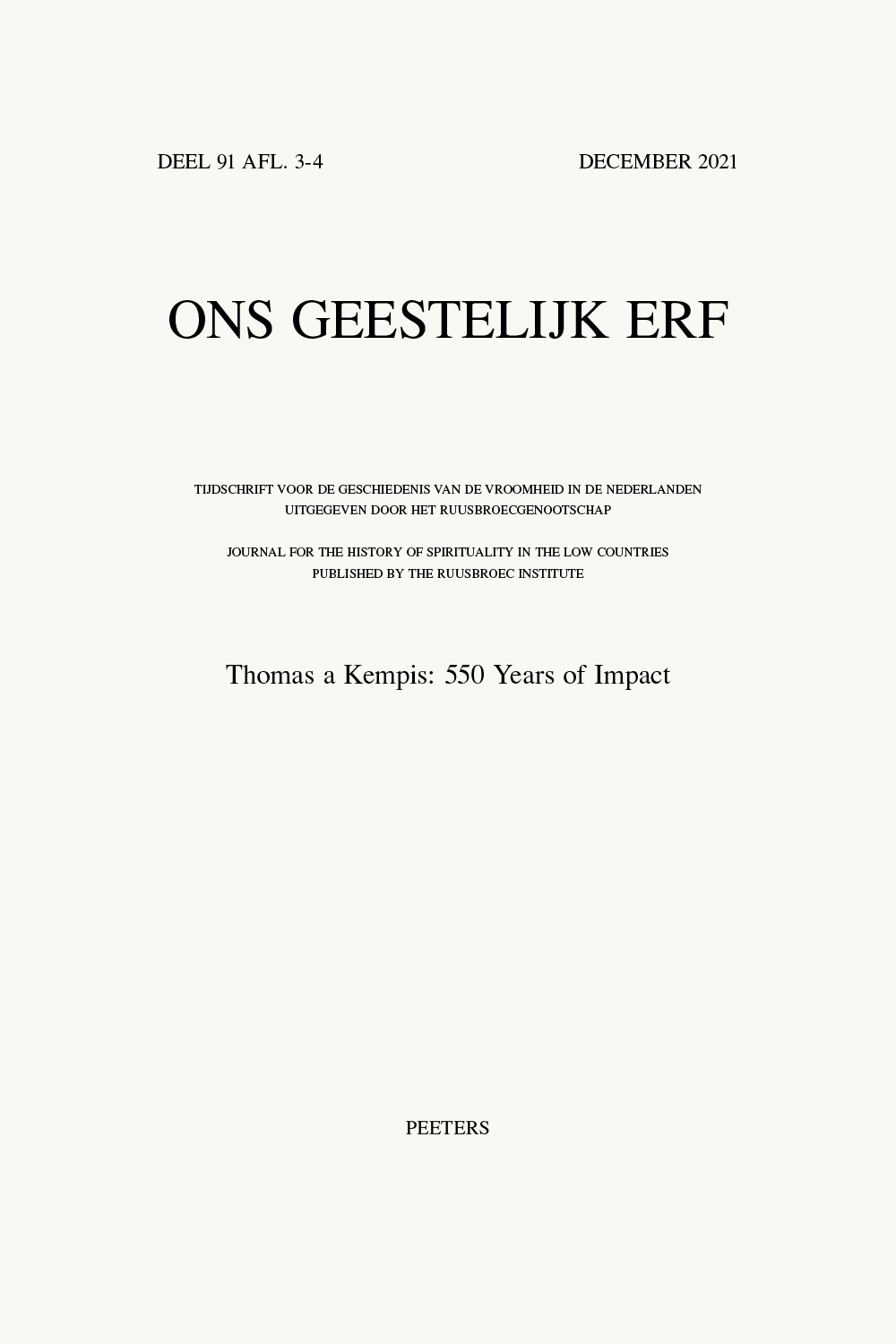 Document Details :

Title: De editie van Ruusbroecs Opera Omnia in wording
Subtitle: Bij het verschijnen van Vanden XII beghinen
Author(s): DE BAERE, Guido
Journal: Ons Geestelijk Erf
Volume: 74 Issue: 3 Date: september 2000
Pages: 255-263
DOI: 10.2143/OGE.74.3.616454

Abstract :
This article is an adaptation of the lecture given on the occasion of the publication of volumes 7-7A of Ruusbroec's Opera Omnia, Vanden XII beghinen, prepared by Dr. Mikel M. Kors (March 17, 2000). The edition of religious texts from the Netherlands has been the first and foremost aim of the 'Ruusbroecgenootschap' (Ruusbroec Society) right from its start. An edition of Ruusbroec's complete works was published in 1932-'34 and a revised reprint of this edition in 1944-'48.
In the fifties, research was done by A. Geerardijn S.J. to prepare a scholarly edition but only in 1981 did the first two volumes of the Opera Omnia (Boecsken der verclaringhe, Vanden seven sloten) appear, followed by volume three (Die geestelike brulocht) in 1988, volume ten in 1991 (Vanden blinkenden steen, Vanden vier becoringhen, Vanden kerstenen ghelove, Brieven) and volumes 7-7A (Vanden XII beghinen) in 2000.
On the occasion of the publication of these last volumes an evaluation of the edition is in order. On the positive side we mention the quality of the critical text, which stands out well against the accompanying variant apparatus. On the negative side there is the absence of chronological clarity in the succession of the volumes and the lack of focus on one definite audience. Finally the article highlights the merits of M. Kors's edition of the Beghinen.


Download article