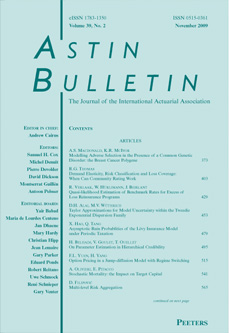 Document Details :

Title: Analysis of the Expected Shortfall of Aggregate Dependent Risks
Author(s): ALINK, S. , LÖWE, M. , WÜTRICH, M.V.
Journal: ASTIN Bulletin
Volume: 35 Issue: 1 Date: May 2005
Pages: 25-43
DOI: 10.2143/AST.35.1.583164

Abstract :
We consider d identically and continuously distributed dependent risks X1,...,Xd. Our main result is a theorem on the asymptotic behaviour of expected shortfall for the aggregate risks: there is a constant cd such that for large u we have E[Σdi=1Xi∣Σdi=1Xi≤-u]~-ucd. Moreover we study diversification effects in two dimensions, similar to our Value-at-Risk studies.