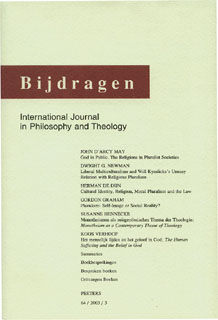 Document Details :

Title: Tijd en eeuwigheid bij Meester Eckhart
Time and eternity in the works of Meister Eckhart
Author(s): COMMANDEUR, Peter
Journal: Bijdragen
Volume: 61 Issue: 2 Date: 2000
Pages: 136-151
DOI: 10.2143/BIJ.61.2.565651

Abstract :
In this article I deal with the question of how time and eternity can be linked or even how they can come together, for they are in themselves incompatible. The problem is expounded with the help of Meister Eckhart's mysticism. For Meister Eckhart knows of a unity between God and man that is no moment of exstasis but durable in time.
In the first part of the article I give several metaphores Eckhart uses to describe God and man getting one, and the feelings that go along with it: or, for that matter, the feelings resulting from God and man remaining apart. In the second and third part of the article the problem of the unity of God and man is approached from two sides: l. man becoming God; 2. God becoming man.
1. Man becomes God by means of what I – anachronistically – call 'amor fati': the love for everything that inevitably happens, or, even stronger, wanting these events to happen. This brings about a comparison between Eckhart and Nietzsche, the one who coined the word 'amor fati'. With all the differences, both Eckhart and Nietzsche know the joy of man's godliness by means of the amor fati.
2. God becomes man because of his love for man. And then, Eckhart is thoroughly ingrained with the idea that man is nothing compared to God. So God's love becomes tragic: God gets involved with life in time, with all the shortcomings and misery that implies. Secondly, man who did become God, becomes, like God, man again too, out of, of course, love for his fellow men.
So time and eternity get linked in an exchange of the qualities of God and man. Nevertheless, man does not end up with being God, or God with being man, for two reasons:
1. God had already involved himself with time with the creation (and the incarnation); and man, being capax dei, had already been meant to be eternal, then. So God and man become what they, basically, have always been.
2. The exchange between God and man dialectically dissolves – "hebt auf" – in neighbourly love. So, although God and man remain together, their unity does not become 'stable' in the sense that God and man in their unity are not changing anymore. In this way, the problematic nature of the relationship of time and eternity does not get acute.