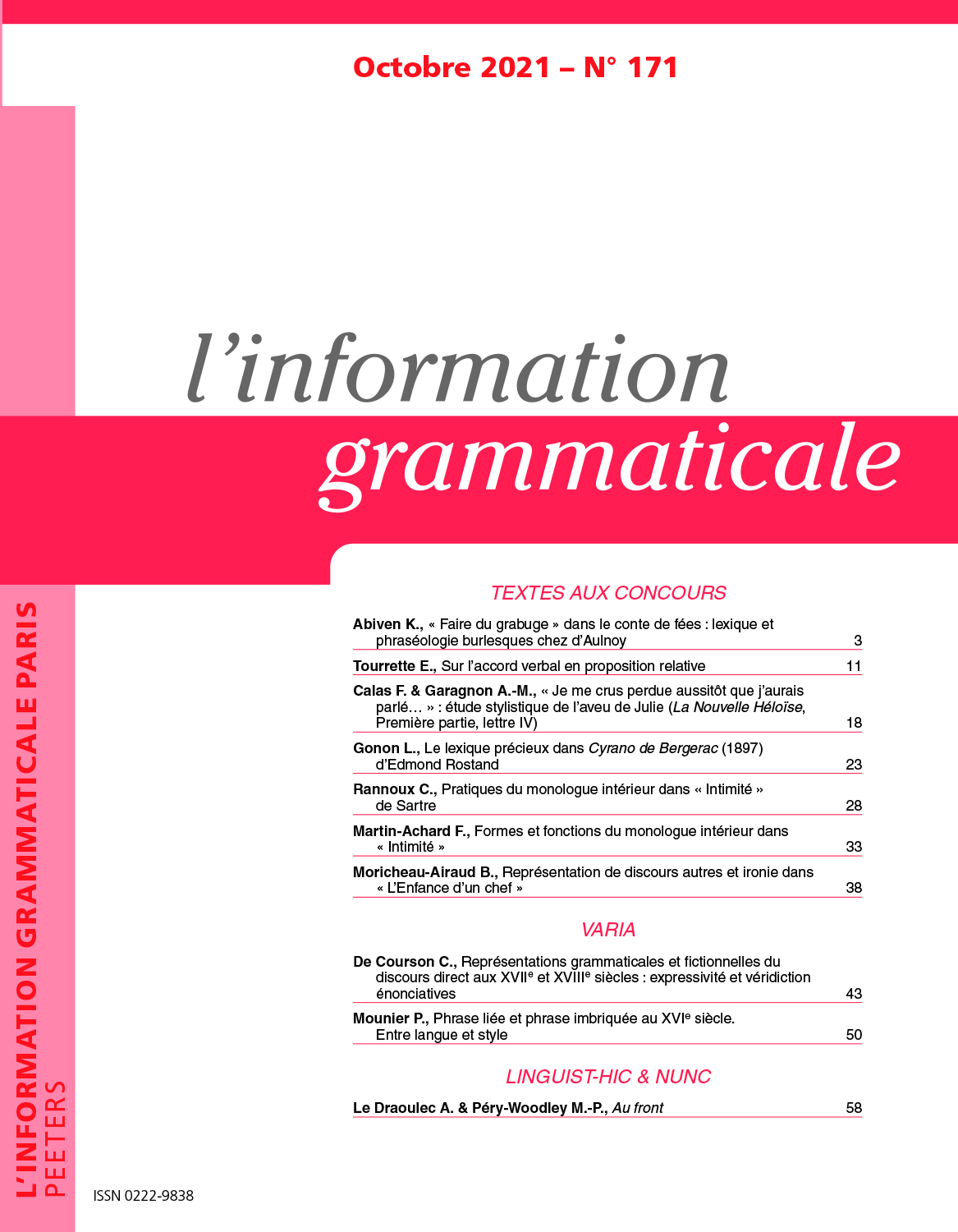 Document Details :

Title: Eléments stylistiques pour une étude de l'écrit-cure
Subtitle: A propos du 'Sexe inflammé' de Michel Leiris
Author(s): PIAT, Julien
Journal: L'Information Grammaticale
Volume: 105 Date: mars 2005
Pages: 48-51
DOI: 10.2143/IG.105.0.562953

Abstract :
Programmée, au sein de la poétique de Leiris, pour être orientée vers sa propre mise en danger, l'écriture de L'Âge d'homme est envisagée à travers cet extrait dans une double perspective : écriture du diagnostic dysphorique et écriture du ressaisissement. En s'appuyant sur l'évocation d'une pathologie aux investissements psychologiques lourds – celle du 'sexe enflammé' –, on peut en effet tenter de comprendre quels patrons stylistiques – lexicaux, syntaxiques et pragmatiques – le moi-auteur met en place pour se dire, aussi, à travers son mal. Et l'on verra alors que ces mêmes ressources – cette stratégie – permettent à l'écriture de se constituer en cure.

Focusing on a pathology in which the self is deeply at stake –a penis inflammation– the passage from L'Âge d'homme that is commented upon particularly matches with Leiris's poetics of prose: writing as a search for constant danger. A diagnosis, writing is here questioned through the stylistic schemes and frames that allow the writer to say not only his disease but himself. These devices, including vocabulary, syntax, and pragmatics uses, will eventually be investigated as a means to get over the crisis –i. e. as a cure.


Download article