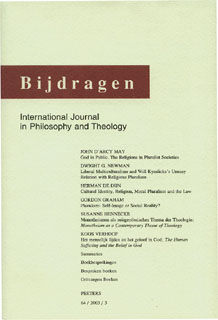 Document Details :

Title: Hoe conservatief is het christendom? How Conservative (or Traditional) is Christianity?
Author(s): DE DIJN, Herman
Journal: Bijdragen
Volume: 66 Issue: 1 Date: 2005
Pages: 20-36
DOI: 10.2143/BIJ.66.1.562904

Abstract :
Until recently the central problem seemed to be the relationship between Christianity and Modernity. According to many theologians and philosophers, modernity was considered not only as the result, but even as the final realisation of Christianity. In any case, Christianity was often understood as the religion which ends all traditional religiosity. The real antithesis then was not between Christianity and modernity, but between Christianity and tradition. The philosophical question raised here is whether any religion can survive except as a tradition succeeding in preserving a certain range of 'incarnated' meanings (names, symbols, rites, etc.) which gives it its specificity.
The present day interest in (religious) tradition(s) is a remarkable fact. In our post-modern context, this interest betrays however an instrumental attitude vis-à-vis these meanings, thereby constituting a new threat to Christianity different from the modern threat.