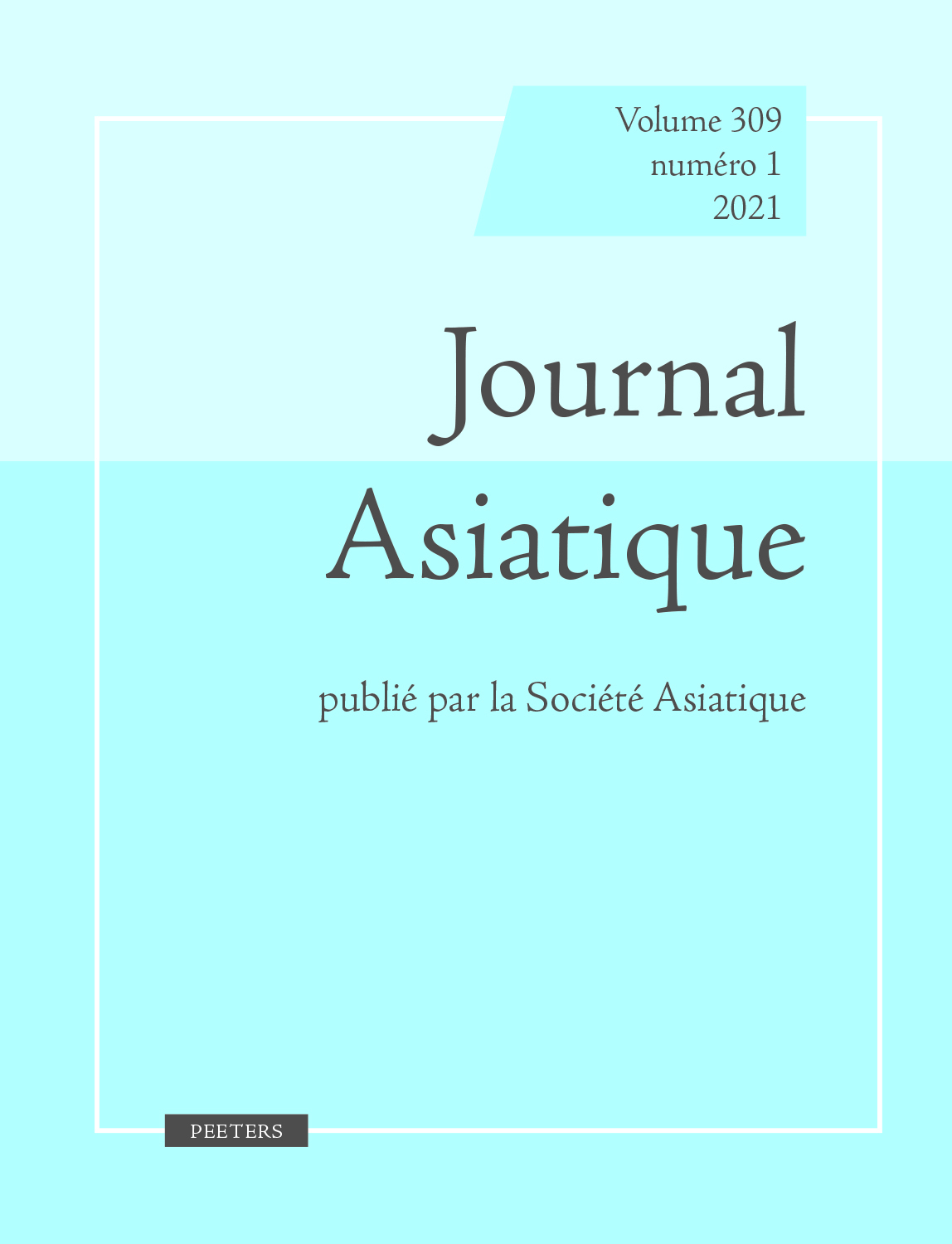 Document Details :

Title: Le culte de Lü Dongbin sous les Song du Sud
Author(s): ANG, I.
Journal: Journal Asiatique
Volume: 285 Issue: 2 Date: 1997
Pages: 473-507
DOI: 10.2143/JA.285.2.556517

Abstract :
Les premières sources présentent l'immortel Lü Dongbin comme un poète, un devin et un taoïste expert en alchimie intérieure (neidan). Puis, à partir de la seconde moitié du XIe siècle, certaines sources mentionnent explicitement l'existence d'un culte à Lü Dongbin. L'une des sources les plus documentées à ce sujet est le Yi Jian zhi de Hong Mai (1123-1202), à cause de sa nature particulière:beaucoup des histoires sont rapportées par des «informateurs»qui n'appartiennent pas à la classe des lettrés. L'autre source, très différente, est l'hagiographie du maître Quanzhen Miao Shanshi (fl. 1288-1324), le Chunyang dijun shenhua miaotong ji ; mais les récits y sont beaucoup moins explicites sur le culte que ceux du Yi Jian zhi. Les traces du culte apparaissent à Kaifeng, capitale des Song du Nord, et surtout dans les régions méridionales du Bas Yangzi et du Jiangnan, jusqu'au sud de l'actuelle province du Hunan.
Après avoir présenté les diverses formes de pratique du culte (domestique, médiumnique, et sanctuaires), j'ai tenté de comprendre quel était le statut des lieux de culte pour l'immortel;il semble que ce statut était généralement assez bas. Une analyse sociologique du culte montre que les gens principalement concernés appartenaient à des milieux défavorisés: prostituées, colporteurs, petits marchands, «praticiens taoïstes»itinérants, guérisseurs, marchands de simples, vendeurs d'encre et de papier. À travers le culte de Lü Dongbin, ils revendiquent une reconnaissance sociale, un «droit à la saleté». C'est la première fois qu'une critique sociale, de l'establishment, des fonctionnaires, apparaît de manière aussi évidente par le biais d'un culte. Par ailleurs, le culte est intégré dans des temples officiels comme les Tianqing guan , grâce au soutien des milieux taoïstes. Ces deux strates religieuses, populaire et taoïste, se complètent plus qu'elles ne s'opposent.

In the earliest sources, the immortal Lü Dongbin introduces himself as a poet, a soothsayer and a neidan expert. From the second half of the eleventh century on, some sources explicitly refer to the existence of the cult of the saint. One of the works gathering the most documentary evidence is Hong Mai's (1123-1202) Yi Jian zhi , owing to its particular nature: a lot of its stories are reported by informants who don't belong to the literati class. The other very different source examined here is the hagiographic work of Quanzhen master Miao Shanshi (fl. 1288-1324), the Chunyang dijun shenhua miaotong ji , but its narratives are not as explicit about the cult as those of Yi Jian zhi. Some traces of the cult appear in Kaifeng, the Northern Song capital, but they are particularly numerous in the Lower Yangzi river and in the Jiangnan region, down to the southern part of Hunan.
After presenting the various forms of worship (home worship, worship through mediums and shrines), I examine the status of the cult, which seems to be rather low. A sociological analysis points out that the people who were the most involved with the cult of Lü Dongbin belonged to underprivileged classes: prostitutes, peddlers, itinerant taoists, healers, medicinal herb dealers and inksellers. Through their participation in the cult of the immortal, these people demand social recognition, a "right to be dirty". For the first time, thanks to the cult a social critique of the establishment and its officials emerged. Beyond this, the cult is integrated in official temples, like the Tianqing guan , with the support of taoist circles. These two religious strata complement rather than conflict with each other.


Download article