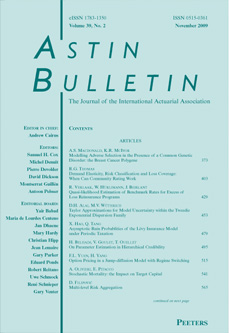 Document Details :

Title: Some Applications of Lévy Processes to Stochastic Investment Models for Actuarial Use
Author(s): CHAN, Terence
Journal: ASTIN Bulletin
Volume: 28 Issue: 1 Date: May 1998
Pages: 77-93
DOI: 10.2143/AST.28.1.519080

Abstract :
This paper presents a continuous time version of a stochastic investment model originally due to Wilkie. The model is constructed via stochastic differential equations. Explicit distributions are obtained in the case where the SDEs are driven by Brownian motion, which is the continuous time analogue of the time series with white noise residuals considered by Wilkie In addition, the cases where the driving "noise" are stable processes and Gamma processes are considered.