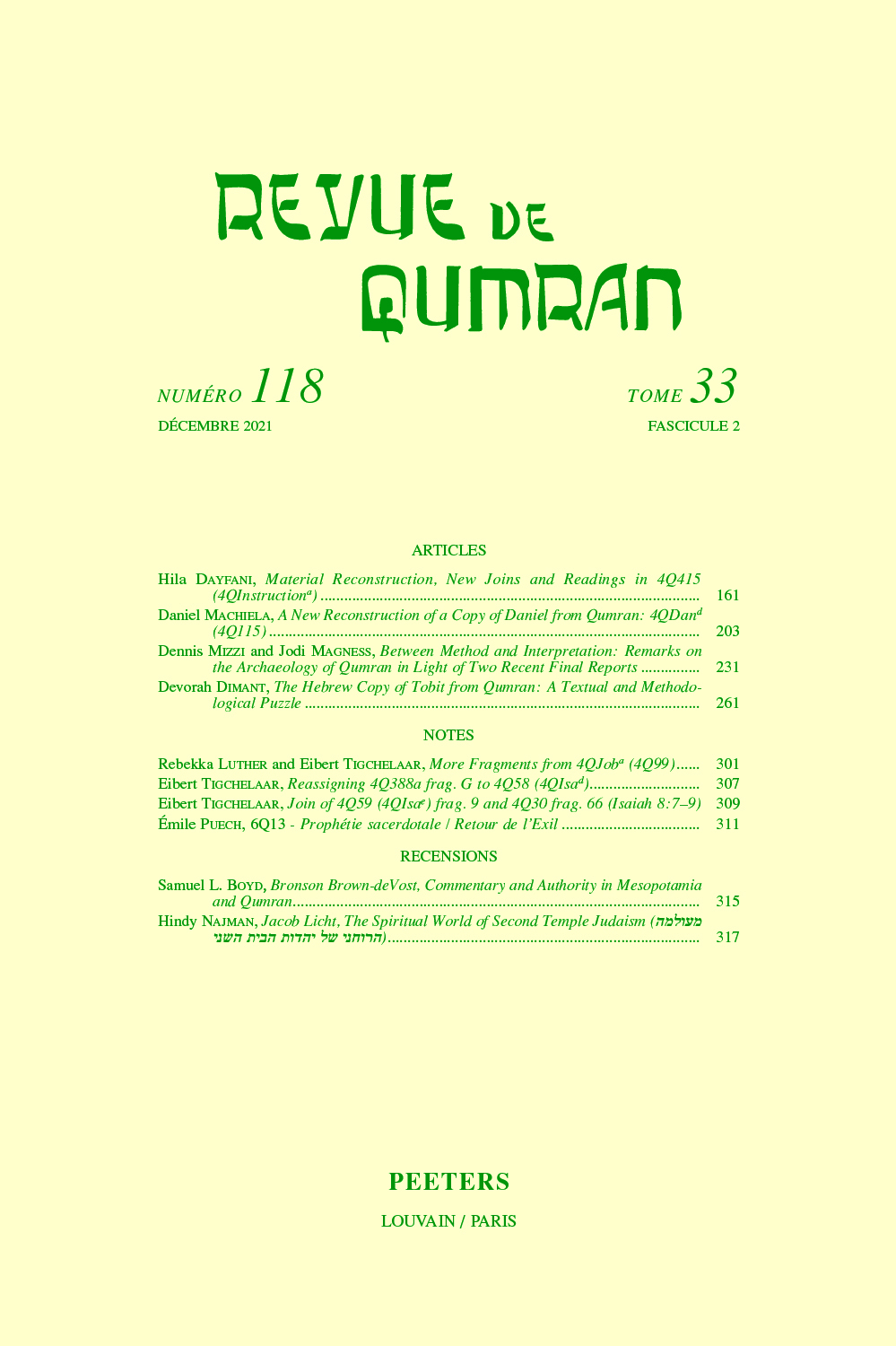 Document Details :

Title: Das Selbst- und Wirklichkeitsverständnis der Lieder des Maskil (4Q511)
Author(s): JOST, Michael R.
Journal: Revue de Qumran
Volume: 34 Issue: 1 Date: numéro 119, 2022
Pages: 115-135
DOI: 10.2143/RQ.34.1.3290893

Abstract :
The composition of the Songs of Maskil (4Q511) has received new attention in recent years. In particular, the new reconstruction by Joseph Angel makes it possible, despite the still fragmentary state of the manuscript, to focus on the composition as a whole. However, the apotropaic function ascribed to the songs remains ambiguous. The aim of this paper is therefore to describe exegetically the basic characteristics of the self-understanding of the community and of its reality and thus to outline the significance of the songs in their historical context. The results show that the songs not only serve the individual protection and defence against evil powers, but also the constitution of the community and its position before God. That is why the apotropaic function is to be placed in the context of the liturgical reality.


---

La composition des Cantiques du Sage (4Q511) a fait l'objet d'une nouvelle attention ces dernières années. En particulier, la nouvelle reconstitution proposée par Joseph Angel permet d'examiner l'ensemble de la composition, malgré l'état fragmentaire du manuscrit. Pourtant, la fonction apotropaïque attribuée aux cantiques reste ambiguë. Le but de cet article est donc de décrire exégétiquement les caractéristiques de la compréhension de soi de la communauté et de sa réalité et de déduire ainsi la signification des chants dans son contexte historique. Les résultats montrent que les chants servent non seulement à la protection individuelle et à la défense contre les forces du mal, mais aussi à la constitution de la communauté et à sa position devant Dieu. Par conséquent, la fonction apotropaïque doit être placée dans le contexte de la réalité liturgique.


Download article