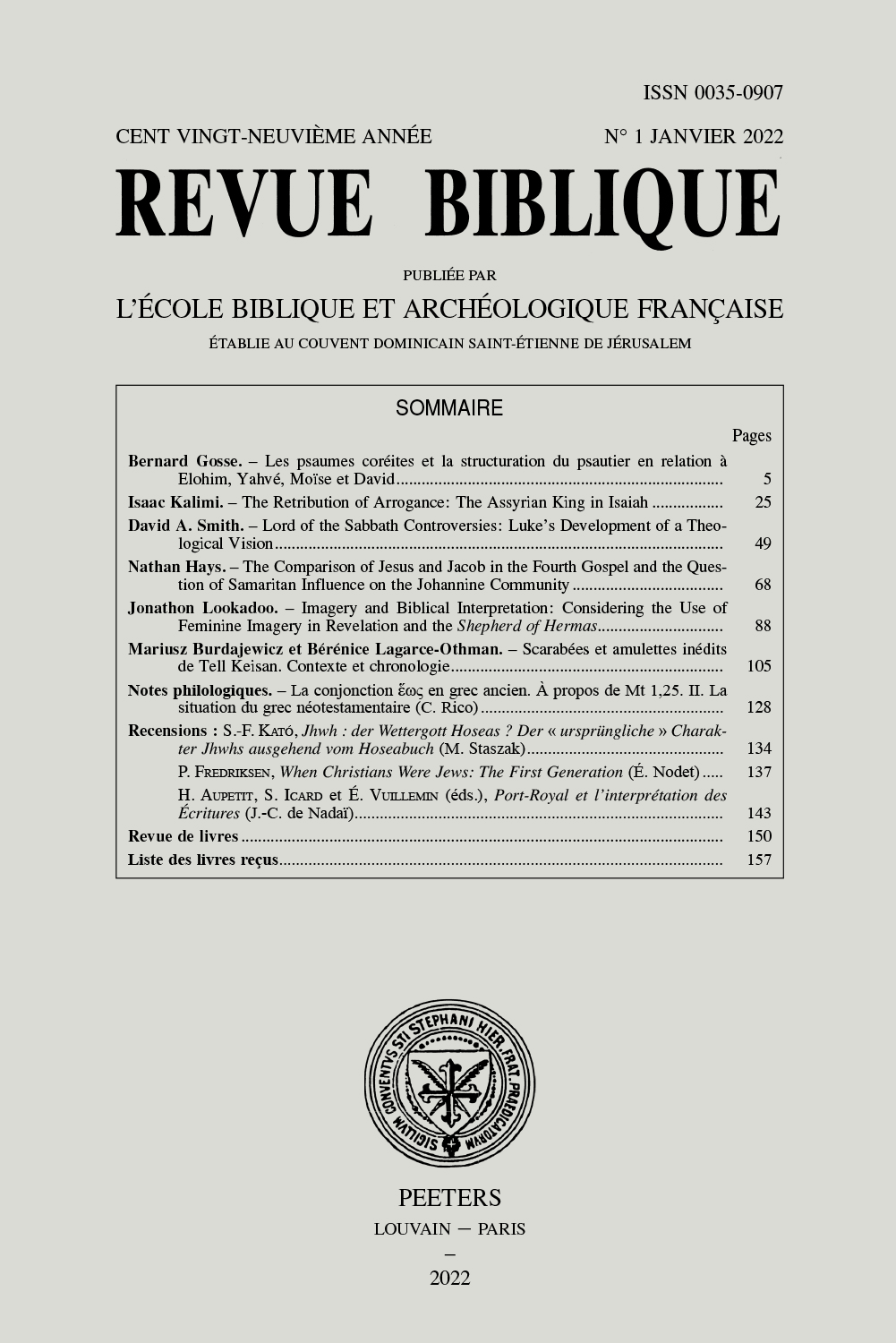 Document Details :

Title: Exilliteratur und die Gattung des Zweiten Timotheusbriefs
Author(s): KRAUTER, Stefan
Journal: Revue Biblique
Volume: 129 Issue: 2 Date: 2022
Pages: 183-198
DOI: 10.2143/RBI.129.2.3290641

Abstract :
2 Timothy is often referred to as pseudepigraphic testament of Paul. A minority considers it an authentic paraenetic letter. The article criticizes both positions. There are rather superficial similarities between 2 Timothy and the Jewish testaments, and the setting of the letter is not a farewell situation. Theses about 2 Timothy as a conclusion to the Pastorals or the entire corpus Paulinum are poorly substantiated. The determination of 2 Timothy as a paraenetic letter is correct, but inaccurate. Conclusions regarding its authenticity cannot be drawn from it. By comparing 2 Timothy to exilic literature of the early imperial period, it is shown that it is possible to determine its specific character as a paraenetic letter from captivity. This more precise determination makes it possible to integrate the moments of truth of both common research opinions.


---

2 Timothée est souvent désignée comme un testament pseudépigraphique de Paul. Une minorité de chercheurs la considère comme une authentique lettre parénétique. Le présent article critique les deux positions. Il n'existe que des similitudes assez superficielles entre 2 Timothée et les testaments juifs, et la mise en scène de la lettre ne dépeint pas une situation d'adieu. Les thèses considérant 2 Timothée en tant que conclusion des lettres Pastorales ou de l'ensemble du Corpus Paulinum sont mal fondées. La détermination de 2 Timothée en tant que lettre parénétique est correcte, mais inexacte. Il est impossible d'en tirer des conclusions quant à son authenticité. En comparant 2 Timothée à la littérature exilée du début de la période impériale, on montre qu'il est possible de déterminer son caractère spécifique en tant que lettre parénétique de captivité. Cette détermination plus précise permet d'intégrer les moments de vérité des deux opinions les plus répandues de la recherche.


Download article