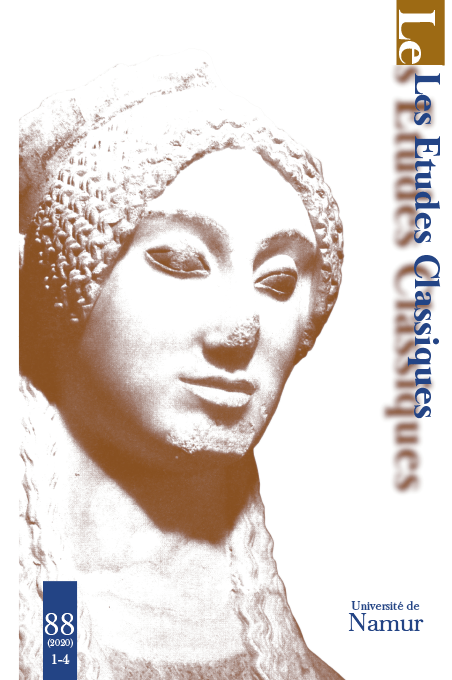 Document Details :

Title: Le même et l'autre dans l'expérience de la traduction
Subtitle: L'exemple de Virgile
Author(s): DION, Jeanne
Journal: Les Études Classiques
Volume: 85 Issue: 1-4 Date: 2017
Pages: 267-281
DOI: 10.2143/LEC.85.1.3290509

Abstract :
Le Même et l'Autre: tel est le paradoxe majeur du traducteur qui doit faire passer un langage dans un autre et demeurer identique. Platon dans le Timée fait pourtant de ces constituants et de leur mélange l'Âme du monde: peut-il guider un traducteur? Suivons l'exemple de Virgile. — Face au poète latin, certains privilégient l'Autre, comme le Moyen Âge qui, en christianisant Virgile, s'imagine le refaire en mieux; puis, comme Marot qui lui ajoute des traits familiers, Du Bellay qui francise ses noms et modernise ses armes. De là les «belles infidèles» jusqu'à ce que Claudel nomme «transsubstantiation»: en témoignent Chénier, le Tasse, l'Arétin, Scarron dans divers registres. Ajouts et censures vont jusqu'à faire douter de l'authenticité même de ce que les Anciens avaient attesté. Il en est à l'inverse qui veulent privilégier l'identité avec l'auteur: les juxtalinéaires en sont un essai à but pédagogique. Elles s'efforcent de suivre l'ordre des mots latins, comme le fit brillamment P. Klossowski dans un but poétique. Peut-on rêver pourtant l'assemblage du Même et de l'Autre? Relisons le sieur de Bonlieu, Chateaubriand, Leconte de Lisle, Valéry: avec eux et Platon, trouverons-nous alors une âme?


---

The Same and the Other: that is the major paradox of translation, which has to transfer one language into another and, at the same time, to preserve identity. In the Timaeus, however, Plato regards these constitutive principles and their mixture as constituting the World Soul. Is this philosophical view a possible guide for the translator? This paper deals with this question on the basis of translations of Virgil. — Some translators favour the Other. This was the case in the Middle Ages, when some thought to improve on Virgil by Christianizing him. Later, Clément Marot added familiar features, and Joachim Du Bellay transposed the proper nouns into French and modernized the weapons. Hence the so-called Belles Infidèles and what Paul Claudel characterized as transsubstantiation, a trend to which André Chénier, Torquato Tasso, Pietro Aretino, and Paul Scarron all bear witness in various styles. Accustomed to adapting or censoring the text, editors and translators would even call into question the authenticity of several poems that the Ancients themselves attributed to Virgil. Conversely, some translators of Virgil favour Sameness. Juxtalinear translations are an attempt at this for teaching purposes. They strive to follow the Latin word order, as was brilliantly done by Pierre Klossowsi for poetical purposes. Can we, however, dream about a mixture of the Same and the Other? Let us read again the Sieur de Bonlieu, Chateaubriand, Leconte de Lisle and Paul Valéry: following them and Plato, will we be able to find a soul?


Download article