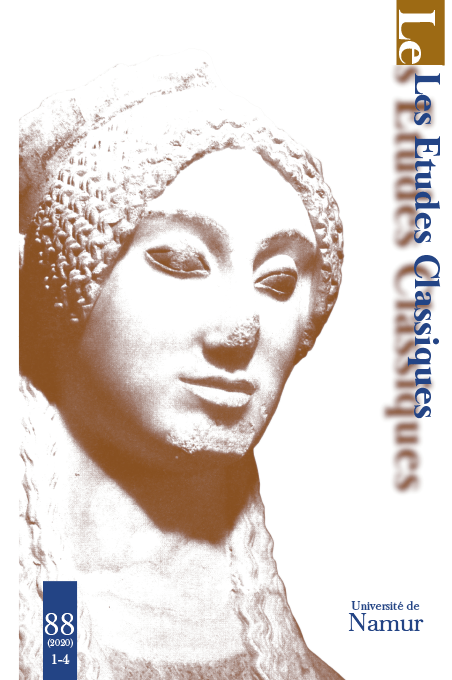 Document Details :

Title: Wenn Worte töten können
Subtitle: Die Transformationsleistung menschlicher Äußerungen am Beispiel der 'Supernatural Declarations' auf den lateinischen defixionum tabellae
Author(s): KROPP, Amina
Journal: Les Études Classiques
Volume: 85 Issue: 1-4 Date: 2017
Pages: 7-44
DOI: 10.2143/LEC.85.1.3290499

Abstract :
As primary sources, the defixionum tabellae or curse tablets provide us with valuable evidence allowing the study of ancient curse formulas from the per­spective of historical pragmatics. These incantations, constituting the verbal ele­ments of a private and secret magic ritual, are written on small pieces of metal (usu­ally thin sheets of lead), that serve as objects in several ritual operations such as ma­nipulation and deposition. In this particular context, the spell can be fulfilled, on the one hand, by the intervention of supernatural forces; on the other hand, its fulfilment can be conceived as the immediate outcome of the verbal elements of the magic ritual. This is especially true for the 'manipulation formula' (e.g. defigo), i.e. a per­formative utterance that is meant to bring about automatically the intended physical and psychical effects on the curse's victim. Hence, this specific formula can be con­sidered a 'supernatural declaration' which, according to J.R. Searle, stands in con­trast to 'normal' declarations and is therefore excluded from his taxonomy of speech acts. Now, since every declaration is based on the intention of the speaker to modify the extra-linguistic reality, a declarative utterance like defigo clearly demon­strates that, from the speaker's point of view, the creative and autonomous power of human words may also include manifest transformations of the material world. The pragmalinguistic analysis of ancient magical formulas can thus reveal that carrying out speech acts within a magic context releases the great performative potential that is inherent in human words.


---

Comme sources matérielles directes, les defixionum tabellae ou tablettes d'exécration représentent des documents privilégiés permettant l'étude des formules d'envoûtement de l'Antiquité dans la perspective d'une pragmatique historique. En tant qu'éléments verbaux d'un rituel magique privé et secret, les incantations sont gravées sur de petites plaques de métal, le plus souvent de plomb, qui font l'objet de plusieurs opérations rituelles telles que la manipulation et la déposition. Dans ce contexte magique, la réalisation de l'envoûtement peut résulter, d'une part, de l'intervention des divinités auxquelles on s'adresse; d'autre part, elle peut être conçue comme l'effet immédiat et automatique des éléments verbaux du rituel ma­gique. Cela vaut surtout pour la «formule de manipulation» (p. ex. defigo), c'est-à-dire un énoncé performatif qui est censé produire, sans intermédiaire, des effets physiques et psychiques chez une autre personne. Il s'agit donc d'une «déclaration surnaturelle» qui, selon J.R. Searle, s'oppose aux déclarations «normales» et, par conséquent, est exclue de la taxonomie des actes de langage. Or toutes les décla­rations reposent sur l'intention du locuteur de modifier la réalité extralinguistique, de la transformer. Aussi l'usage d'une déclaration telle que defigo démontre que, d'un point de vue interne, le pouvoir créateur et autonome des mots énoncés n'est pas limité, mais peut inclure la transformation matérielle du monde. En fait, l'ana­lyse pragmalinguistique des formules magiques fait supposer que l'accomplissement d'un acte de langage dans le cadre d'un rituel magique permet de déployer le grand potentiel performatif que possèdent toujours les mots humains.


Download article