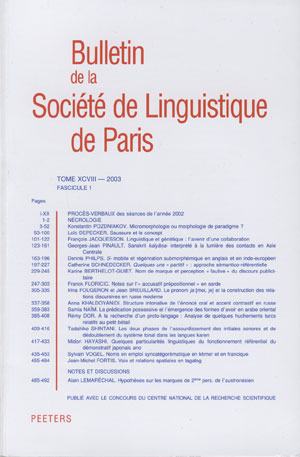 Document Details :

Title: The Tocharian Indefinite B ksa, A saṃ
Subtitle: Syntax and Philology
Author(s): CHAMOT-ROOKE, Timothée
Journal: Bulletin de la Société de Linguistique de Paris
Volume: 116 Issue: 1 Date: 2021
Pages: 203-236
DOI: 10.2143/BSL.116.1.3290237

Abstract :
The aim of this paper is to provide a comparative study of the use of the indefinite in both Tocharian languages (TB nom. ksa, Obl. kca; TA nom. saṃ, obl. caṃ), with special focus on word order. Most of Tocharian A occurrences are systematically compared to corresponding Tocharian B examples. Problematic cases in Tocharian A are re-examined from a philological perspective. This survey leads to identify several additional examples of the indefinite TA saṃ (oblique caṃ) which had not been distinguished so far from the homophonous demonstrative. Theoretical issues related to the syntactical analysis of Tocharian clitics are discussed too, in connection with data from other Indo-European languages.


---

L'objectif de cet article est de donner une vue comparative des emplois de l'indéfini dans les deux langues tokhariennes (TB nom. ksa, obl. kca; TA nom. saṃ, obl. caṃ), en accordant une attention particulière à l'ordre des mots. La plupart des occurrences du corpus des textes en tokharien A sont systématiquement comparées aux exemples tokharien B correspondants. Les cas problématiques en tokharien A sont réexaminés d'un point de vue philologique. Cette enquête conduit à identifier un nombre significatif de nouveaux exemples du pronom indéfini TA saṃ (obl. caṃ) qui avaient jusqu'à présent été confondus avec les formes homophones de démonstratif. Les problèmes théoriques associés à l'analyse syntaxique des clitiques tokhariens sont également discutés en lien, le cas échéant, avec les données provenant d'autres langues indo-européennes.


---

Dieser Aufsatz behandelt den Gebrauch des tocharischen Indefinitums (TB Nom. ksa, Obl. kca; TA Nom. saṃ, obl. caṃ) unter besonderer Berücksichtigung der Worstellung und des systematischen Vergleichs der Belege der beiden Sprachen. Hierbei ergeben sich für Tocharisch A einige bisher nicht bemerkte Belege; weitere Belege werden neu untersucht. Die Daten werden mit entsprechendem Material aus anderen idg. Sprachen verglichen und in einen theoretischen Rahmen eingebettet.


Download article