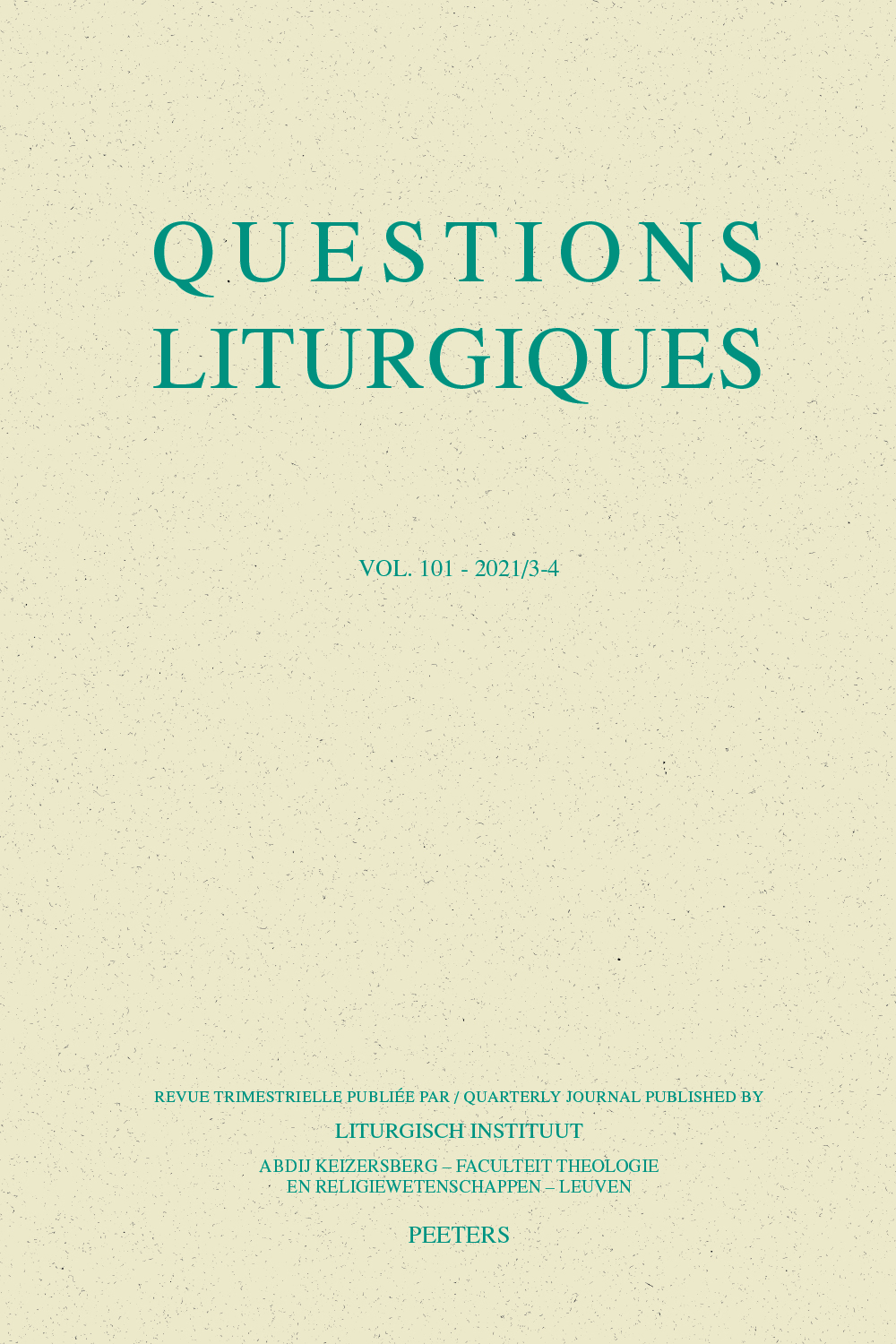 Document Details :

Title: Liturgy and Life
Subtitle: The Existential Dimension of Liturgical Spirituality in SC 11
Author(s): GEIGER, Stefan
Journal: Questions Liturgiques/Studies in Liturgy
Volume: 101 Issue: 3-4 Date: 2021
Pages: 185-201
DOI: 10.2143/QL.101.3.3290085

Abstract :
This study offers a close investigation of Sacrosanctum Concilium 11 which unites the liturgical-theological elements 5-10 in the first chapter with the second chapter on the liturgical formation and active participation (SC 14-20). SC 11 represents an existential understanding of the liturgical theology of the Liturgy Constitution which can be summarized as the personal dialogue of salvation between God and humans. This study examines the three adverbs that SC 11 uses for the participation with the basic assumption that the liturgy is a dialogical event that encompasses the entire existence of man: scienter as the integral 'knowledge' of the relational and dialogical ground of the creation; fructuose regarding the liturgy as a form of life. Both of these aspects culminate in an existential understanding of the actuose, 'doing' the life. Three challenges for the liturgical formation and three propositions concerning an integral liturgical spirituality conclude the article.


---

Cette étude propose un examen approfondi de Sacrosanctum Concilium 11 qui réunit les éléments liturgico-théologiques 5-10 du premier chapitre et le deuxième chapitre sur la formation liturgique et la participation active (SC 14-20). SC 11 représente une compréhension existentielle de la théologie liturgique de la Constitution qui peut être résumée comme le dialogue personnel du salut entre Dieu et l'humanité. Cette étude examine les trois adverbes que SC 11 utilise pour la participation en partant du principe que la liturgie est un événement dialogique qui englobe toute l'existence de l'homme: scienter comme la «connaissance» intégrale du fondement relationnel et dialogique de la création; fructuose concernant la liturgie comme forme de vie. Ces deux aspects culminent dans une compréhension existentielle de l'actuose, «faire» la vie. Trois défis pour la formation liturgique et trois propositions concernant une spiritualité liturgique intégrale concluent l'article.


Download article