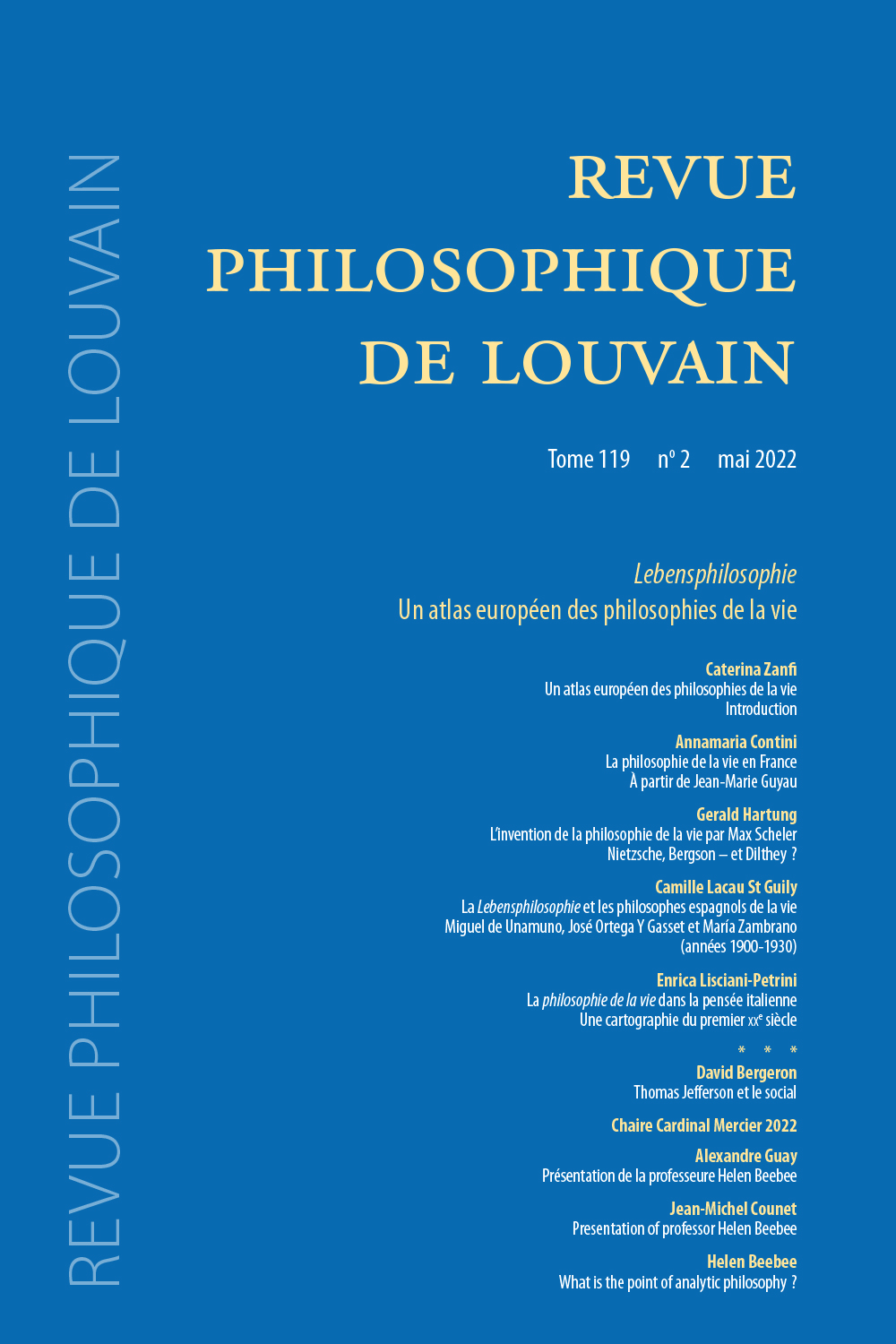 Document Details :

Title: De la confrontation de Platon et Aristote dans l'itinéraire de Hegel
Subtitle: Analyse d'un renversement d'appréciation
Author(s): GÉRARD, Gilbert
Journal: Revue Philosophique de Louvain
Volume: 118 Issue: 3 Date: août 2020-2021
Pages: 349-368
DOI: 10.2143/RPL.118.3.3289692

Abstract :
Cet article analyse la manière dont a évolué l'appréciation par Hegel de Platon et Aristote, deux philosophes qui ont compté dans sa pensée. Il constate que si, lors de ses premières élaborations systématiques à Iéna, il marque une préférence explicite en faveur de Platon, cette appréciation s'inverse dans les Leçons sur l'histoire de la philosophie de Berlin. La thèse ici défendue est que ce renversement n'a rien de simplement anecdotique, mais qu'elle est solidaire d'une profonde transformation du système qui prend place durant la période d'Iéna. Cette transformation, cruciale dans l'itinéraire de Hegel, est celle qui le conduit d'un système substantialiste, élaboré en compagnie de Schelling dans le cadre du système de l'identité de ce dernier, à l'élaboration de son système dialectique de l'esprit, c'est-à-dire de l'absolu-sujet, qui s'imposera à partir de la Phénoménologie de l'esprit, une transformation dans laquelle l'étude d'Aristote, effectuée à la fin du séjour à Iéna, a joué un rôle déterminant.


---

This article analyses the evolution of Hegel's appreciation of Plato and Aristotle, both of whom influenced his thought. It will appear that he had a marked preference for Plato during the first systematic developments of his system in Jena, but reversed it in his Lectures on the History of Philosophy in Berlin. The thesis I defend is that this reversal is no mere anecdote, but characterises a profound transformation in Hegel's system during his time at Jena. This transformation, which is crucial in his development, led him from a substantialist system, elaborated with Schelling in the framework of the latter's identity system, to the development of his dialectical system of the spirit, that is, of the absolute subject, which will dominate as from the Phenomenology of Spirit, a transformation in which the study of Aristotle, begun at the end of his time in Jena, played a decisive role.


Download article