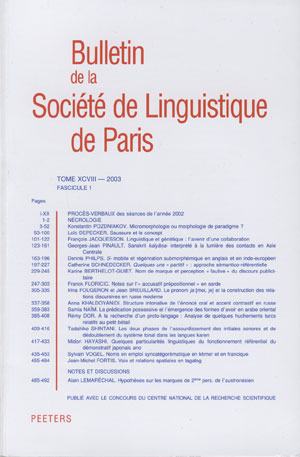 Document Details :

Title: Les particules verbales du wolof et leur combinatoire syntaxique et topologique
Author(s): BONDÉELLE, Olivier , KAHANE, Sylvain
Journal: Bulletin de la Société de Linguistique de Paris
Volume: 115 Issue: 1 Date: 2020
Pages: 391-465
DOI: 10.2143/BSL.115.1.3289165

Abstract :
Dans cet article, nous abordons l'étude des particules verbales du wolof en nous plaçant résolument dans une approche distributionnelle basée sur l'étude exhaustive d'un corpus annoté en syntaxe de dépendance par Dione. Ceci nous permet de réviser les travaux antérieurs en distinguant nettement, parmi les particules verbales, un groupe de 6 particules (a, la, na, da, -u, ngi), que nous appellerons les particules assertives. Les constructions dans lesquelles entrent ces particules se caractérisent par une distribution commune (impossibilité d'être dans les subordonnées relatives et obligation d'être dans certaines complétives) et par une structure topologique commune caractérisée par la position de la particule assertive, des clitiques compléments et de l'auxiliaire imperfectif di. Nous proposons une description complète de la combinatoire de l'ensemble des particules verbales, ainsi que l'ensemble des schémas topologiques des constructions prédicatives du wolof.


---

In this paper, we approach the study of the verbal particles of Wolof by placing ourselves resolutely in a distributional approach based on the exhaustive study of a corpus annotated in dependency syntax by Dione. This allows us to revise previous works by clearly distinguishing, among the verbal particles, a group of 6 particles (a, la, na, da, -u, ngi), which we will call assertive particles. The constructions in which these particles enter are characterized by a common distribution (impossibility to be in relative clauses and obligation to be in certain complement clauses) and by a common topological structure characterized by the position of the assertive particle, the clitic complements and the imperfective auxiliary di. We propose a complete description of the combinativeness of all verbal particles, as well as the set of topological schemes of the predicative constructions of Wolof.


Download article