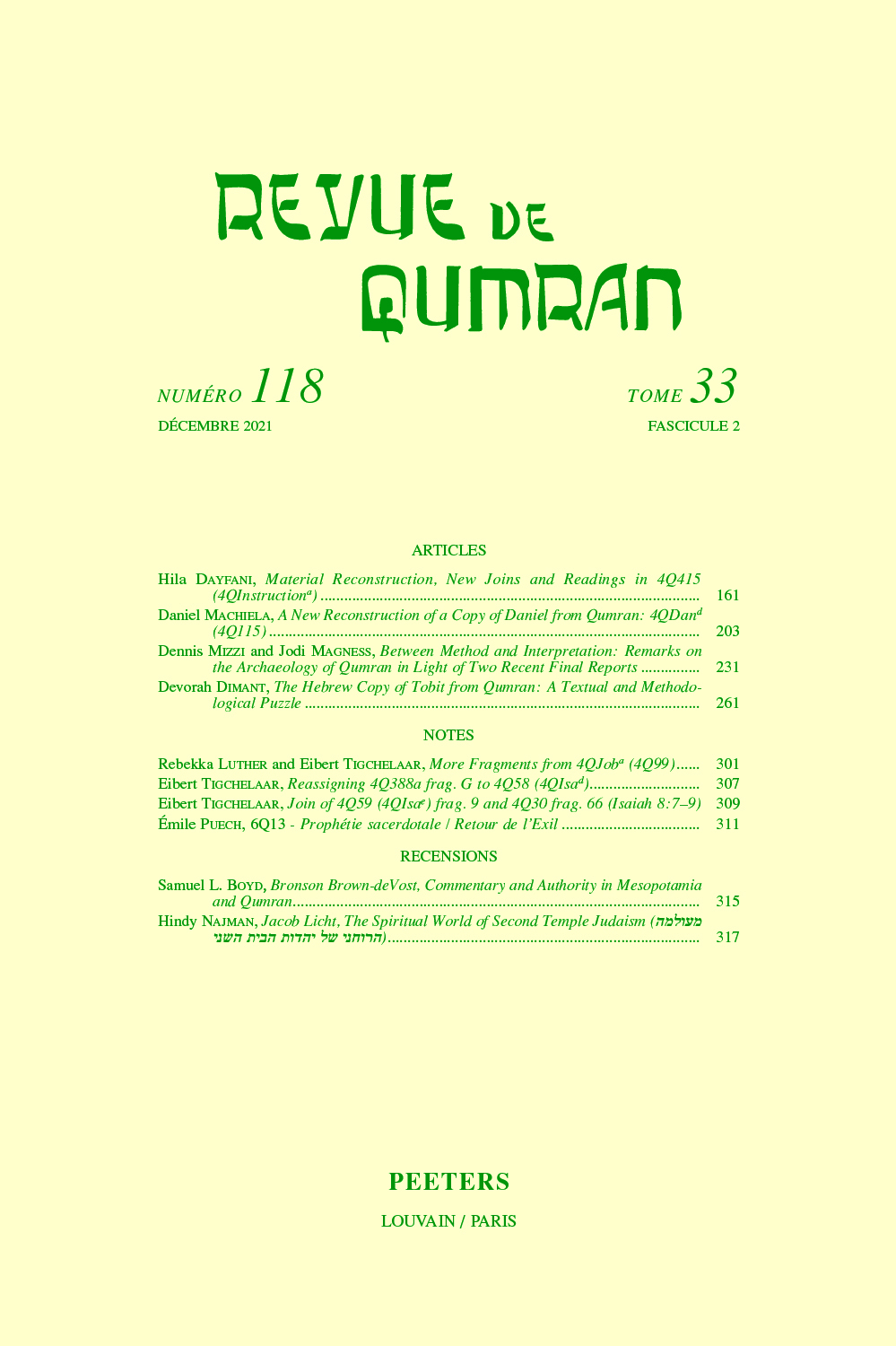 Document Details :

Title: The Sons of Zadok, the Hasmonean Royal High Priesthood, and the Book of Ezekiel
Author(s): BABOTA, Vasile
Journal: Revue de Qumran
Volume: 32 Issue: 1 Date: numéro 115, 2020
Pages: 79-116
DOI: 10.2143/RQ.32.1.3287725

Abstract :
The re-emergence of the Sons of Zadok in CD-A, and later in Da, 1QS-1QSa-1QSb, 4QFlor, and 4Qpap pIsac has generated a variety of scholarly interpretations. Many scholars have looked at the Sons of Zadok mainly in relation to the Sons of Aaron, and most often within the setting of the yaḥad. While some argued for an exile of the Zadokites from Jerusalem, many other scholars posited internal fractures within the yaḥad itself; still others proposed this appellation should not be understood in genealogical sense or even that it should be taken as a literary invent. First, this study proposes to look at the Sons of Zadok against the backdrop of Hasmonean rule. It does this by interpreting this designation in the light of Ezek 40-48 and in co-relation with other ideologies that had been imported into the DSS. As in Ezek 40-48, in the DSS the Sons of Zadok are used ideologically. The adoption of this appellation was an ideological strategy by the Zadokite scribes to further validate their two Messiah eschatology, which stipulates a separation of the high priesthood from royal office. It appears to have implied refusal to accept the authority of the Hasmonean ruler, Alexander Janneus, especially as high priest. By the same token, this designation reflects a further radicalization and self-perception of the yaḥad itself, or of significant part of it. Second, this study suggests that all these DSS derive from the same circle of scribes. Even though all, or almost all, are probably based on earlier exemplars, these scrolls appear to have been produced to be read together. The re-emergence of the Sons of Zadok in the DSS as well as probably in Sir 51:12a-o can thus tentatively be dated to the time of Janneus. Political and other changes following his death may be an explanation why the Sons of Zadok do not appear in later DSS.


Download article