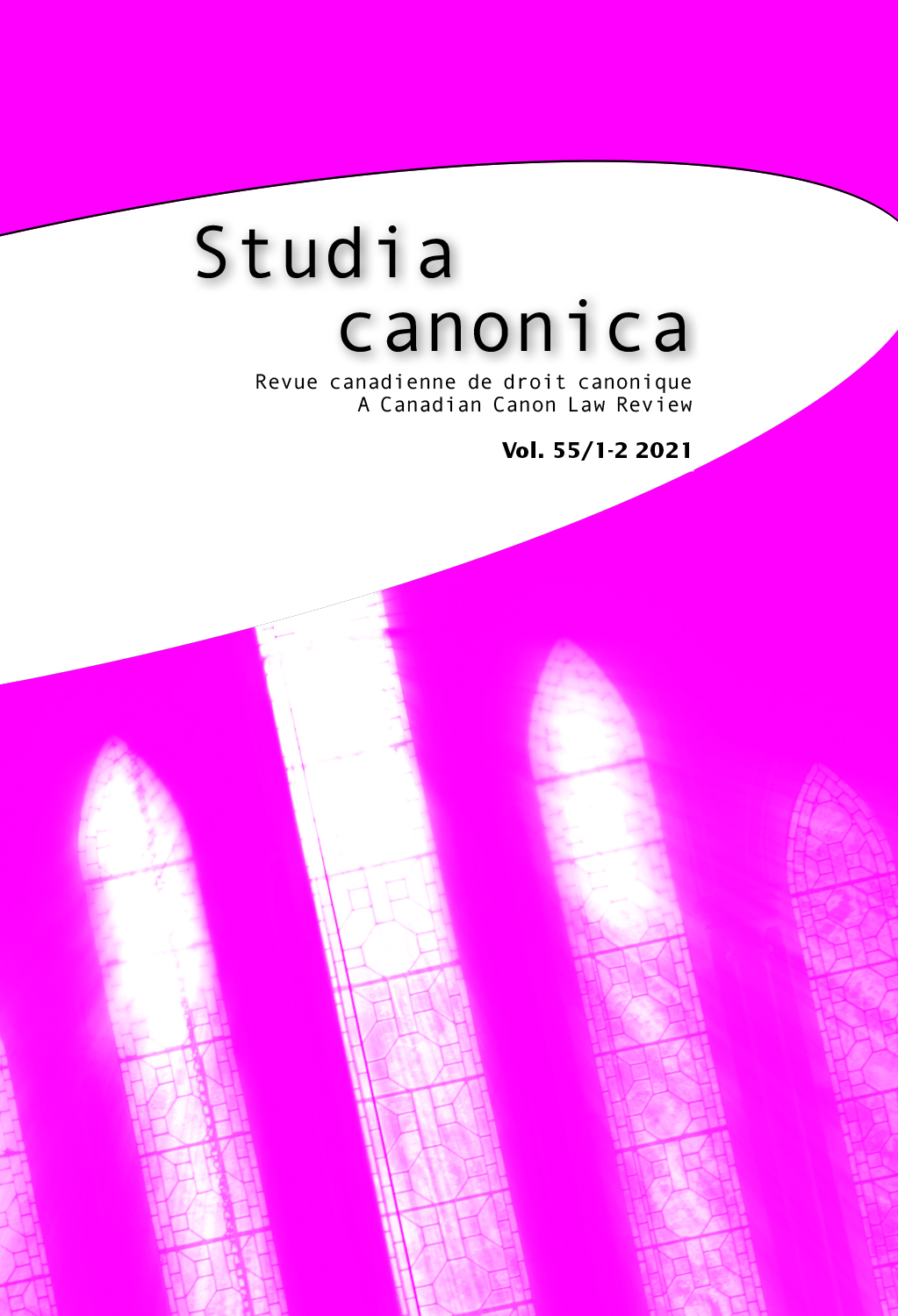 Document Details :

Title: Étude thématique des dispositions canoniques prises par les conciles réunis sous l'influence de saint Césaire d'Arles, de 506 à 541, et de leurs prolongements
Author(s): LE TOURNEAU, Dominique
Journal: Studia Canonica
Volume: 53 Issue: 2 Date: 2019
Pages: 481-560
DOI: 10.2143/STC.53.2.3287619

Abstract :
L'action de saint Césaire, évêque d'Arles, en Provence, dans le domaine de l'élaboration du droit canonique, dépasse largement le cadre des cinq conciles qu'il a convoqués. S'il est lui-même partiellement tributaire des normes prises dans des conciles précédents, il élabore un ensemble de normes qui continueront d'être appliquées jusqu'à la promulgation du Code latin de 1917. Certaines de ces normes sont vraiment novatrices. Elles contribuent, entre autres, à uniformiser la pratique de la liturgie et à organiser la matière des biens ecclésiastiques. Dans cet article, l'A. procède à une étude fouillée et approfondie de l'influence de la législation césairienne, en se limitant à l'examen de toute une série de conciles dans laquelle cette influence est repérable. Dans le cadre de l'attribution éventuelle du titre de «Docteur de l'Église» à saint Césaire, l'A. mène une enquête qui passe en revue les divers secteurs concernés: la liturgie, le clergé, des mesures protectrices de certaines catégories de personnes, la vie religieuse, les biens ecclésiastiques, des dispositions disciplinaires, enfin des mesures relatives à la tenue des conciles. L'A. s'appuie sur des sources historiques pour expliquer le contexte dans lequel les différentes dispositions canoniques sont prises, contribuant ainsi à mieux les faire connaître et comprendre.


---

Saint Caesarius was Bishop of Arles in Provence. His activity in the elaboration of canon law goes far beyond the limits of the five councils that he summoned. If he himself is partially dependent on the norms of previous councils, he develops a body of norms that will continue to be applied until the enactment of the 1917 Latin Code. Some of these norms are truly innovative. They contribute, among other things, to standardize the practice of the liturgy and to organize the matter of ecclesiastical goods. In this article, the A. conducts a thorough and in-depth study of the influence of Caesarian legislation, but limiting himself to an examination of the councils in which this influence is detectable. In the context of the possible attribution of the title 'Doctor of the Church' to Saint Caesarius, the A. conducts an investigation which reviews various sectors: the liturgy, the clergy, protective measures for certain categories of people, religious life, ecclesiastical property, disciplinary measures, and finally measures relating to the holding of councils. The A. draws on historical sources to explain the context in which the different canonical dispositions are taken, thus contributing to making them better known and understood.


Download article