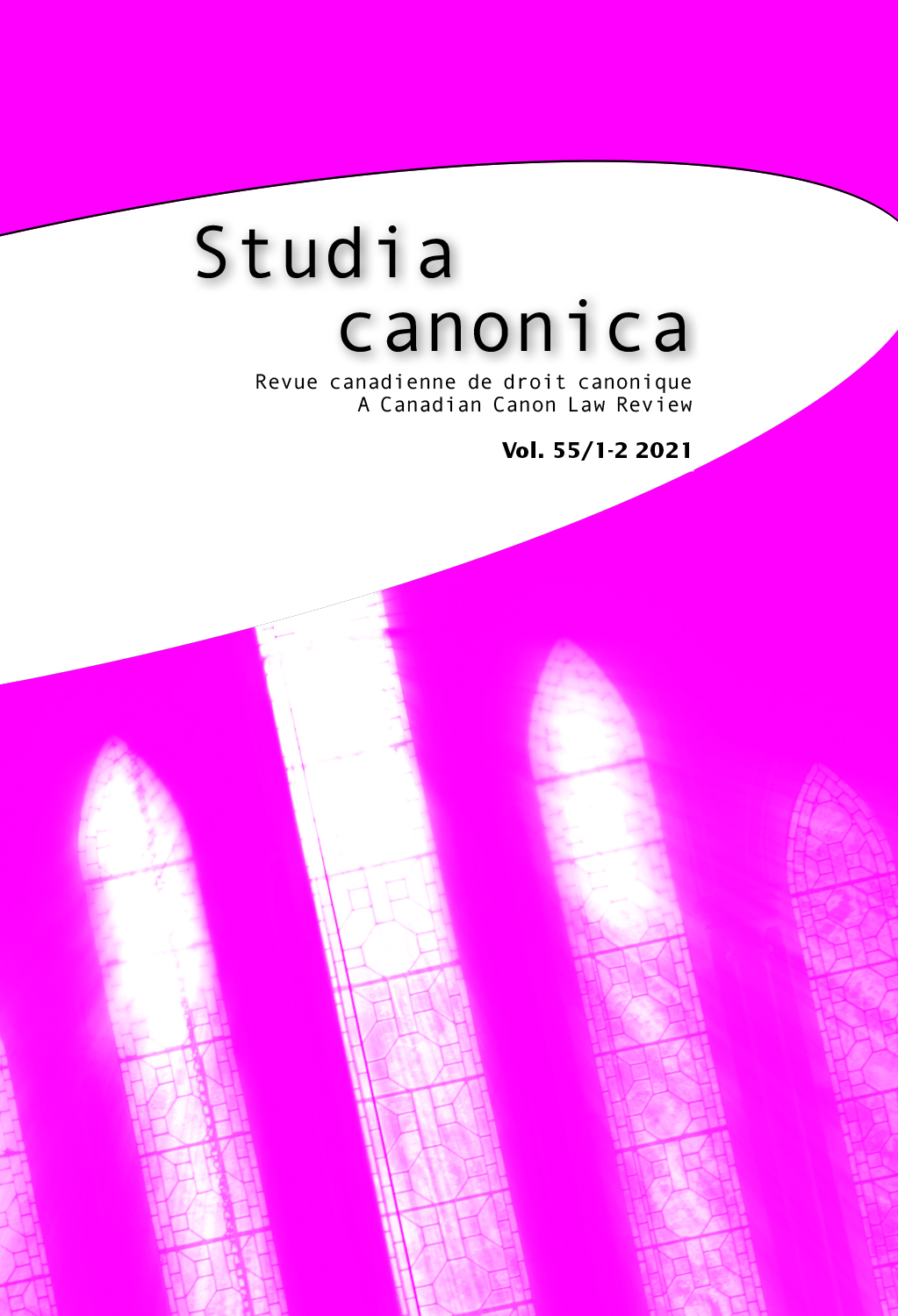 Document Details :

Title: The Principle of Collegiality in the Exercise of Judicial Power in the Church
Author(s): DANIEL, William L.
Journal: Studia Canonica
Volume: 53 Issue: 2 Date: 2019
Pages: 369-429
DOI: 10.2143/STC.53.2.3287615

Abstract :
The canonical tradition bears witness to the wisdom of entrusting certain more grave and important judicial controversies to the judgment of a college of judges. In the ius vigens, certain causes are indeed reserved to a college of three judges (c. 1425 § 1). The principle of collegiality in judging aids the discovery of the truth and protects the freedom of the judges. The general legislation defines the composition and competence of the college and prescribes how it is to act collegially (cc. 1426, 1609). The presiding judge decrees the date, time and place for its session; each judge in solitude examines the acts and writes his votum. When they gather, they pray, hear the report of the ponens, cast their votes, discuss the cause, and record the event in the folium dispositivum. The sentence is then drafted and approved by the judges. Certain illegitimate tribunal practices undermine these elements. The A. discusses seven: the illegitimate use of a single judge (c. 1622, 1º), the arbitrary standard of easy or difficult cases, the indeterminate constitution of the college, the lack of a judicial session, extraterritorial judging, the pro forma session, and the mixed session.


---

La tradition canonique témoigne de la sagesse de confier certaines controverses plus graves et importantes au jugement d'un collège de judges. Dans le ius vigens, certaines causes sont, en effet, réservées à un collège de trois juges (c. 1425, § 1). Le principe de la collégialité dans les jugements aide à la découverte de la vérité et protège la liberté des juges. La législation générale définit la composition et la compétence du collège et prescrit comment il doit agir collégialement (cc. 1426, 1609). Le juge président fixe la date, le jour et l'heure de la tenue de leur session; chaque juge, seul, examine les actes et rédige son votum. Lorsqu'ils se réunissent, ils prient, entendent le rapport du ponens, votent, discutent de la cause et prennent note de l'événement dans le folium dispositivum. La sentence est ensuite rédigée et approuvée par les juges. Certaines pratiques illégitimes des tribunaux nuisent à ces éléments. L'A. en discute sept: l'usage illégitime d'un juge unique (c. 1622, 1º), des standards arbitraires de causes faciles ou difficiles, la constitution indéterminée du collège, l'absence d'une session judiciaire, les jugements extraterritoriaux, la session pro forma et la session mixte.


Download article