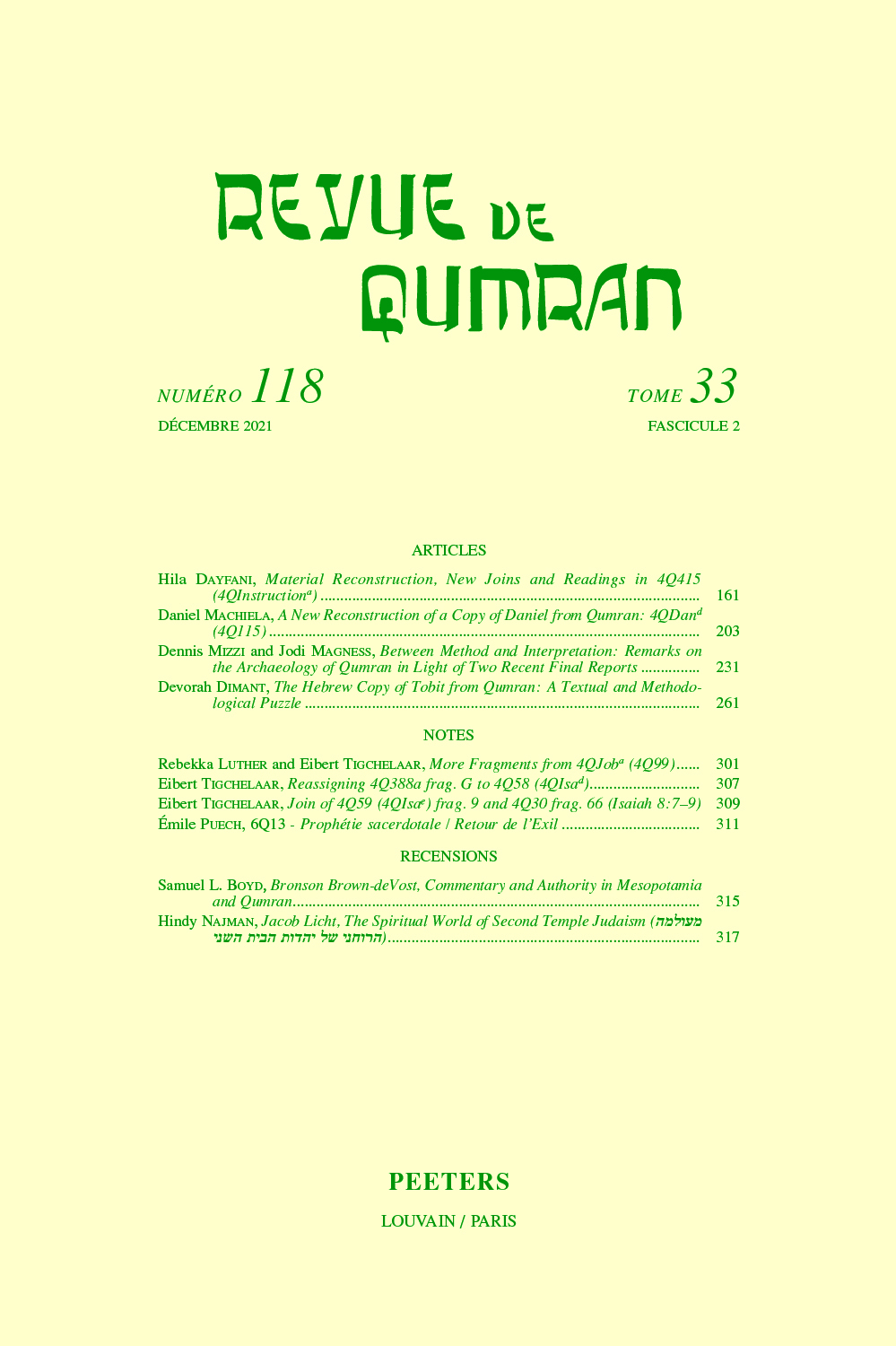 Document Details :

Title: Three Philological Notes on Demonological Terminology in the Songs of the Sage (4Q510 1 4-6)
Author(s): MIZRAHI, Noam , PATMORE, Hector M.
Journal: Revue de Qumran
Volume: 31 Issue: 2 Date: numéro 114, 2019
Pages: 239-250
DOI: 10.2143/RQ.31.2.3287241

Abstract :
This paper discusses demonological terms occurring in the Songs of the Sage (4Q510 1 4-6, with special attention to line 5), which are all derived from an exegetical conflation of Isa 13:21-22 and 34:14, also recorded in rabbinic demonology. Based on the orthographic conventions of Qumran Hebrew, it is argued that the reading שד אים should be preferred over שדאים and interpreted as comprising two different terms. It is further argued that אים is to be understood as a phonetic spelling of MT's אִיִּים (occurring in both Isa 13:22 and 34:14), while שֵׁד is the Aramaic counterpart of שָׂעִיר (in the singular, as occurring in Isa 34:14), in accordance to a tradition that is independently documented in Targum Jonathan.


---

Cet article examine des termes démonologiques mentionnés dans les Cantiques du Sage (4Q510 1 4-6, en particulier ligne 5), tous dérivés d'une conflation de nature exégétique d'Is. 13:21-22 et 34:14 également attestée dans la démonologie rabbinique. En nous appuyant sur les conventions orthographiques de l'hébreu de Qumrân, nous soutenons que la lecture שד אים doit être préférée à שדאים: ce lemme doit être interprété comme comprenant deux mots. Nous avançons en outre que le terme אים doit être compris comme une orthographe phonétique du אִיִּים attestée dans le TM d'Is. 13:22 et 34:14, et que שֵׁד correspond à l'équivalent araméen de שָׂעִיר (au singulier, tel qu'il apparaît en Is. 34:14), conformément à une tradition documentée de manière indépendante dans le Targum Jonathan.


Download article