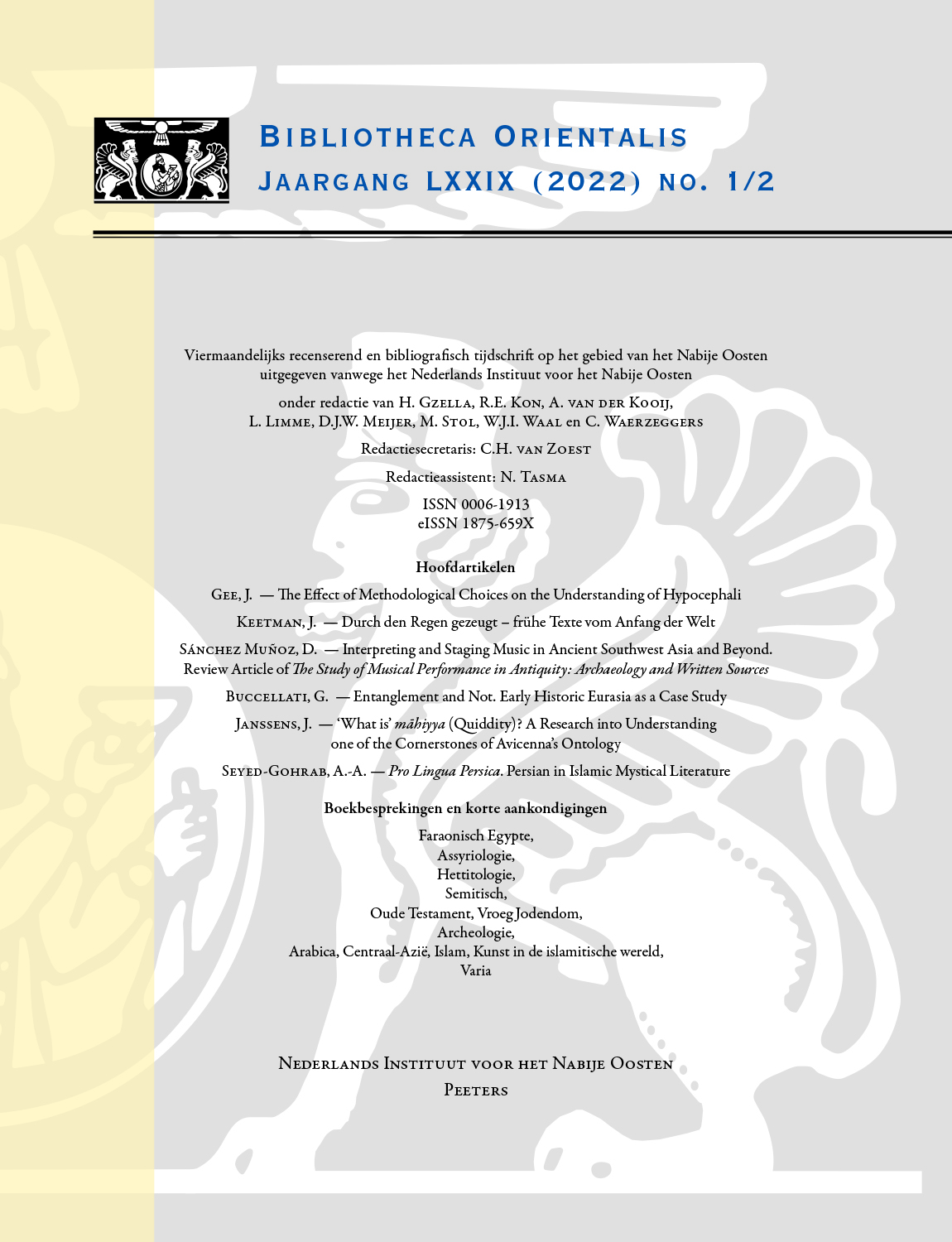 Document Details :

Title: Archeologie
Author(s):
Journal: Bibliotheca Orientalis
Volume: 76 Issue: 1-2 Date: 2019
Pages: 185-206
DOI: 10.2143/BIOR.76.1.3286619

Abstract :
BIETAK, M., PRELL, S. (eds.) - Ancient Egyptian and Ancient Near Eastern Palaces. Volume 1. (Contributions to the Archaeology of Egypt, Nubia and the Levant 5). Austrian Academy of Sciences Press, Vienna, 2018.

SCHWARZBERG, H., BECKER, V. (eds.) - Bodies of Clay. On Prehistoric Humanised Pottery. Proceedings of the Session at the 19th EAA Annual Meeting at Pilsen, 5th September 2013. Oxbow Books, Oxford, 2017.

FISCHER, P.M., BÜRGE, T. (eds.) - 'Sea Peoples' Up-to-Date. New Research on Transformation in the Eastern Mediterranean in the 13th-11th Centuries BCE. Proceedings of the ESF-Workshop held at the Austrian Academy of Sciences, Vienna, 3-4 November 2014. (Denkschriften der Gesamtakademie 81; Contributions to the Chronology of the Eastern Mediterranean 35). Verlag der Österreichischen Akademie der Wissenschaften, Wien, 2017.

MARGUERON, J.-C. - Mari, le temple d'Ishtar revisité. Nouvelles conclusions. (Bibliotheca del Próximo Oriente Antiquo 13). Consejo Superior de Investigaciones Científicas, Madrid, 2017.

MANER, Ç, HOROWITZ, M.T., GILBERT, A.S. (eds.) - Overturning Certainties in Near Eastern Archaeology. A Festschrift in Honor of K. Aslihan Yener. (Culture and History of the Ancient Near East 90). Brill, Leiden, 2017.

MADSEN, B. - The Early Bronze Age Tombs of Jebel Hafit. Danish Archaeological Investigations in Abu Dhabi 1961-1971. (Jutland Archaeological Society Publications 93). Aarhus University Press, Aarhus, 2017.


Download article