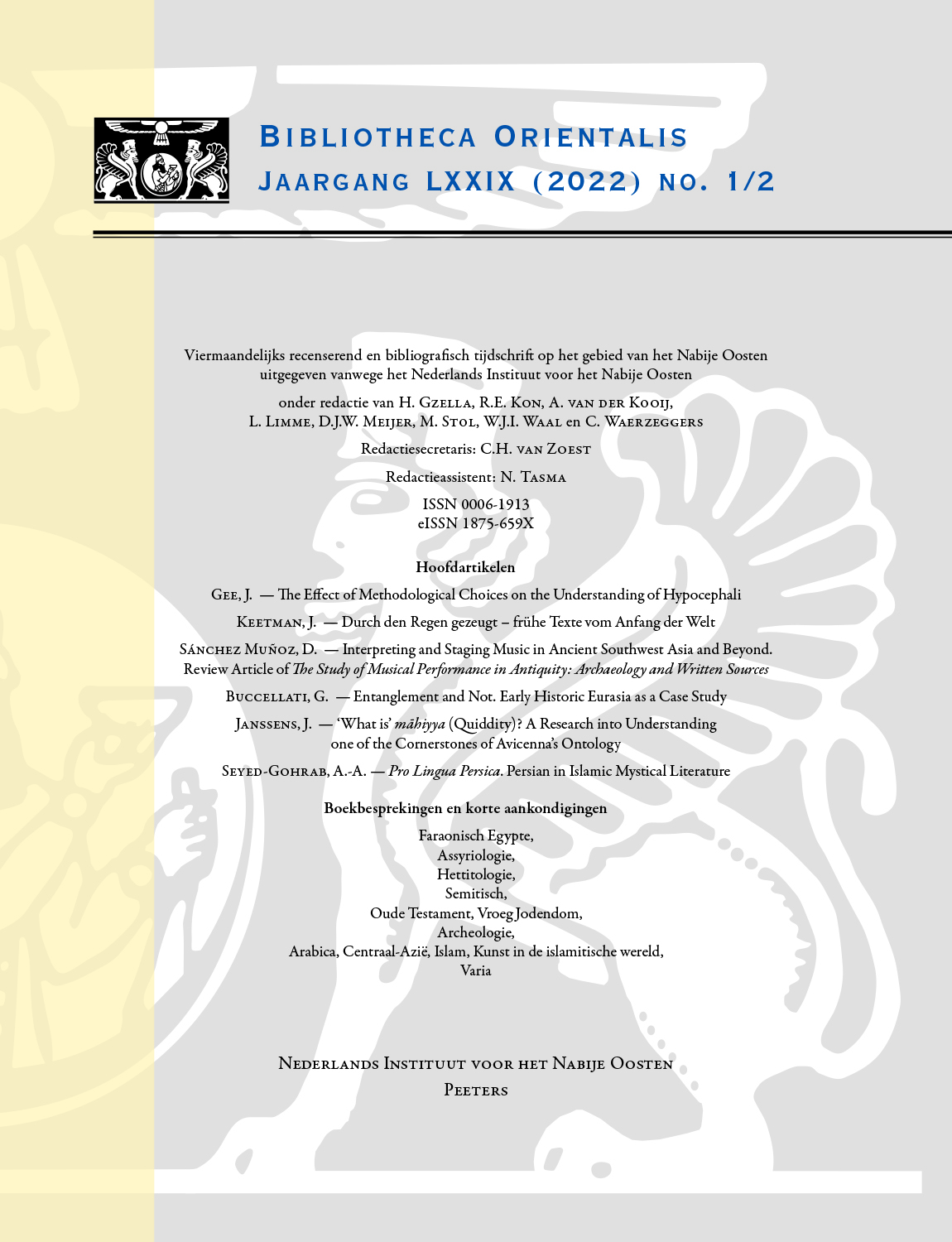 Document Details :

Title: Oude Testament
Author(s):
Journal: Bibliotheca Orientalis
Volume: 75 Issue: 5-6 Date: 2018
Pages: 604-617
DOI: 10.2143/BIOR.75.5.3286495

Abstract :
VAN OORSCHOT, J., WITTE, M. (eds.) - The Origins of Yahwism. (Beihefte zur Zeitschrift für die Alttestamentliche Wissenschaft 484). De Gruyter, Berlin, 2017.

IMES, C.J. - Bearing Yhwh's Name at Sinai. A Reexamination of the Name Command of the Decalogue. (Bulletin for Biblical Research Supplement 19). Eisenbrauns, Winona Lake, 2018.

VANDERHOOFT, D.S., WINITZER, A. (eds.) - Literature as Politics, Politics as Literature. Essays on the Ancient Near East in Honor of Peter Machinist. Eisenbrauns, Winona Lake, 2013.

Korte aankondigingen:
BAFFIONI, C., PASSONI DELL'ACQUA, A., BIANCA FINAZZI, R., VERGANI, E. (eds.) - Bibbia e Corano. Edizioni e ricezioni. (Orientalia Ambrosiana 5). Bibliotheca Ambrosiana, Milano, 2016.

BECKING, B., GRABBE, L. (eds.) - Between Evidence and Ideology. Essays on the History of Ancient Israel read at the Joint Meeting of the Society of Old Testament Study and the Oudtestamentisch Werkgezelschap, Lincoln, July 2009. (Oudtestamentische Studiën - Old Testament Studies 59). Brill, Leiden, 2010.

FISCHER, G., MARKL, D., PAGANINI, S. (Hrsg.) - Deuteronomium - Tora für eine neue Generation. (Beihefte zur Zeitschrift für Altorientalische und Biblische Rechtsgeschichte 17). Verlag Otto Harrassowitz, Wiesbaden, 2011.

TAMCKE, M. (Hrsg.) - Orientalische Christen und Europa. Kulturbegegnung zwischen Interferenz, Partizipation und Antizipation. (Göttingen Orientforschungen, 1. Reihe: Syriaca 41). Verlag Otto Harrassowitz, Wiesbaden, 2012.

GREISIGER, L. - Messias - Erdkaiser - Antichrist. Politische Apokalyptik unter Juden und Christen des Nahen Osten am Vorabend der arabischen Eroberung. (Orientalia Biblica et Christiana 21). Verlag Otto Harrassowitz, Wiesbaden, 2014.


Download article