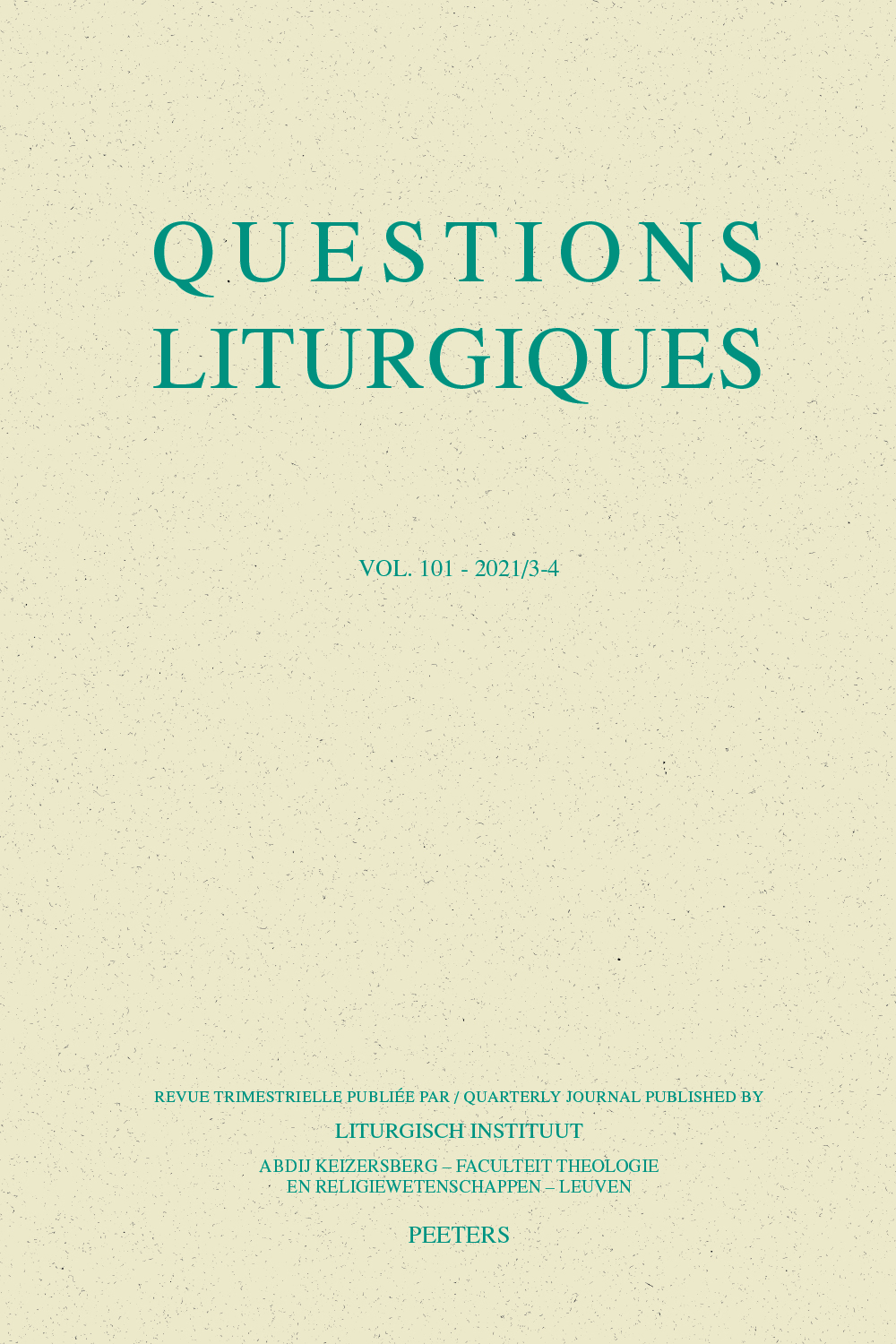 Document Details :

Title: L'origine de l'imposition des mains épiclétique comme tradition dans les liturgies des ordinations et du baptême
Author(s): DECOUSU, Laurence
Journal: Questions Liturgiques/Studies in Liturgy
Volume: 99 Issue: 2-3 Date: 2018-2019
Pages: 81-192
DOI: 10.2143/QL.99.2.3286437

Abstract :
L'origine et la signification de l'imposition des mains épiclétique en usage dans les ordinations restent très discutées. Le rite apparaît en 1 Tm 4,14 puis disparaît des sources anciennes pour ne réapparaître qu'un peu avant le milieu du IIIe siècle. L'enquête qui va suivre rouvre tout le dossier historique sur la question, et s'appuie sur de nouvelles perspectives pneumatologiques qui permettent de reconsidérer l'origine de ce rite et d'en éclairer l'histoire: on impose les mains seulement lorsque l'Esprit Saint n'a pas été ou n'aurait pas été reçu par un croyant. A partir de travaux antérieurs aboutissant à cette conclusion, la présente contribution propose de montrer que l'imposition des mains épiclétique pratiquée dans les ordinations et celle mise en œuvre dans l'institution baptismale ont une origine commune, et qu'elles poursuivent un même but: le don de l'Esprit Saint pour ceux qui ne l'auraient pas reçu. Son usage dans les ordinations a d'abord été occasionnel avant d'être systématisé. Et dans un contexte de déclin des manifestations de l'Esprit, on a fini par étendre ce rite aux baptisés. Mais de telles évolutions n'ont pas été sans conséquences dans l'histoire des doctrines sacramentaires.


---

The origin and meaning of epicletic laying on of hands used in ordinations are still widely discussed. The rite appears in 1 Tim 4,14 then disappears from the ancient sources to reappear only shortly before the middle of the third century. The following survey reopens the historical record on the issue, and is based on new pneumatological perspectives that allow us to reconsider the origin of this rite and to shed light on its history: hands are laid on only when the Holy Spirit has not been or would not have been received by a believer. On the basis of earlier works leading to this conclusion, the present contribution proposes to show that epicletic laying on of hands practiced in the ordinations and that practiced in the baptismal institution have a common origin and a same purpose: the gift of the Holy Spirit for those who would have not received it. Its use in ordinations was first occasional before being systematized. And in a context of declining manifestations of the Spirit, this rite was eventually extended to the baptized. But such developments have not been without consequences in the history of sacramental doctrines.


Download article