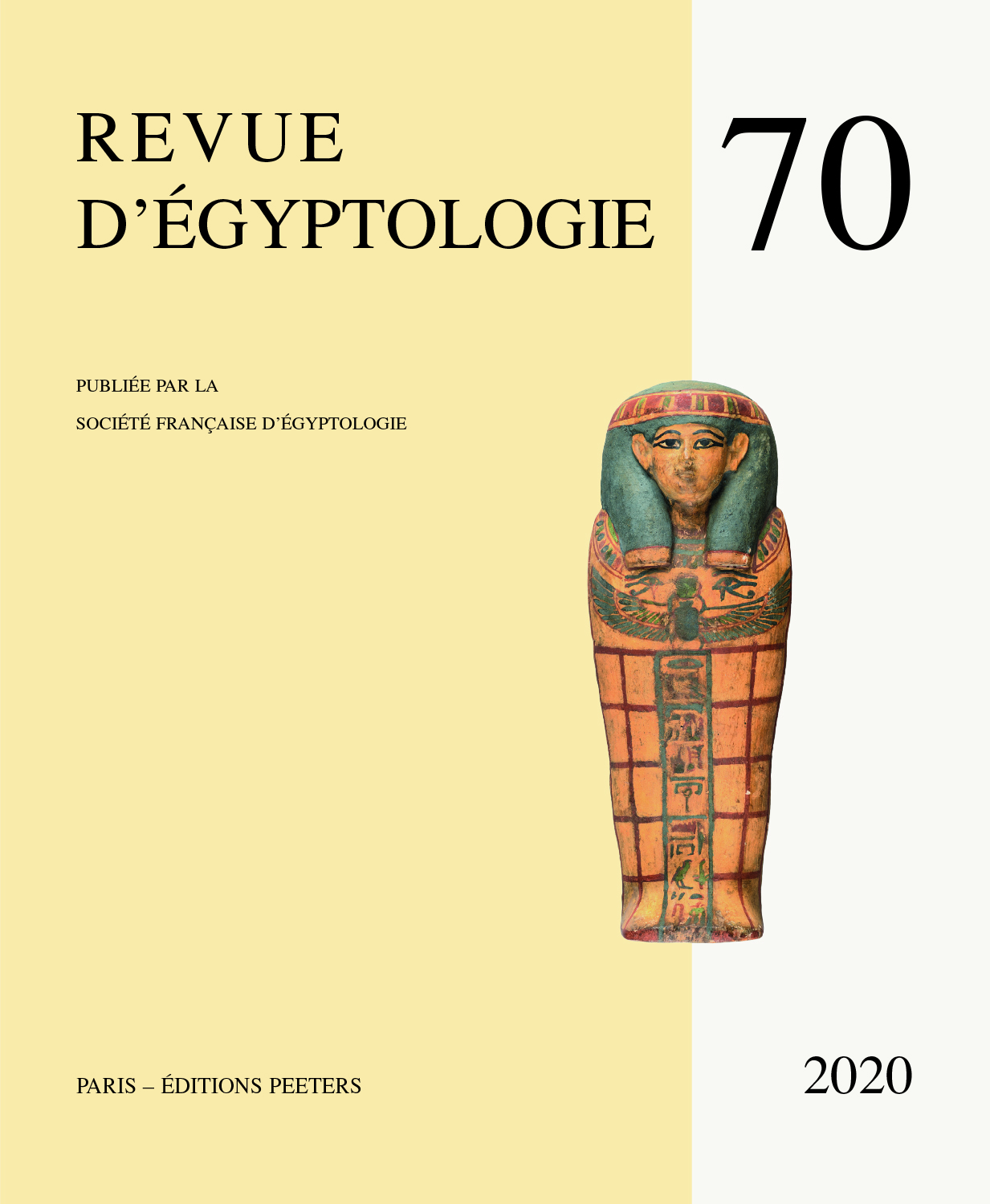 Document Details :

Title: Satis et Knoum maîtres d'Éléphantine
Subtitle: Une lettre savante de la fin de l'Ancien Empire (papyrus Brooklyn 47.218.18)
Author(s): PILLON, Andrea
Journal: Revue d'Égyptologie
Volume: 68 Date: 2017-2018
Pages: 109-139
DOI: 10.2143/RE.68.0.3285269

Abstract :
Édition d'un papyrus opisthographe (Brooklyn 47.218.18) acquis par Ch. Wilbour. Il s'agit d'une lettre inédite de la fin du IIIe millénaire provenant des archives palatines d'Éléphantine. Au recto, l'adresse et des éléments de la «formule memphite» introduisent le corps de la lettre. Un fils écrivant à son père évoque l'action sfḫ – «délivrer» – que Satis et Khnoum ont accomplie en faveur du récipiendaire. Au verso, des titres de rang, une formule de bénédiction et peut-être l'objet de la missive ont été hâtivement annotés. La date et le style (la calligraphie, la paléographie et l'emploi de signes métatextuels), la phraséologie (ex. 'nḫ wd3 snb), la culture des scribes (ex. de la «formule memphite» à la Kémyt) et le paysage cultuel d'Éléphantine (notamment l'épithète «maître d'Éléphantine» à cette époque) font l'objet d'un commentaire développé.


---

Edition of an opistographic papyrus (Brooklyn 47.218.18) acquired by Ch. Wilbour. It is an unpublished letter of the end of the 3rd Millennium belonging to the palatial archives of Elephantine. On the recto, the address and some elements of the Memphite Formula introduce the body of the letter. A son writing to his father mentions the action sfḫ – 'to release' – that Satis and Khnum accomplished in favour of the letter recipient. On the verso, rank titles, a greeting formula and probably the object of the missive are hastily recorded. The date and the style (the calligraphy, the palaeography and the use of metatextual marks), the phraseology (ex. 'nḫ wd3 snb), the scribal culture (ex. from the Memphite Formula to the Kemyt) and the cultic landscape of Elephantine (mostly the epithet 'lord of Elephantine' in this epoch) are the subject of an extended commentary.


Download article