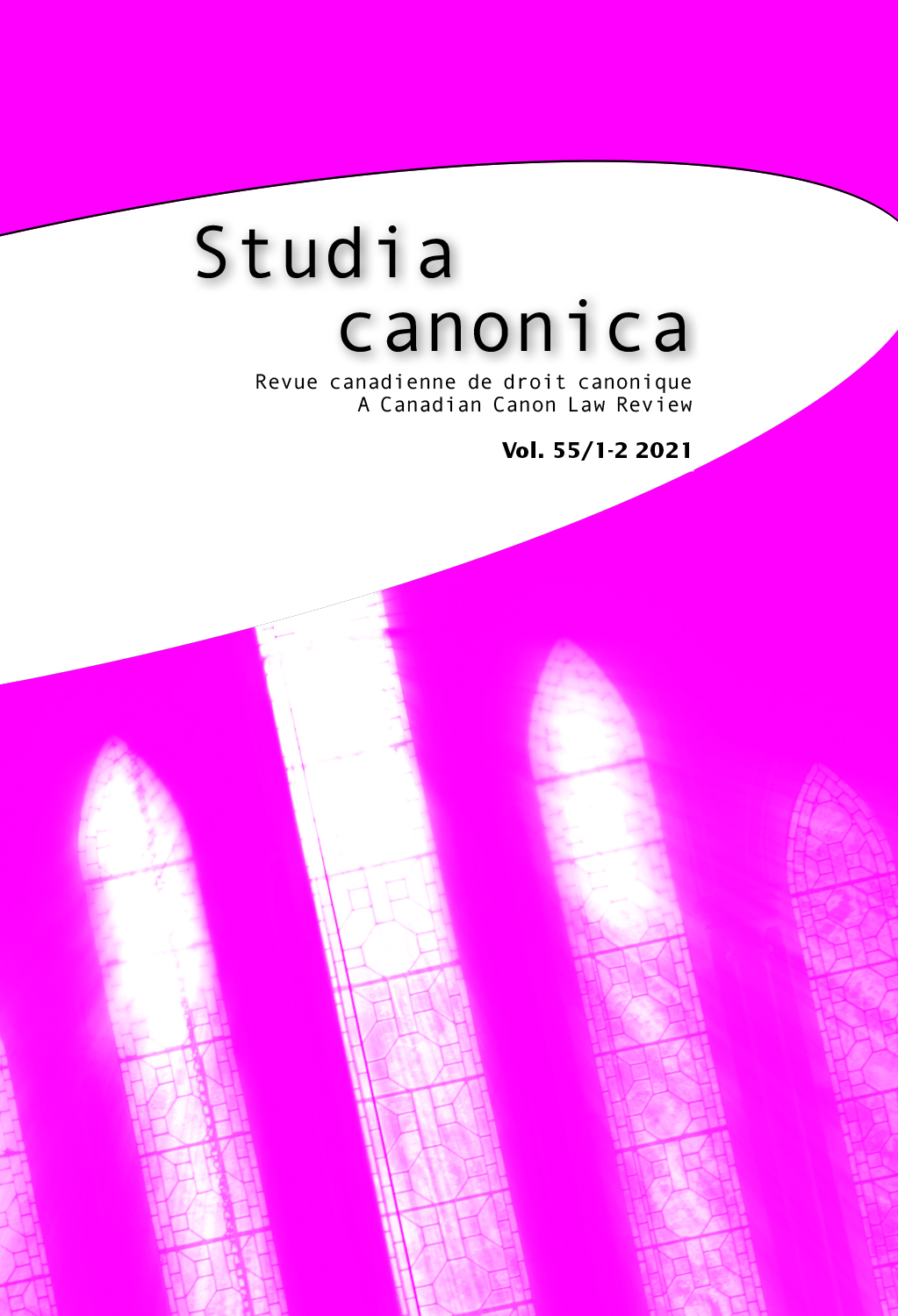 Document Details :

Title: De concordia inter codices
Subtitle: Vers une harmonisation entre le code latin et le code oriental
Author(s): ABBASS, Jobe
Journal: Studia Canonica
Volume: 51 Issue: 2 Date: 2017
Pages: 323-355
DOI: 10.2143/STC.51.2.3271940

Abstract :
Dans la lettre apostolique De concordia inter Codices, le pape François exprime sa constante sollicitude pour la concordance des deux Codes de l'Église catholique. Dans le préambule et les autres articles de la lettre, Sa Sainteté a modifié quelques normes latines, réalisant ainsi une plus grande harmonie entre les Codes latin et oriental. En dépit de son souci pour un certain degré d'harmonie entre les Codes, le pape reconnait aussi qu'ils ont leurs propres particularités qui les rendent mutuellement indépendants. Ainsi, bien que De concordia inter Codices harmonise un bon nombre de normes parallèles dans les deux Codes, d'autres sont encore discordantes puisque le motu proprio a pris en considération les différentes traditions de ces deux Codes de l'Église universelle qui demeurent néanmoins séparés et distincts. En référant directement aux articles de De concordia inter Codices, la première partie de cet article examine l'harmonie atteinte entre des normes parallèles des Codes latin et oriental. Puis, la deuxième partie considère plusieurs questions non résolues qui ont été soulevées lors de la promulgation du motu proprio. Puisque ces difficultés demeurent, l'harmonisation continue des Codes pourrait s'avérer nécessaire pour atteindre une plus grande clarté et pour fournir des réponses faisant foi sur ces questions.


---

In his apostolic letter, De concordia inter Codices, Pope Francis expressed his constant solicitude for a concordance between the two Codes of the Catholic Church. By way of the letter's Preamble and eleven articles, His Holiness made changes to a number of Latin norms thereby effecting a greater harmony between the Latin and Eastern Codes. Despite the pope's concern for an appropriate degree of harmony between the Codes, he also acknowledged that the Codes have their own peculiarities which make them mutually independent. As a result, while De concordia inter Codices harmonizes a number of parallel norms of the Codes, others remain disharmonious as the motu proprio took into consideration the different traditions behind the two separate and distinct Codes of the universal Church. With specific reference to the articles of De concordia inter Codices, part 1 of this paper endeavours to examine the harmony achieved between parallel norms of the Latin and Eastern Codes. Then, part 2 considers several unresolved questions raised as a result of the publication of the motu proprio. As these issues remain, continuing harmonization of the Codes may be required to provide greater clarity and authoritative answers to these matters.


Download article