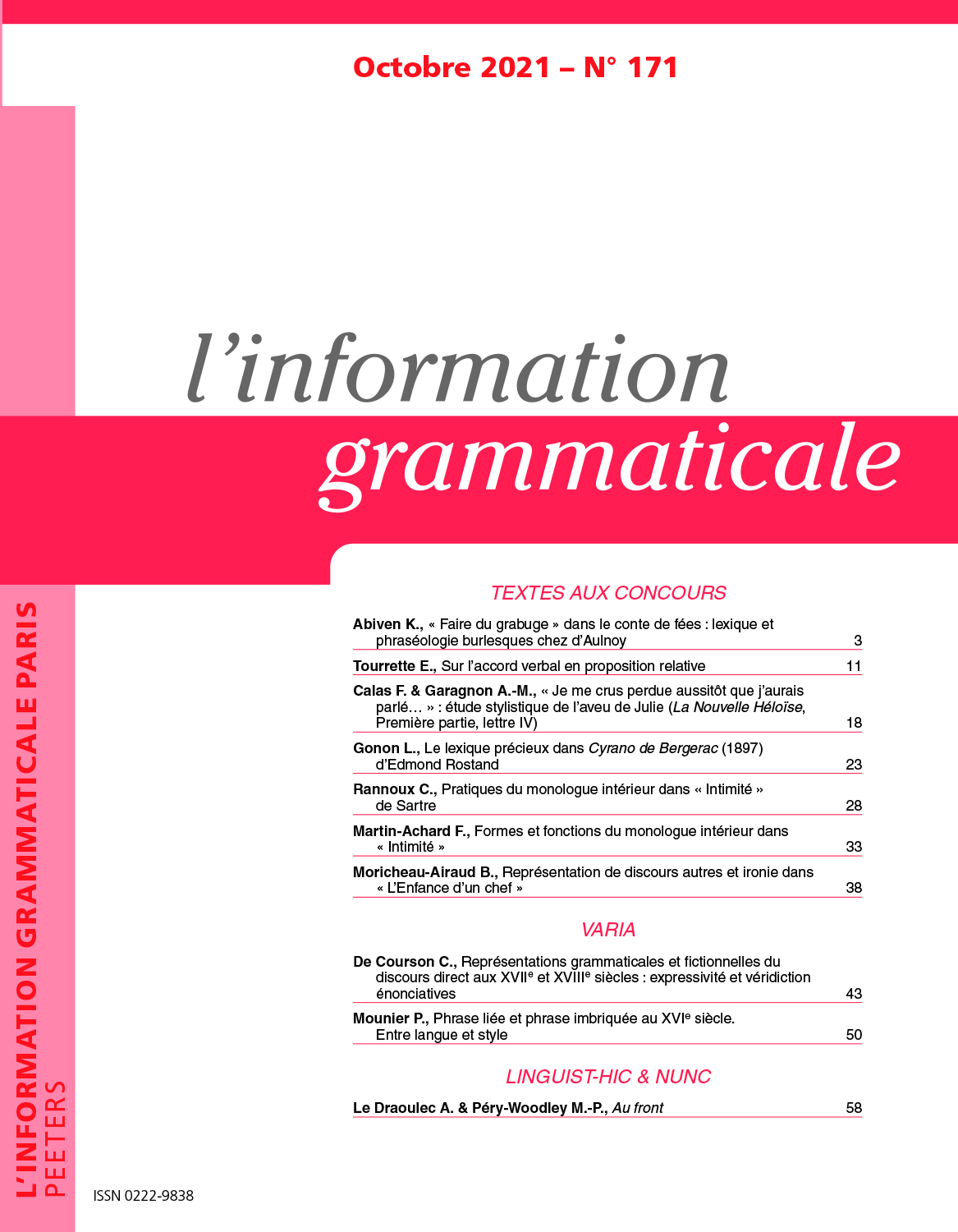 Document Details :

Title: L'emploi de en train de avec les verbes de perception dans l'audiovisuel
Subtitle: Calque de l'anglais ou tendance à la grammaticalisation?
Author(s): VENTURA, Daniela
Journal: L'Information Grammaticale
Volume: 154 Date: juin 2017
Pages: 36-45
DOI: 10.2143/IG.154.0.3262818

Abstract :
Les verbes de perception se caractérisent par la variété de leur complémentation: ils admettent une multitude de structures syntaxiques, bien que les formes verbales et phrastiques de l'attribut soient lexicalement bien définies. Dans les médias (télévision notamment), nous avons pu constater l'emploi récurrent du tour en train de, emploi qui, suivant la grammaire normative, ne serait pas toujours admis. Dans cet article, nous nous interrogeons sur la nature et les possibles causes de cette pratique langagière. Notre approche se fait sur corpus et se donne pour but d'apporter des pistes de réflexions autour de ce phénomène et de ses éventuelles retombées sur la pratique langagière.


---

French verbs of perception can be followed by different syntactic structures. However, the object of these verbs under his verbal and phrastic forms is lexically limited. We observed the frequent use of en train de in Audio-visual Media; yet, according to normative grammar, this kind of construction is not allowed after several verbs. This paper proffers a corpus-based study of this construction in media (in particular on television). We will examine the possible grounds for such a discursive practice. Our approach is based on corpus data and should aim to explore solutions to this linguistic behaviour and potential impacts on language practice.


Download article