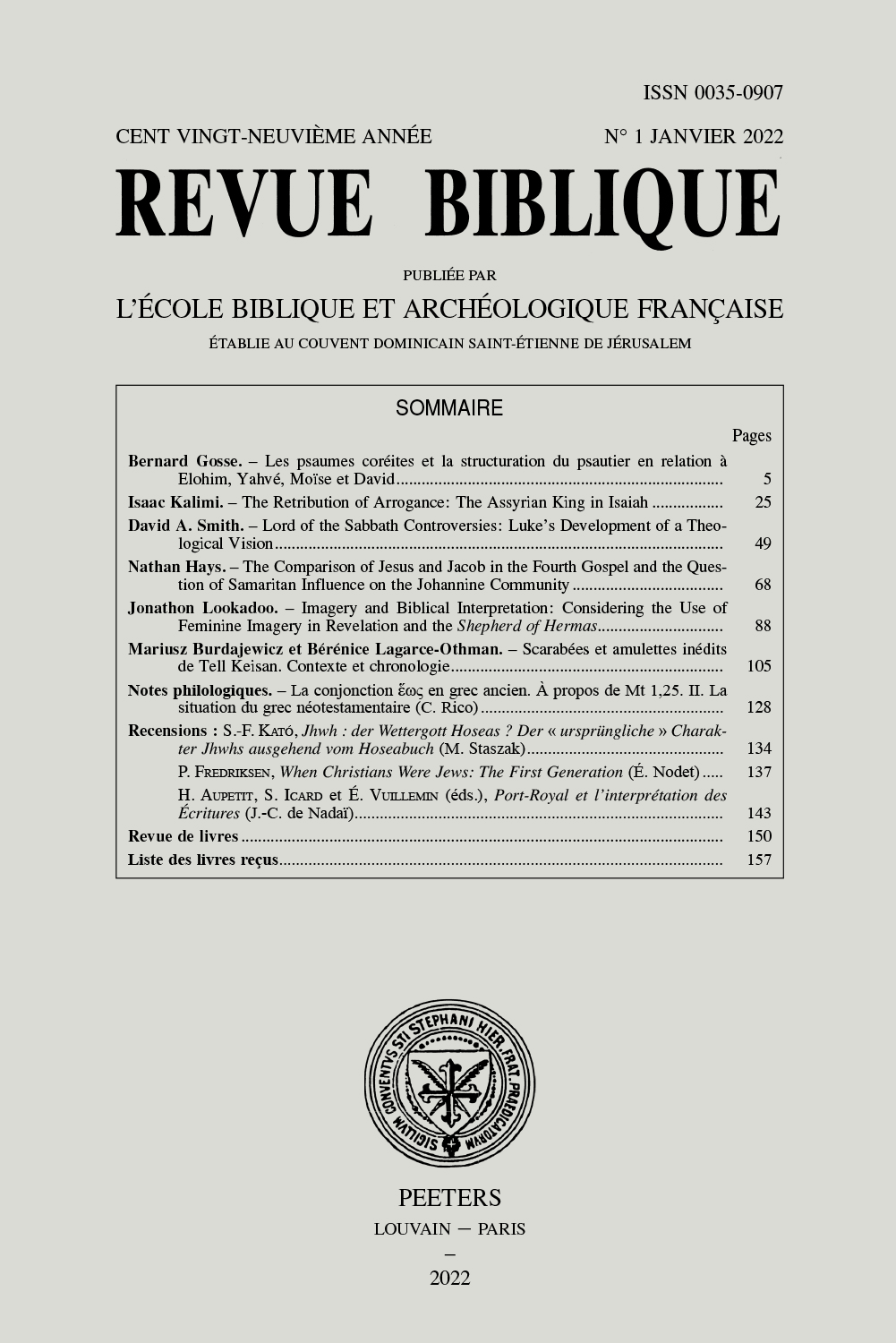 Document Details :

Title: YHWH as the Speaker of the So Called 'Messenger Formula' in the Book of Jeremiah
Author(s): FINSTERBUSCH, Karin
Journal: Revue Biblique
Volume: 124 Issue: 3 Date: 2017
Pages: 369-380
DOI: 10.2143/RBI.124.3.3245465

Abstract :
Following the influential studies of Köhler, Lindblom and Wildberger, it has become common to understand the phrase כה אמר יהוה in the prophetic literature as 'messenger formula', defining the prophet as 'messenger' of YHWH and considering him to be the speaker of the formula. In the last decades a few scholars have dedicated studies to the formula, calling the perception of the prophet as 'messenger' into question. The issue of the speaker of the formula, however, has not been discussed. While in narrative contexts the prophet is undoubtedly the speaker of the formula, several prophetic texts provide evidence for a different understanding: from the perspective of their syntactical and communicative structure, the speaker is to be identified as YHWH. This study seeks to demonstrate the evidence, focusing on texts in the book of Jeremiah, and finally arguing for a new understanding of the function of the formula.


---

À la suite des études importantes de Köhler, Lindblom et Wildberger, il est devenu courant de comprendre l'expression כה אמר יהוה dans la littérature prophétique comme «formule du messager», définissant le prophète comme «messager» de Yhwh et considérant qu'il est le locuteur de la formule. Au cours des dernières décennies, quelques exégètes ont consacré des études à la formule, mettant en doute la perception du prophète en tant que «messager». La question du locuteur de la formule, cependant, n'a pas été discutée. Alors que dans des contextes narratifs, le prophète est sans aucun doute le locuteur de la formule, plusieurs textes prophétiques témoignent d'une compréhension différente: du point de vue de leur structure syntaxique et communicative, le locuteur doit être identifié comme Yhwh. Cette étude cherche à en démontrer la preuve, en se concentrant sur des textes dans le livre de Jérémie, et finalement en plaidant pour une nouvelle compréhension de la fonction de la formule.


Download article