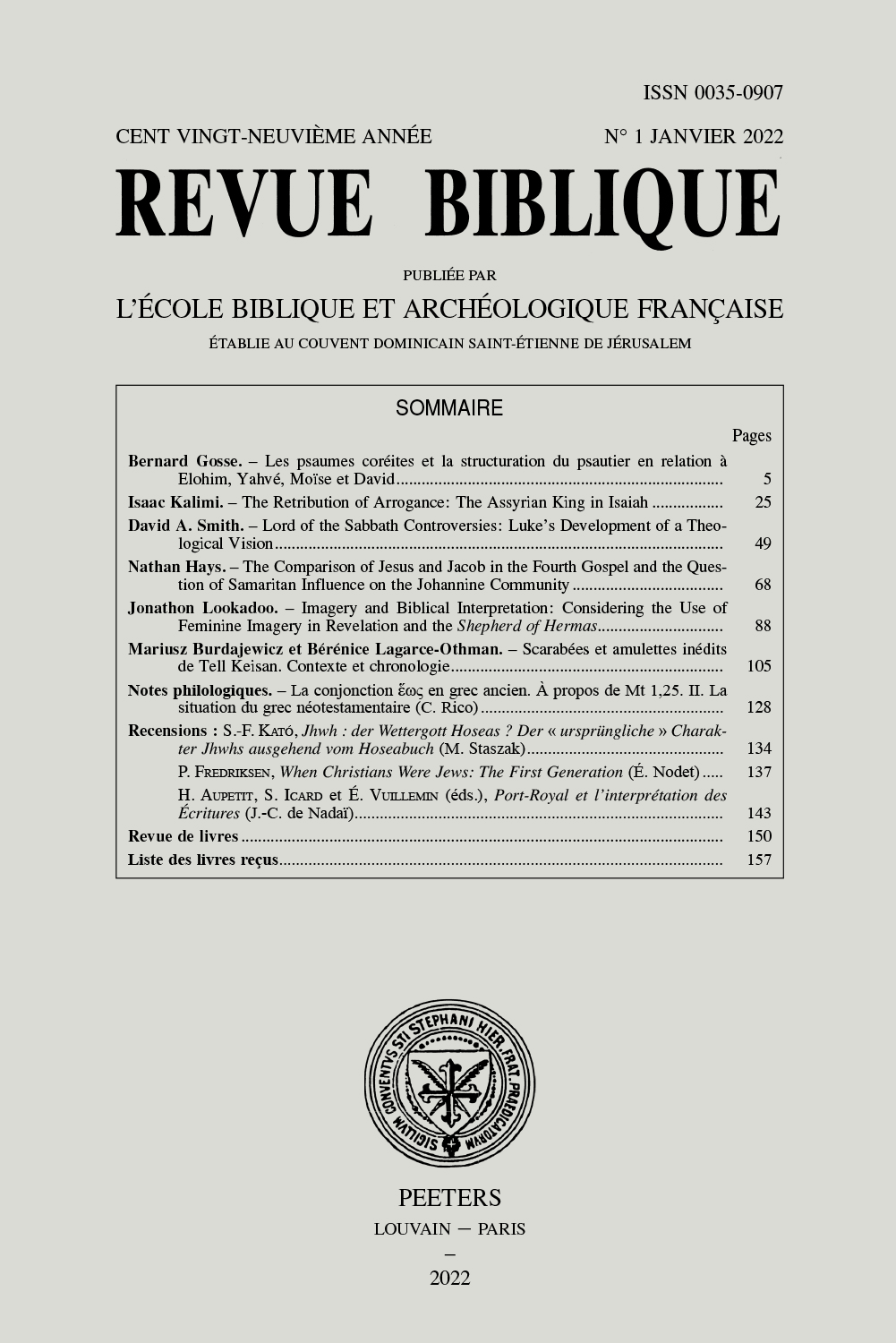 Document Details :

Title: «Aimer sa vie» et «haïr sa vie» (Jn 12,25) dans le quatrième évangile
Author(s): LÊ-MINH-THÔNG, Joseph
Journal: Revue Biblique
Volume: 115 Issue: 2 Date: 2008
Pages: 216-244
DOI: 10.2143/RBI.115.2.3206484

Abstract :
À partir des expressions contrastées de Jn 12,25, «qui aime sa vie» (ὁ φιλῶν τὴν ψυχὴν αὐτοῦ) et «qui hait sa vie» (ὁ μισῶν τὴν ψυχὴν αὐτοῦ), l'article étudie le lien entre «aimer» et «haïr» dans l'évangile de Jean. «Aimer sa vie» est le propre de ceux qui «aiment les ténèbres» et «haïssent la lumière» (cf. 3,10-20). Face à ceux-là qui veulent sa mort, Jésus est le premier à haïr sa vie (12,25), comme le grain tombé en terre porte du fruit (12,24). À leur tour, ses disciples doivent répondre à la haine du monde (15,18-25) en haïssant leur vie, c'est-à-dire en la donnant (cf. 15,13): ils ne doivent donc pas seulement aimer, mais encore haïr. Le monde hostile connaît aussi ces deux attitudes: il hait Jésus et ses disciples, alors qu'il aime son propre bien (15,19). Le contexte immédiat de 12,25 et l'ensemble de l'évangile révèlent la complexité de l'usage johannique des verbes «aimer» et «haïr»: selon leur objet, ils évoquent un accès à la vie éternelle ou la perte de la vie.


---

Beginning with the contrasted expressions of Jn 12:25, 'the one loving his life' (ὁ φιλῶν τὴν ψυχὴν αὐτοῦ) and 'the one hating his life' (ὁ μισῶν τὴν ψυχὴν αὐτοῦ), this article deals with the link between love and hate in the Gospel of John. 'To love his life' is what those do who 'love the darkness' and 'hate the light' (cf. 3:10-20). Face to face with those who want his own death, Jesus is the first one who hates his life (12:25), like the fallen grain of wheat that bears fruit (12:24). In their turn his disciples should face the world's hate (15:18-25) by hating their own life, i.e. by giving it (cf. 15:13). Therefore they have not only to love, but also to hate. The hostile world also uses these two attitudes: it hates Jesus and his disciples, whereas it loves what is its own (15:19). The closer context of 12:25 as well as the whole gospel show the complexity of the Johannine use of the verbs of love and hate: depending on their object, they can evoke either the access to eternal life or the loss of life.


Download article