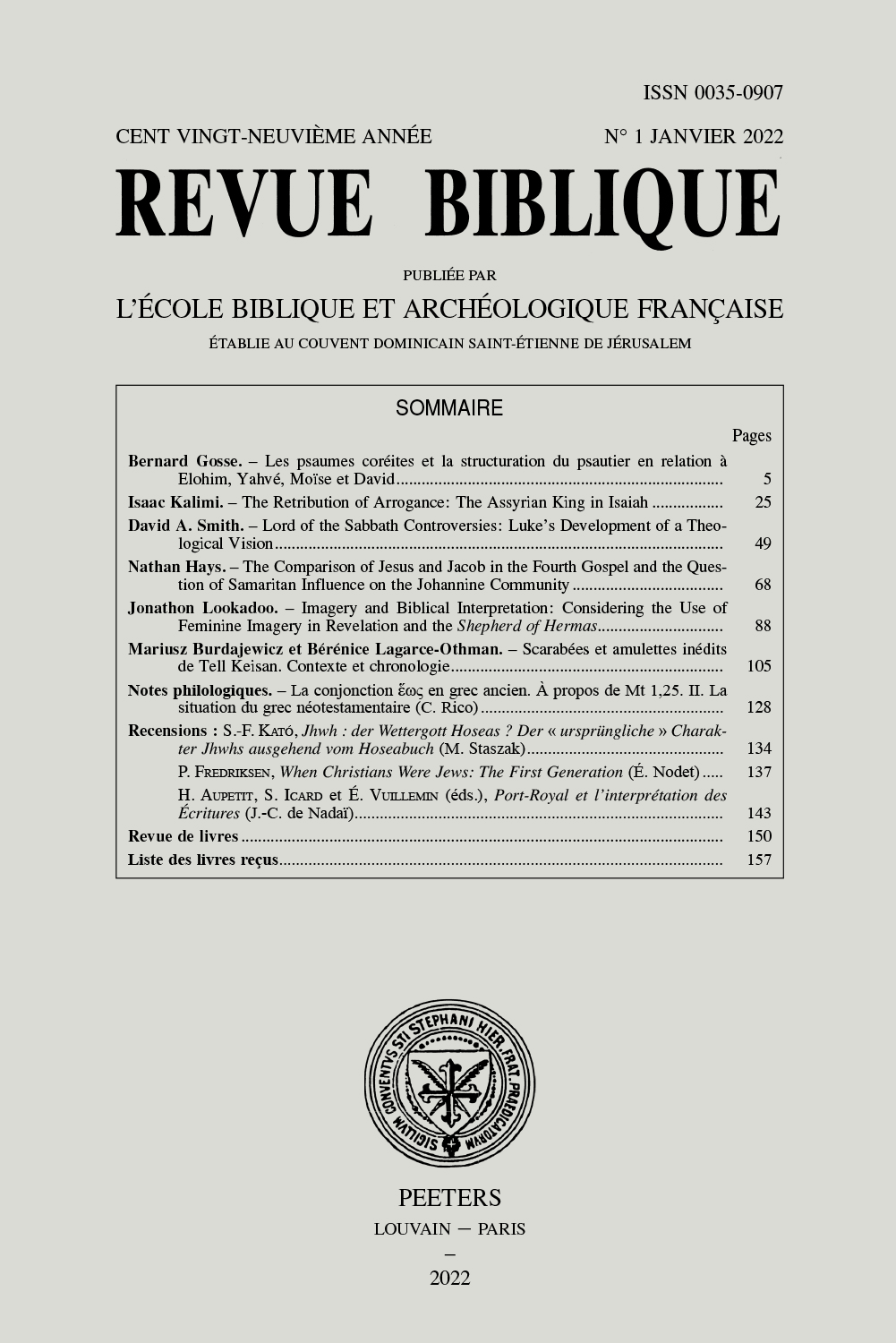 Document Details :

Title: The onomastica sacra
Subtitle: A Neglected Corpus of Hexaplaric Data
Author(s): CEULEMANS, Reinhart
Journal: Revue Biblique
Volume: 115 Issue: 3 Date: 2008
Pages: 340-359
DOI: 10.2143/RBI.115.3.3206472

Abstract :
Biblical textual critics have never systematically studied the onomastica sacra. Nevertheless, these etymological corpora deserve being studied, since they potentially contain a considerable amount of Hexaplaric data. After all, although their aims and methods differed, both the Jewish pre-Hexaplaric revisers and the Christian patristic and Byzantine exegetes (the authors of the onomastica) sought to cope with problematic proper names. By studying these names in the book of Canticles, this paper draws attention to the agreements between the minor versions and the onomastica, in an attempt to stimulate scholarly interest in the latter corpus. It is beyond doubt that the onomastica sacra can be useful in drawing the picture of the Christian Nachleben of Hexaplaric variants, which in turn can help us in doing Hexaplaric textual criticism.


---

La critique textuelle de la Bible ne s'est pas penchée systématiquement sur les onomastica sacra. Néanmoins, ces corpus étymologiques méritent d'être étudiés, car ils contiennent potentiellement une bonne quantité de matériaux des Hexaples. Bien que leurs buts et leurs méthodes divergent, aussi bien les réviseurs juifs pré-hexaplaires que les exégètes chrétiens patristiques et byzantins (les auteurs des onomastica) se sont confrontés aux noms propres problématiques. En étudiant ces noms dans le Cantique, l'article fait remarquer les accords entre les versions mineures et les onomastica, dans le but d'attirer l'attention des chercheurs sur ce dernier corpus. Il est hors de doute que les onomastica sacra peuvent être utiles pour esquisser le devenir chrétien des variantes hexaplaires, lesquelles à leur tour enrichissent la critique textuelle des Hexaples.


Download article