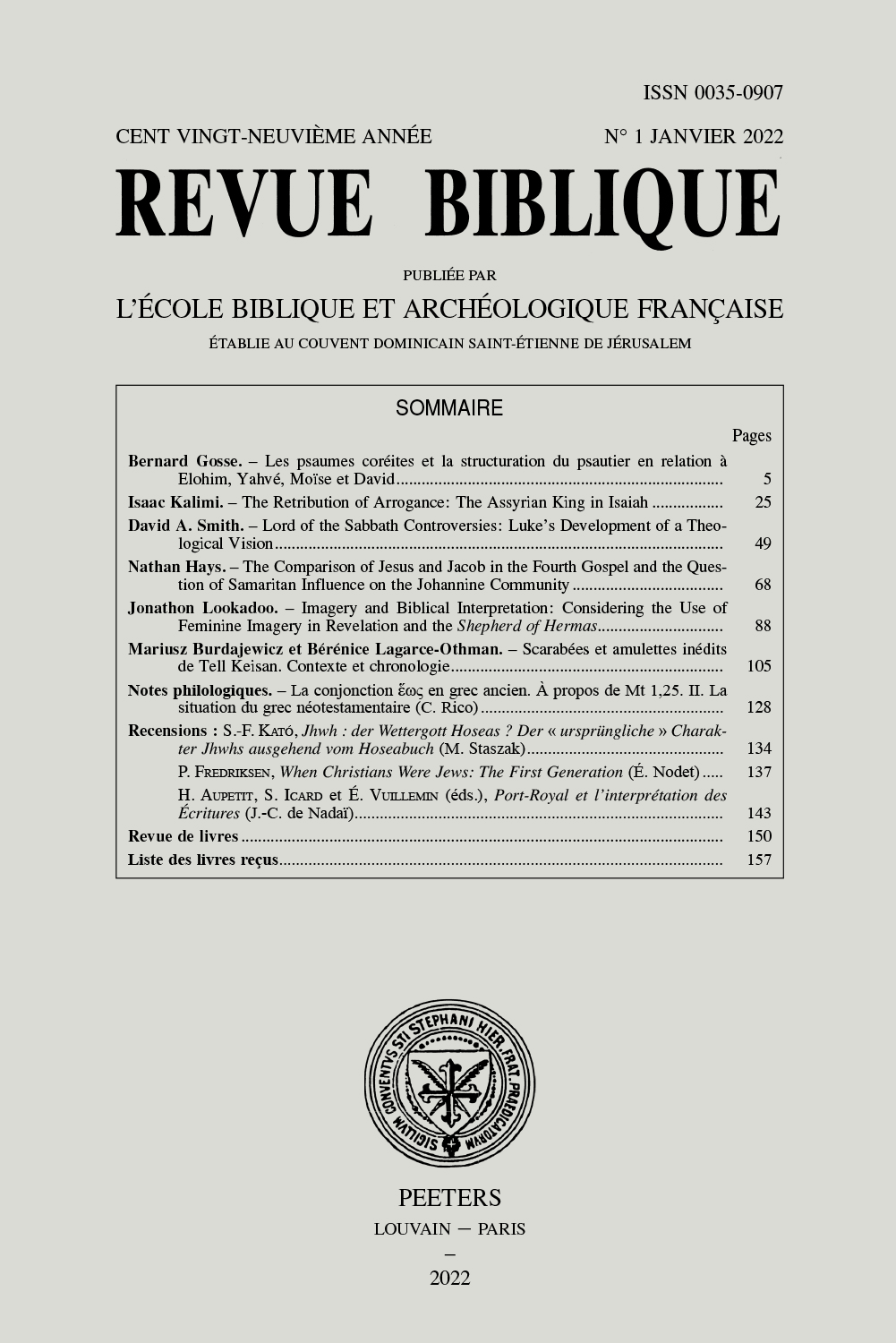 Document Details :

Title: Le rôle de la figure de Paul dans la théologie des épîtres pastorales
Author(s): REDALIÉ, Yann
Journal: Revue Biblique
Volume: 115 Issue: 4 Date: 2008
Pages: 596-612
DOI: 10.2143/RBI.115.4.3206467

Abstract :
Ces dernières années, le débat sur l'authenticité paulinienne des épîtres pastorales a vu ses frontières se déplacer. L'opposition entre catholiques et protestants n'existe plus et plusieurs auteurs remettent fortement en cause le caractère pseudépigraphique de ces épîtres. La tension théologique des pastorales s'exprime dans l'articulation d'un discours parénétique et d'un énoncé sotériologique. S'il y a pseudépigraphie, elle doit alors être comprise comme une «auto-référence fictive» de Paul, dernière interprétation autorisée de textes pauliniens antérieurs. L'image de Paul se trouve ainsi à l'articulation de la parénèse et de la théologie. D'une part, il est l'auteur des exhortations, et d'autre part, il est le lieu où le salut devient visible. Son enseignement et son expérience spirituelle deviennent des archétypes pour des communautés qui s'éloignent du premier christianisme.


---

These last years, the debate around the Pauline authenticity of the Pastoral Epistles has shifted. The opposition between Catholics and Protestants no longer exists, and some authors strongly doubt the pseudepigraphical characterization of those Epistles. The theological inner tension of the Pastorals shows up in the dynamic between a parenetical discourse and a soteriological statement. If we still speak about pseudepigraphy, it should be understood as a 'fictional auto-reference' by Paul, last authorized interpretation of the previous pauline texts. The image of Paul is, in this way, at the junction of parenesis and theology. On the one hand, he is the author of the exhortations, and on the other hand, he is the place where salvation becomes visible. His teaching and his spiritual experience become archetypes for communities getting farther and farther away from the primitive form of Christianity.


Download article