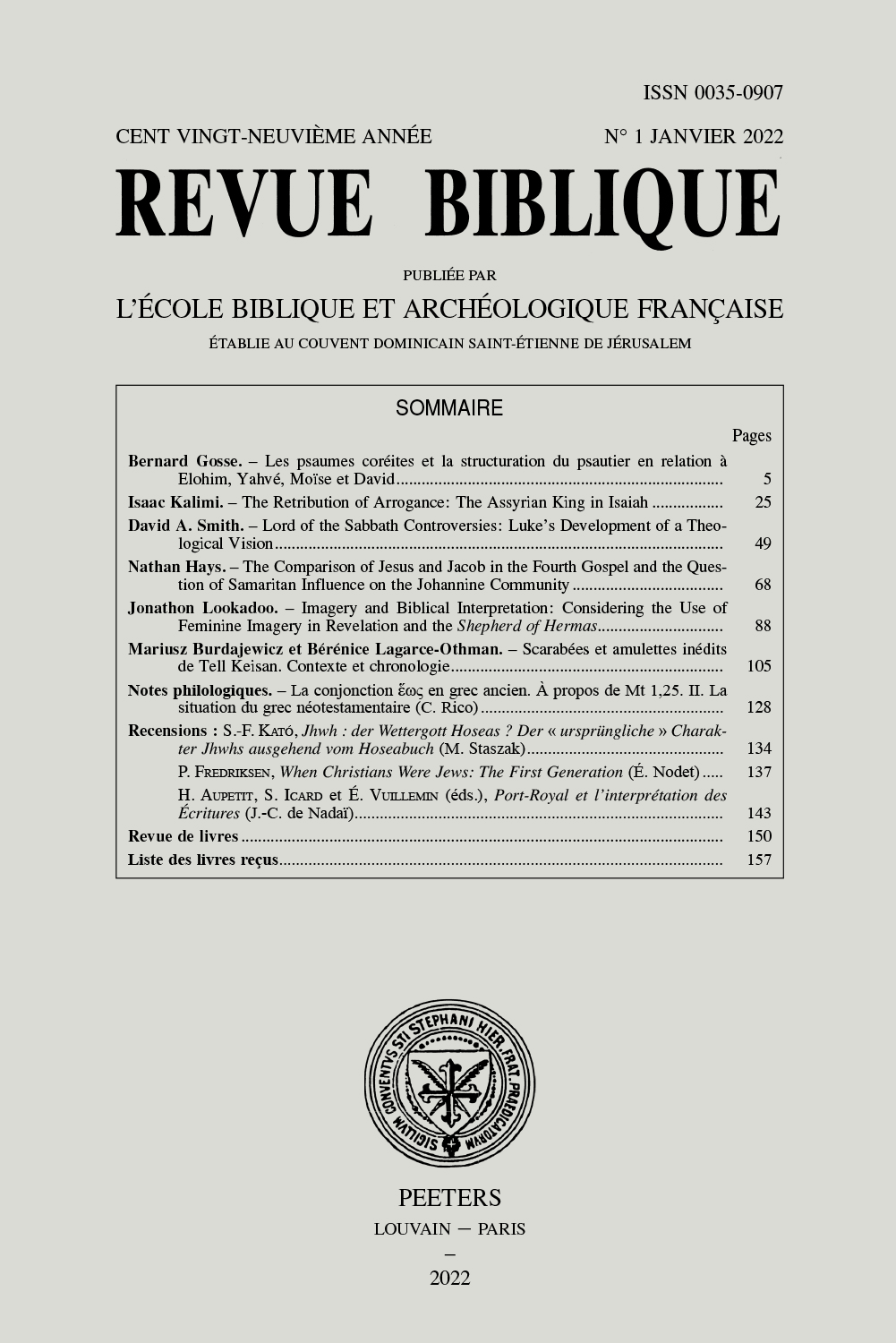 Document Details :

Title: The Pool(s) of Bethesda and the Healing in John 5
Subtitle: A Reappraisal of Research and of the Johannine Text
Author(s): VON WAHLDE, Urban C.
Journal: Revue Biblique
Volume: 116 Issue: 1 Date: 2009
Pages: 111-136
DOI: 10.2143/RBI.116.1.3206458

Abstract :
The two pools of Bethesda were constructed at different times and the southern pool was intended as a miqveh from its inception. It was here, at the southern pool, that the healing of the paralytic (John 5:1-9) took place and not at the shallow pools to the east, as has been the common opinion. Moreover, popular Jewish traditions regularly associated healing with the intermittent turbulence of water, a feature undoubtedly caused by the movement of water in the channel between the northern and southern pools. Together these confirm the historicity of the setting and traditions recounted in the Johannine passage.


---

Les deux piscines de Béthesda ont été construites à des périodes différentes, et le bassin sud avait été prévu dès le départ comme un miqveh. C'est là, au sud, que la guérison du paralytique a eu lieu (Jn 5, 1-9), et non pas dans les bassins peu profonds, à l'est – ce qui est l'opinion la plus répandue. De plus, des traditions populaires juives associent régulièrement la guérison avec la turbulence intermittente de l'eau, un fait incontestablement causé par le mouvement de l'eau dans le canal qui relie les bassins nord et sud. L'ensemble confirme l'historicité du lieu et des traditions rapportées dans le passage johannique.


Download article