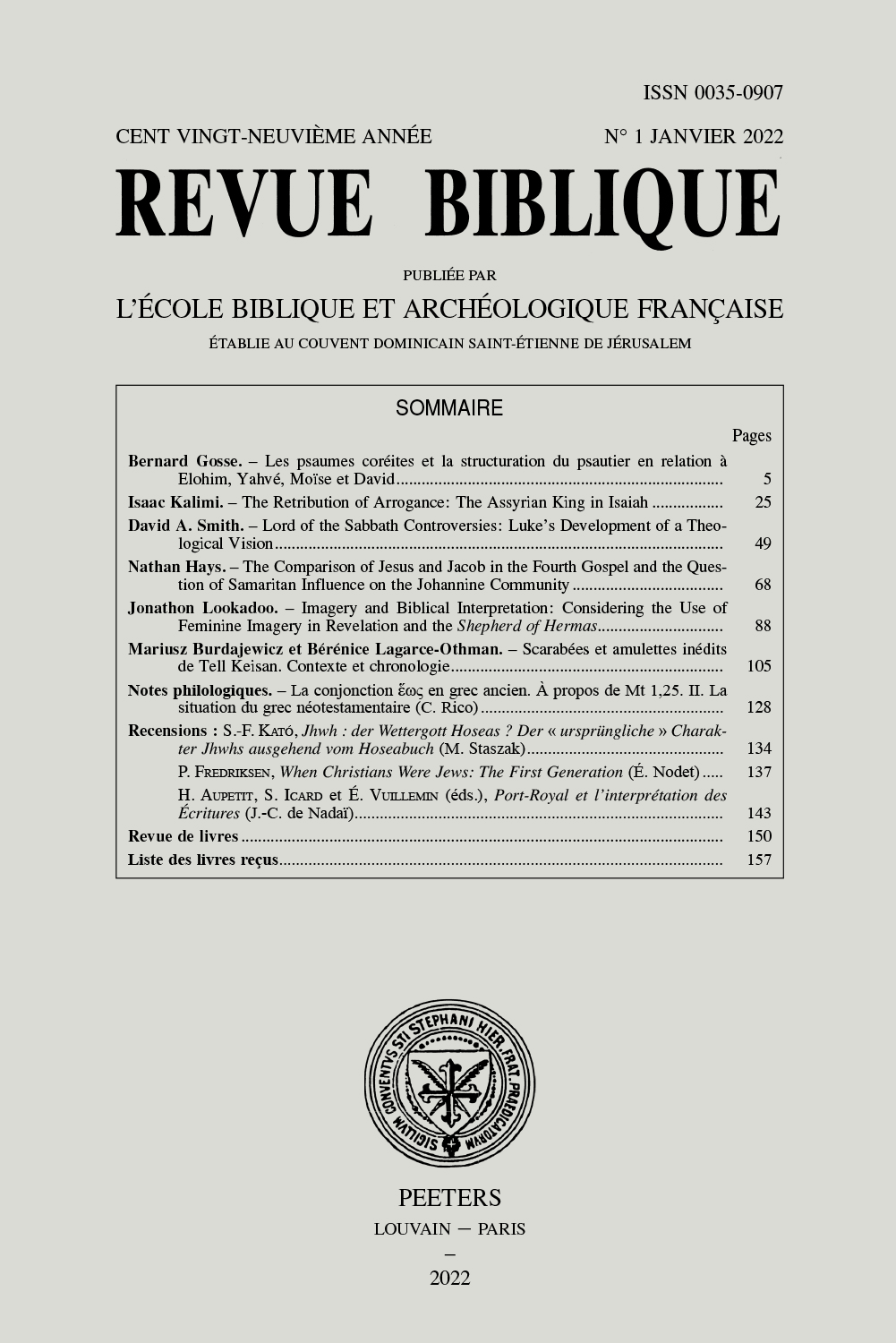 Document Details :

Title: The Growth and Development of Judah and Jerusalem in the Eighth Century BCE
Subtitle: A Rejoinder
Author(s): NA'AMAN, Nadav
Journal: Revue Biblique
Volume: 116 Issue: 3 Date: 2009
Pages: 321-335
DOI: 10.2143/RBI.116.3.3206430

Abstract :
In this rejoinder to a recent article by Israel Finkelstein, I suggest that: A. — The kingdom of Judah experienced a steady growth in urbanization, population and economy during the 9th-8th centuries BCE, and there is no need to contrive an external factor in order to explain the picture discovered in the excavations and surveys of the end of the 8th century. B. — All speculation about a mass migration of tens of thousands of inhabitants from Israel to Judah following the Assyrian conquest in 720, and their speedy settlement all over the kingdom, has no textual or archaeological evidence to support it. In explaining the discovered realities scholars must content themselves with such knowledge as we have; even if the explanations they offer are less captivating, they may do more to illuminate the ancient reality.


---

Dans cette réponse à un article récent d'I. Finkelstein, je suggère que: A. — Le royaume de Juda a vécu un constant accroissement en urbanisation, démographie et économie durant les IXe-VIIIe s. av. J.-C., et qu'il n'est pas nécessaire de chercher un facteur externe pour expliquer ce qui ressort des fouilles et des explorations de surface concernant la fin du VIIIe s. B. — Toutes les spéculations à propos d'une émigration de masse de dizaines de milliers d'habitants, d'Israël vers Juda, à la suite de la conquête assyrienne de 720, et leur sédentarisation rapide dans le royaume, n'ont pas d'appuis textuels ou archéologiques. En commentant les réalités de terrain, les chercheurs doivent se contenter des résultats tels qu'ils sont; même si les explications qu'ils proposent sont moins enthousiasmantes, elles font plus pour éclairer la réalité d'autrefois.


Download article