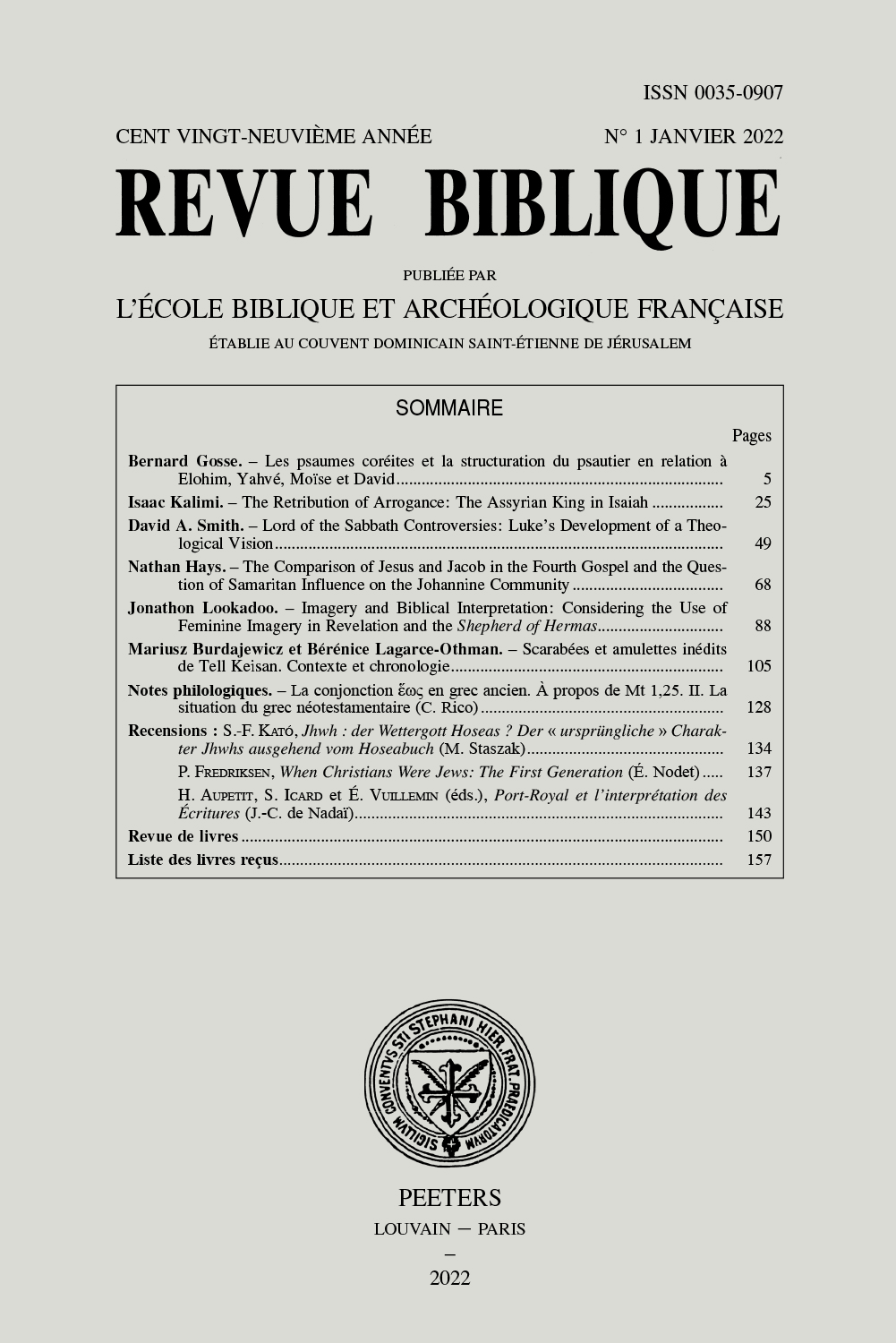 Document Details :

Title: L'usage du terme yšw'h dans les livres de Samuel, en Genèse - 2 Rois et en 1-2 Chroniques
Author(s): GOSSE, Bernard
Journal: Revue Biblique
Volume: 117 Issue: 2 Date: 2010
Pages: 210-222
DOI: 10.2143/RBI.117.2.3206406

Abstract :
L'usage de yšw'h en Ex 15,2 est lié à la relecture de l'histoire d'Israël en termes de salut dans la ligne du livre d'Isaïe. Dans ce cadre la dynastie davidique disparaît de la perspective de salut au profit de la tradition du «serviteur». La dynastie davidique se trouve réintégrée dans la perspective de salut en tant que fondatrice du culte du temple, dans la tradition des livres des Chroniques, et en conséquence également dans le Psautier et les cantiques. Dans le Psautier, les cantiques et surtout les livres de Samuel la réintégration de la dynastie davidique se fait également en fonction de la tradition yahviste de sagesse du livre des Proverbes, particulièrement Pr 30,1-14. Cela apparaît clairement dans le cas des emplois de yšw'h en 2 S 22,51 et en conséquence en 1 S 2,1. Les attestations de yšw'h en 1 S 14,45 et 2 S 10,11 correspondent à un alignement sur les attestations précédentes, et apparaissent comme des substitutions à tšw'h.


---

The word yšw'h in Ex 15,2 corresponds to the conception of salvation history in the Book of Isaiah. In this way the Davidic dynasty disappears from the perspective of salvation. The dynasty is replaced by the tradition of the 'servant'. In the Books of Chronicles, and in the same way in the Psalter and the canticles, the Davidic dynasty as promoter of the temple cult plays a new part in the history of salvation. In the Psalter the canticles and even more the Books of Samuel the yahwistic tradition of the Book of Proverbs, particularly Pr 30,1-14, plays an important part in the new integration of the Davidic dynasty in the perspective of salvation. This point appears clearly in 2 S 22,51 and consequently in 1 S 2,1. The attestations of yšw'h in 1 S 14,45 and 2 S 10,11 correspond to an alignment to this effect.


Download article