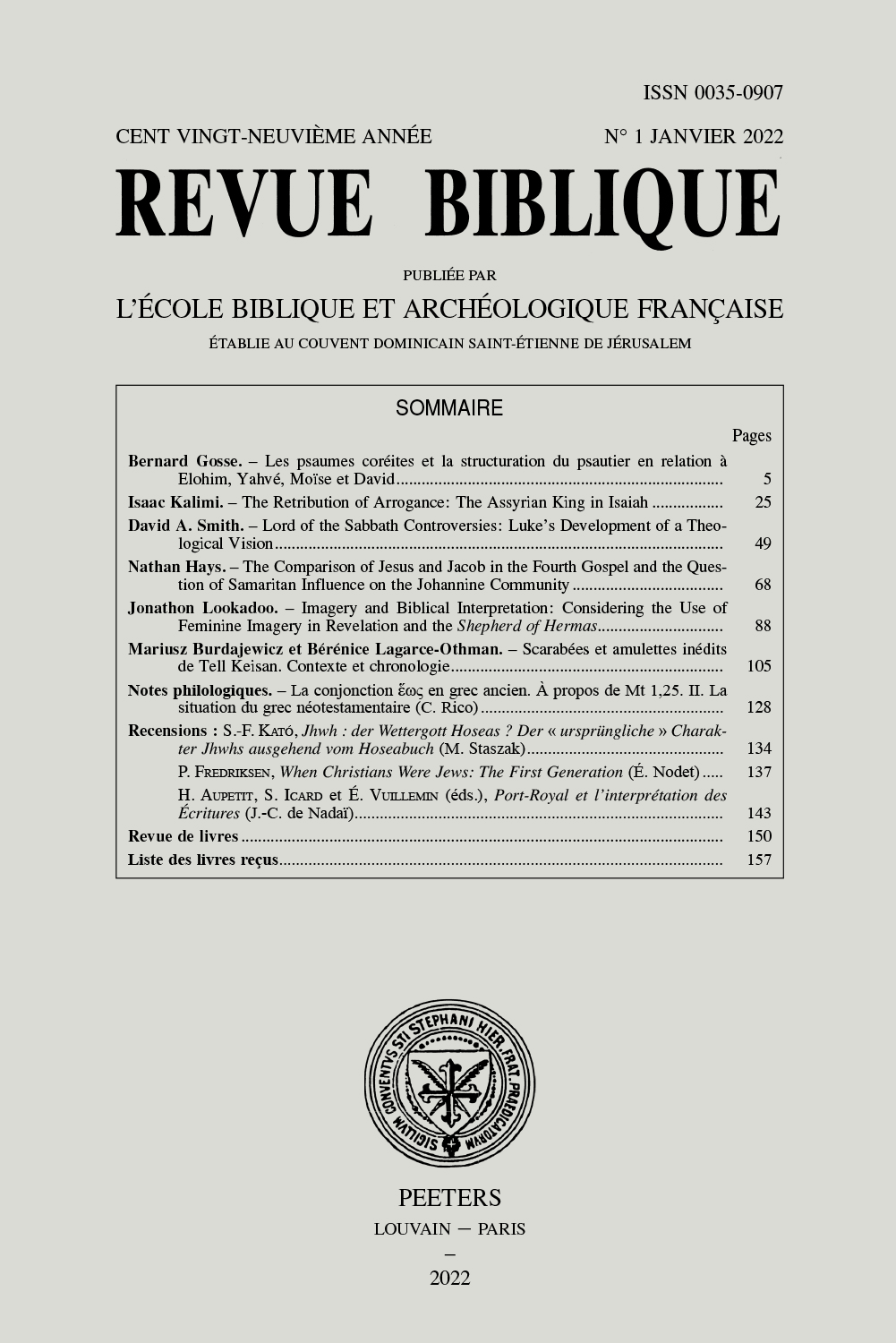 Document Details :

Title: «Que pourrait-on ajouter contre un si fieffé menteur?» (Contre Apion I,320)
Subtitle: Lysimaque et le livre d'Esther
Author(s): CARBONARO, Paul
Journal: Revue Biblique
Volume: 118 Issue: 1 Date: 2011
Pages: 5-37
DOI: 10.2143/RBI.118.1.3206327

Abstract :
Le Contre Apion (I,304-311) transmet un récit de Lysimaque racontant l'expulsion d'Égypte des Juifs au temps du roi Bocchoris, figure de la littérature apocalyptique égyptienne tardive dissimulant le roi Ptolémée VIII Physcon. Contrairement aux sous-entendus de Flavius Josèphe, Lysimaque était juif: il renvoyait dos à dos Ptolémée VIII Physcon, pseudo-Bocchoris régnant à Alexandrie, et Jean Hyrcan, pseudo-Moïse exerçant le pontificat à Jérusalem. Rien ne permet de le distinguer de l'auteur de la version des Septante du livre d'Esther, roman à clefs racontant les premières années du règne de Ptolémée VIII Physcon après son retour à Alexandrie en 145 avant Jésus-Christ.


---

Against Apion (I,304-311) conveys a narrative from Lysimachus which describes the expulsion of the Jews from Egypt at the time of King Bocchoris, a figure from late apocalyptic Egyptian literature, masking king Ptolemy VIII Physcon. Contrary to the insinuations of Flavius Josephus, Lysimachus was Jewish: he was dismissing both Ptolemy VIII Physcon, Pseudo-Bocchoris reigning at Alexandria, and John Hyrcanus, Pseudo-Moses, exercising the Pontificate in Jerusalem. There is no reason to distinguish him from the author of the LXX of the Book of Esther, a novel fictitiously relating the first years of Ptolemy VIII Physcon after his return to Alexandria in 145 B.C.


Download article