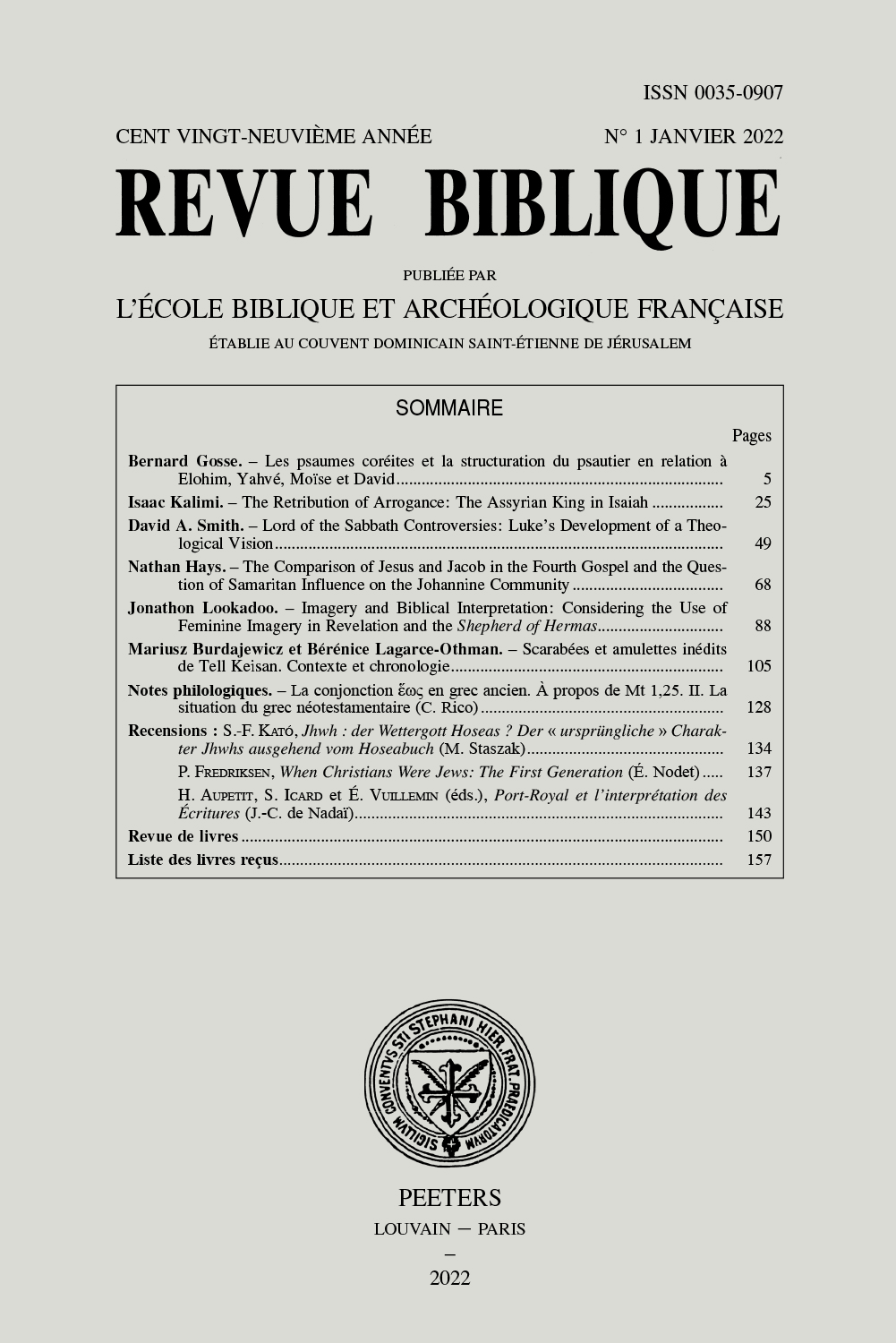 Document Details :

Title: The Pre-Herodian Temple II
Subtitle: The Building Project of Simeon the Just on the Temple Mount
Author(s): PATRICH, Joseph
Journal: Revue Biblique
Volume: 118 Issue: 4 Date: 2011
Pages: 558-574
DOI: 10.2143/RBI.118.4.3206303

Abstract :
The building project of Simeon the Just (219-196 BCE), described in a poetic style in The Wisdom of Ben Sira (Ecclesiasticus) 50:1-5, is complemented by the Edict of Rights to the Jews of Antiochus III (Ant. XII.138-144), and by his decree concerning the sanctity of the Temple and Jerusalem (Ant. XII.145-146), both issued in 198 BCE. In addition to the digging of a water reservoir 'enormous like the sea', the Temple was restored, the inner court (azarah) was fortified and a new peribolos was erected, resting on high foundations with prominent corners, enclosing an elevated leveled courtyard. The peribolos comprised porticos that surrounded the elevated courtyard. Gentiles were prohibited from proceeding beyond a barrier (labeled in later sources Soreg) that had marked the sacred outer precinct. Simeon the Just's elevated and leveled precinct is to be identified with the square peribolos, 1x1 stadia in dimensions of Ant. XV.400, and with the 'second sacred precinct' of the Herodian outer court, which was slightly elevated relative to the Herodian 'first sacred precinct' (Ant. XV.417).


---

Le projet de construction de Simon le Juste (219-196 av. J.-C.), décrit en style poétique dans Ben Sira (Ecclésiastique) 50, 1-5, est complété par la Charte octroyée aux Juifs par Antiochus III (AJ 12, 138-44), et par son décret sur la sacralité du Temple et de Jérusalem (AJ 12, 145-6), tous deux émis en 198 av. J.-C. En plus du creusement d'un réservoir d'eau, grand «comme la mer», le Temple fut réparé, la cour intérieure (azarah) fut fortifiée et un nouveau peribolos fut érigé sur de hautes fondations, aux angles saillants, formant une seconde cour élevée et nivelée. Ce peribolos incluait des portiques à son pourtour surélevé. Il était interdit aux Gentils de pénétrer au-delà d'une limite (nommée dans des sources plus tardives le Soreg), qui définissait l'enceinte sacrée. L'espace clos, élevé et nivelé, de Simon le Juste est identique au peribolos carré de 1x1 stade d'AJ 15, 400. Il est aussi identique au «second enclos sacré∞∞» de la cour extérieure du temple hérodien, qui était légèrement surélevé par rapport au «premier enclos sacré» (AJ 15, 417).


Download article