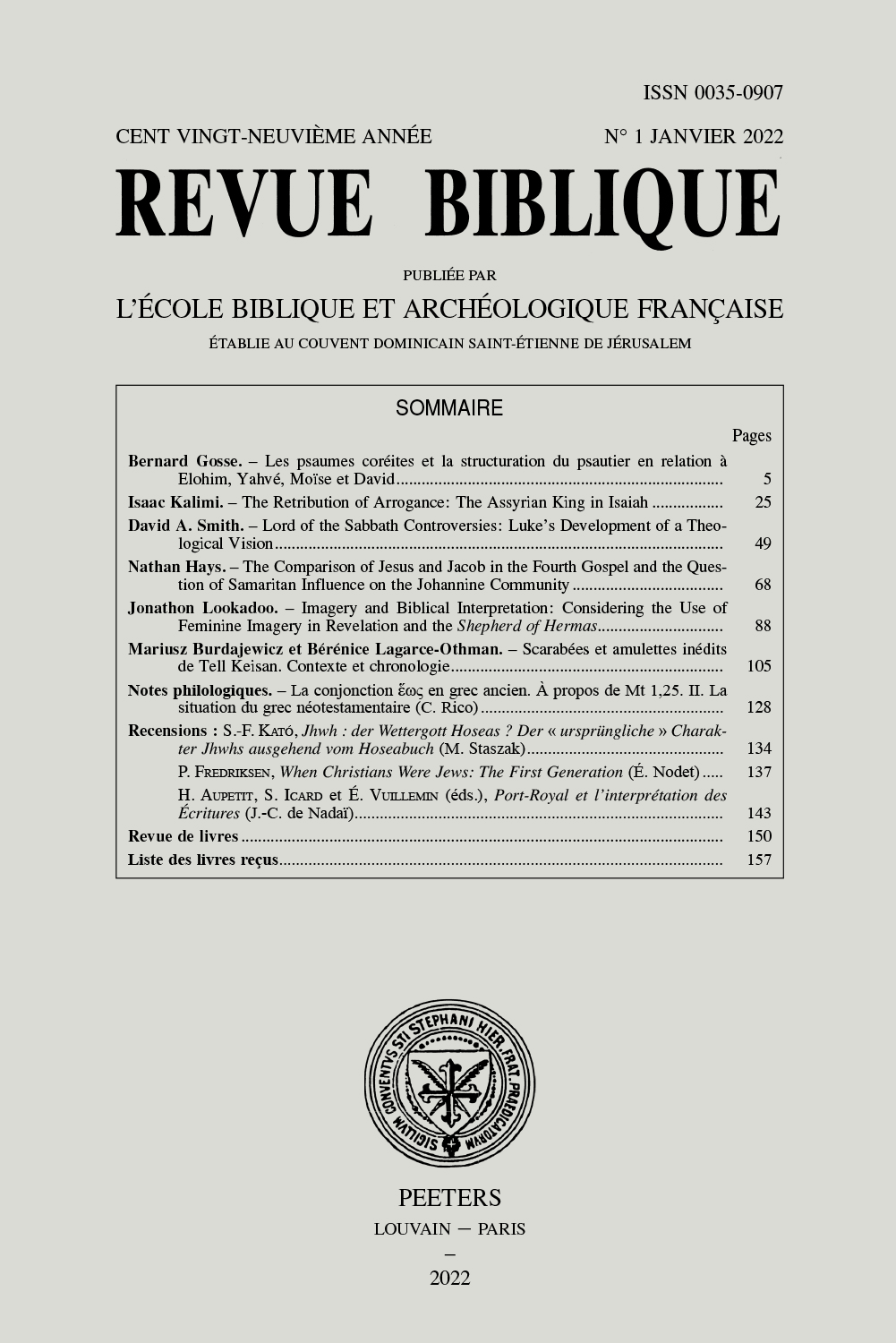 Document Details :

Title: שכל in the Hebrew Bible
Subtitle: Key to the Identity and Function of the Maskilim in Daniel
Author(s): GARDNER, Anne E.
Journal: Revue Biblique
Volume: 118 Issue: 4 Date: 2011
Pages: 496-514
DOI: 10.2143/RBI.118.4.3206300

Abstract :
The term משׂכלים frames the book of Daniel for it appears in the first and last two chapters of the Massoretic text, yet scholarly comments about what it implies are not consistent across the two parts of the book. Further, the social grouping of the משׂכלים within Second Temple Judaism is hotly debated by scholars. This paper contributes towards a resolution of these issues through an exploration of the appearances of the root שׂכל in earlier biblical passages upon which the author(s) of Daniel have drawn. This demonstrates that it is a keynote to the work, as well as pointing towards the identity and function of the real author(s) – of Daniel and the source of their שׂכל. As משׂכלים they are of priestly stock but royal overtones occur in the description of them. They discern the will of God, at least partly, through study of his words and teach the people accordingly.


---

Le mot משׂכלים encadre le livre de Daniel, apparaissant au premier puis aux deux derniers chapitres du TM. Toutefois, les commentaires que cela induit ne sont pas cohérents. L'insertion sociale des משׂכלים dans le judaïsme post-exilique est débattue. L'article s'efforce de faire progresser le débat par une étude de la racine שׂכל dans les passages bibliques plus anciens que l'auteur (ou les auteurs) de Daniel ont utilisés. On montre ainsi que c'est une clef de l'œuvre, tout en désignant le(s) auteur(s) de Daniel et l'origine de son/leur שׂכל. En tant que משׂכלים, ils sont d'origine sacerdotale; des traits royaux leur sont aussi accordés. Ces personnes distinguent la volonté de Dieu, au moins partiellement, par l'étude de ses paroles et l'enseignent au peuple.


Download article