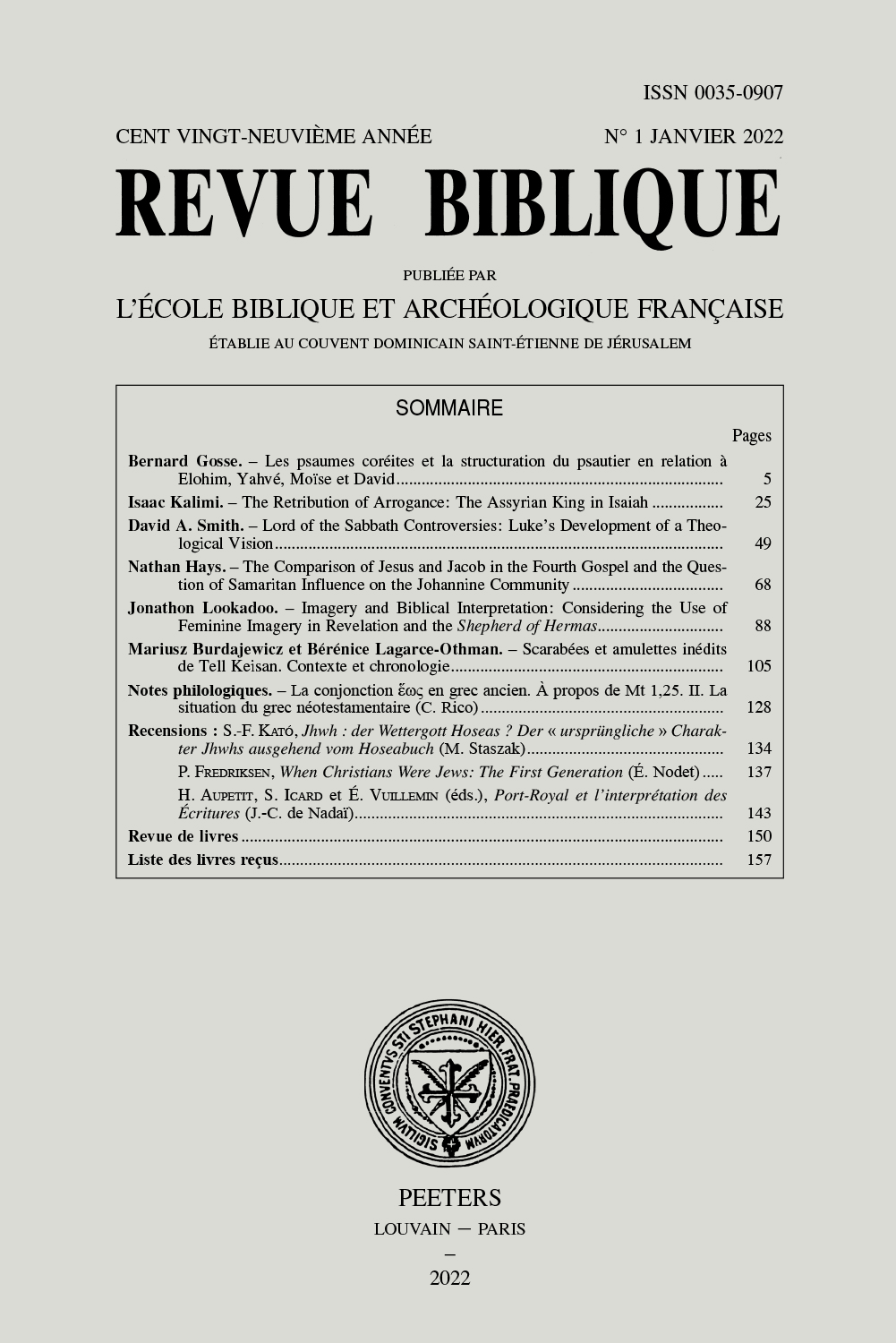 Document Details :

Title: «Mettez-vous mes paroles dans l'oreille» (Ac 2, 14)
Subtitle: Histoire d'un verbe de la Septante
Author(s): ROUSSEAU, Nathalie
Journal: Revue Biblique
Volume: 119 Issue: 1 Date: 2012
Pages: 58-76
DOI: 10.2143/RBI.119.1.3203581

Abstract :
Le verbe ἐνωτίζεσθαι «se mettre dans l'oreille, écouter attentivement», bien attesté dans la Septante, mais non dans les autres textes grecs, sert à traduire un verbe hébreu dérivé du nom de l'«oreille», mais est formé selon un autre principe, propre à la langue grecque, à partir du syntagme prépositionnel εἰς ὦτα «aux oreilles». L'étude détaillée de la formation, de l'origine et des emplois de ce verbe dans les textes de la Septante, en relation avec ceux du syntagme εἰς ὦτα, permet d'éclairer l'usage bien spécifique qui en est fait dans sa seule occurrence du Nouveau Testament (Ac 2, 14), tandis que la postérité du terme chez les Pères de l'Église confirme son statut de septantisme.


---

The verb ἐνωτίζεσθαι 'to give ear, to listen carefully', well attested in the LXX, but not in the other Greek texts, translates a Hebrew verb derived from the name of the 'ear', but formed in another way, peculiar to the Greek language, from the prepositional phrase εἰς ὦτα 'to the ears'. The detailed study of the formation, origin and uses of this verb in the LXX, in relation to εἰς ὦτα, allows us to shed light on the only occurrence of it in the NT (Acts 2:14). The legacy of this verb among the Church Fathers illustrates its status as a distinctive Septuagintism.


Download article