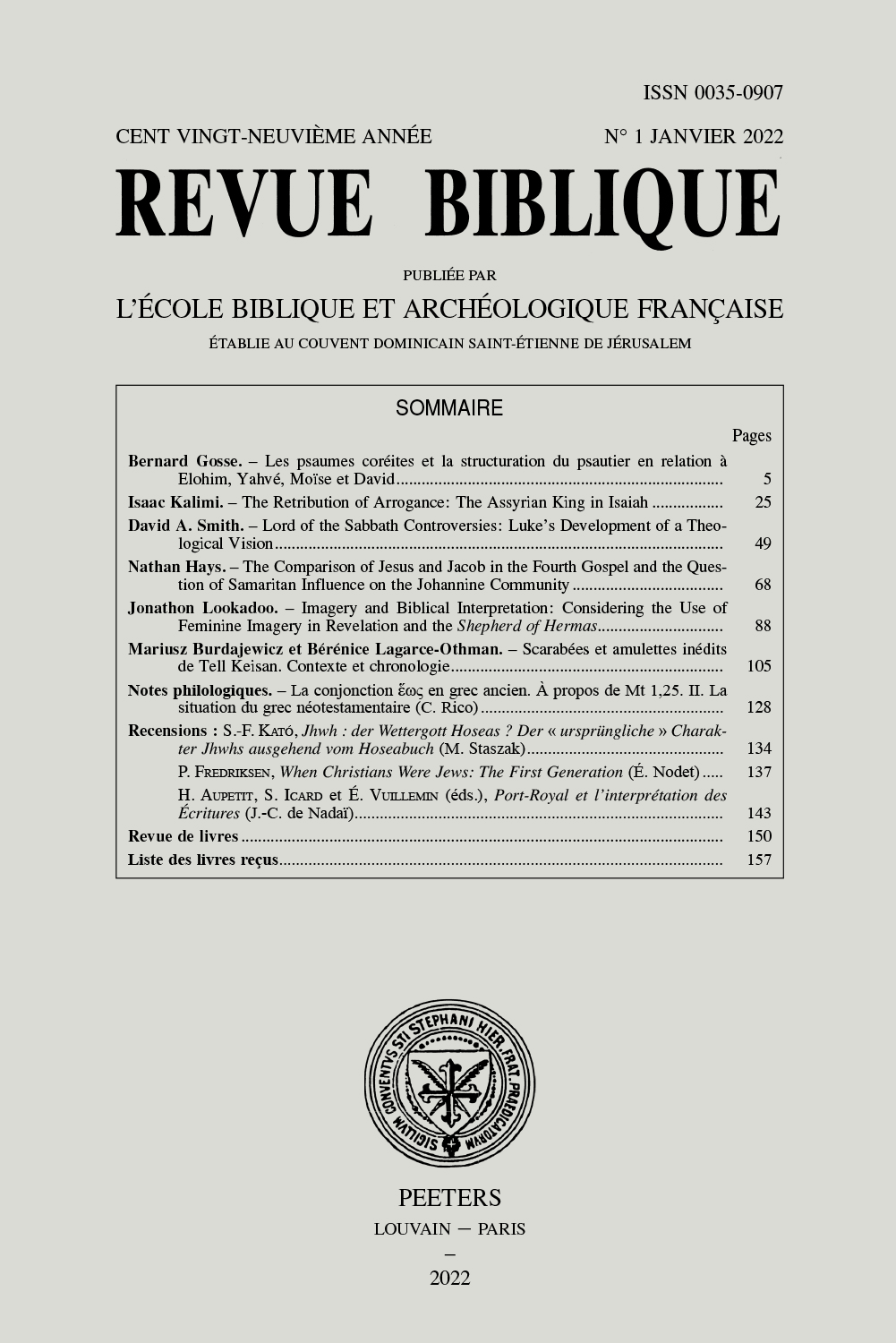 Document Details :

Title: Four Stages in the Evolution of the Temple Mount
Author(s): PATRICH, Joseph , EDELCOPP, Marcos
Journal: Revue Biblique
Volume: 120 Issue: 3 Date: 2013
Pages: 321-361
DOI: 10.2143/RBI.120.3.3200341

Abstract :
According to the literary sources, four stages can be differentiated in the evolution of the Temple Mount during the ca. 600 years long Second Temple period (the last being the well known Herodian precinct). The other three are:
– The Restoration period. It is reasonable to assume that the Temple Mount of that period extended over the entire area of the Outer Court of the First Temple period. In accord with the topographical restrains, we assume that it was trapezoidal with rounded corners in shape, non-elevated and non-leveled.
– The elevation and leveling of the Outer Court was the project of Simeon the Just, praised in a poetical manner in Sirac 50:1-5, and addressed in the two edicts of Antiochus III (Ant. 12.138-146). The entrance of Gentiles into this area was prohibited. It is argued that this is the 1 × 1 stadia square referred to by Flavius Josephus in Ant. 15.400 and his 'Second Sacred Precinct', delineated by a grille (soreg).
– For political, ideological and theological reasons, the Hasmonaeans (John Hyrcanus) extended the Temple Mount to be 500 × 500 cubits in size, in fulfillment of Ezekiel's vision. The extension southward did not extend beyond the tributary that separated the Temple Mount from the Akra hill (that was removed, and the tributary filled in [War 5.137-139; Ant. 12.252]). The eastern line of that precinct is marked by the eastern wall of the Ḥaram al Sharif.


---

Selon les textes, quatre étapes peuvent être distinguées dans l'évolution du Mont du Temple pendant les presque 600 ans de la période post-exilique (la dernière étant le fameux sanctuaire d'Hérode). Les trois autres étapes sont:
– La période de la Restauration. On peut penser que l'esplanade du Temple à cette époque s'étendait sur toute la surface du Parvis extérieur du temple pré-exilique. En accord avec les contraintes topographiques, nous la supposons trapézoïdale, avec des angles arrondis, et sans élévation ni nivellement.
– Le haussement et le nivellement du Parvis le plus extérieur est l'œuvre de Simon le Juste, rapportée poétiquement par Sir. 50,1-5, et mentionnée par les deux édits d'Antiochus III (Ant. 12.138-146). Il était interdit aux Gentils d'y pénétrer. Nous démontrons qu'il s'agissait d'un carré de 1 ≈ 1 stade, décrit par Flavius Josèphe (Ant. 15.400), équivalent à son «second Parvis sacré», délimité par un muret ajouré (soreg).
– Pour des raisons politiques, idéologiques et théologiques, les Asmonéens (Jean Hyrcan) agrandissent l'esplanade du Temple jusqu'à 500 ≈ 500 coudées, en accomplissement de la vision d'Ezéchiel. L'extension au sud n'allait pas plus loin que le vallon qui séparait l'esplanade de la colline de l'Akra (qui fut démontée, et le vallon comblé [Guerre 5.137-139; Ant. 12.252]). La limite orientale de ce parvis coincide avec le mur est du Ḥaram al-Sharif.


Download article