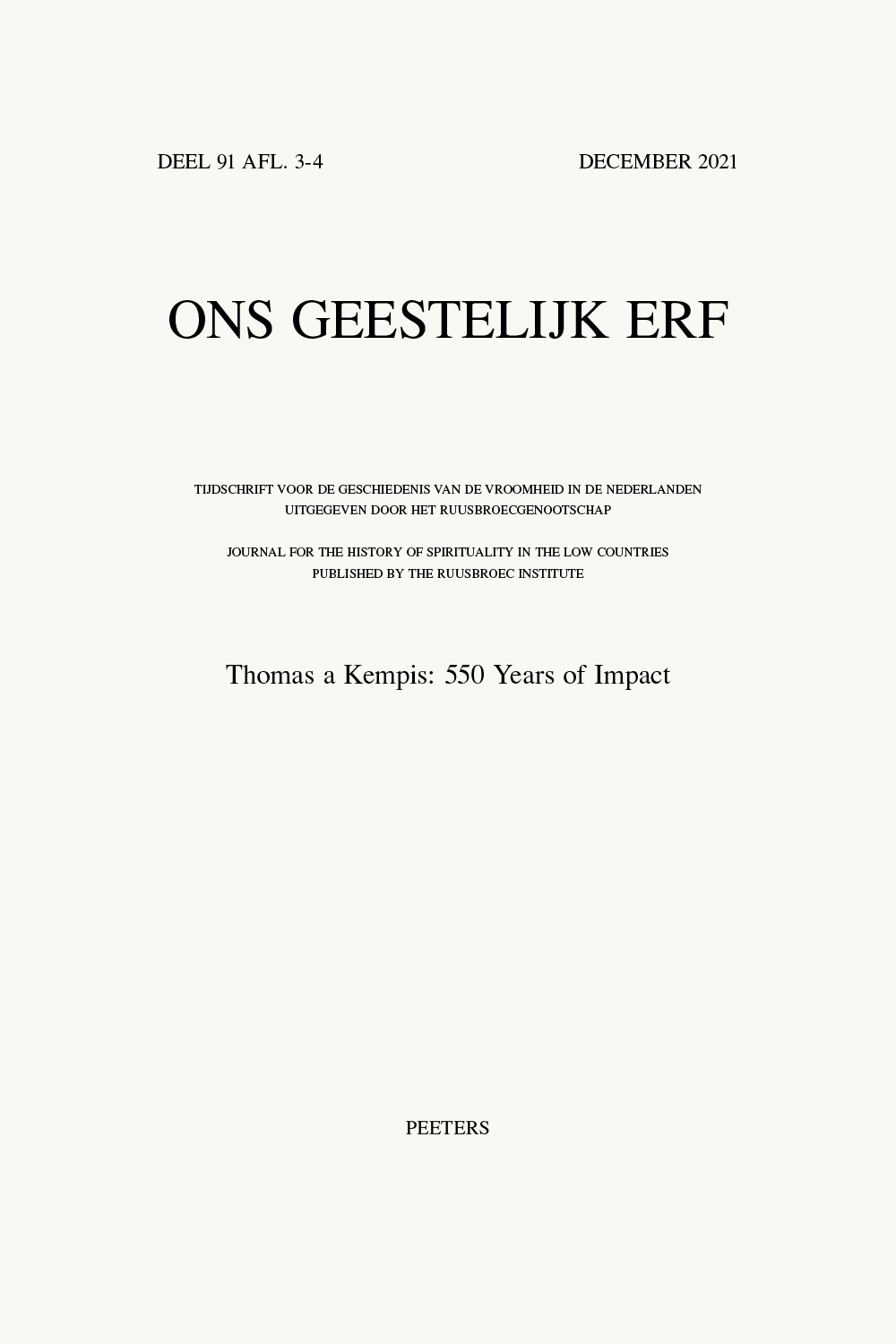 Document Details :

Title: Als in een wel ghereguleerde kluyse
Subtitle: De ordonnantiën voor Maria Petyt (1660)
Author(s): VAN MEERBEECK, Michel
Journal: Ons Geestelijk Erf
Volume: 86 Issue: 4 Date: 2015
Pages: 282-335
DOI: 10.2143/OGE.86.4.3186079

Abstract :
The study of the mystic Marie Petyt (1624-1677) has so far mainly focused on her writings and her spirituality. This holds the risk that we turn her into an immaterial or even unreal creature. Moreover, several pages from her oeuvre are almost unreadable due to lack of information about her actual life. The prevailing mentality, the daily sorrows and the practical circumstances of her life as a recluse can offer valuable support for a better understanding of her life and writings. She lived in line with the ordnances of father Michel de Saint-Augustin, one of the great clergyman of her age. The publication of the ordnances shows the outlines of the life of our recluse. This canonical text, spiritual in principle, changes the current vision on Marie de Saint-Thérèse. It destroys the opinion, against which Deblaere already opposed, that she had a religious statute. It shows repeatedly that this 'preliminary' basis was destined to evolve to the other canonical statute of sister in a convent. It shows that this text has originated from two different personalities, one of them difficult to sketch, with different courses of life, but united by the desire to the sacrifice of solitude. Finally, under restriction of the differences between norm and experience, the text shows the ascetic and practical framework in which the life of one of our greatest mystics has developed.


---

La mystique Marie Petyt (1624-1677) a été surtout étudiée à partir de ses écrits et pour sa spiritualité. Par là, le risque est réel d'en faire un être désincarné voir même irréel. De plus, plusieurs pages de son œuvre sont presque incompréhensibles par manque de renseignements sur sa vie concrète. La mentalité ambiante, les soucis au quotidien, les contingences pratiques de cette vie érémitique peuvent être un précieux appui pour comprendre et sa vie, et ses écrits. Elle vivait selon des ordonnances écrits par le Père Michel de Saint Augustin, qui fut un des grand spirituels de son époque. La publication de la copie des ordonnances montre le cadre de la vie de notre ermite. Ce texte canonique, à but spirituel, renouvelle la vision qu'on a de Marie de Sainte-Thérèse. Il ruine l'opinion, déjà dénoncée par le P. Deblaere, d'un statut de religieuse qu'on lui attribue. Il montre à plusieurs reprises que cette fondation 'provisoire' était destinée à évoluer vers le statut canonique différent de moniales avec cloture. Il indique que ce texte est issu du vécu de deux personnalités différentes, dont une est à peine évoquée, avec des passés bien différents, mais unis par le même désir du don de soi en solitude. Enfin, sous réserve de la différence entre norme et vécu, le texte nous montre le cadre ascétique et pratique dans lequel s'est déroulée la vie d'une de nos plus grandes mystiques.


Download article