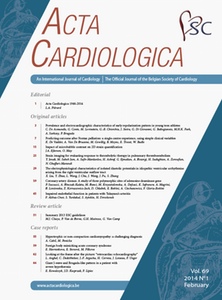 Document Details :

Title: Predictors of successful atrial and ventricular auto capture pacemaker algorithm post implantation: single-centre experience
Author(s): E. Hacioglu , G. Mugnai , J. Czapla , J. Nijs , F. Wellens , D. Schoors , M. La Meir , G.B. Chierchia , P. Brugada , C. De Asmundis
Journal: Acta Cardiologica
Volume: 71 Issue: 5 Date: 2016
Pages: 612-615
DOI: 10.2143/AC.71.5.3167506

Abstract :
Aim: The aim of the present study was to assess the possible predictors of successful threshold optimization from a second-generation device (Evia DR-T Biotronik), with automatic atrial and ventricular capture management post implantation.
Background: It is mandatory in patients receiving permanent pacemakers to determine the pacing threshold at each follow-up visit. To facilitate pacing threshold measurements, complete automatic pacemaker tests are being developed. A new application of pacemaker algorithm for automatic capture verification is to detect the presence of the evoked response signal after the pacing impulse in the immediate post-implant period. The Evia DR-T (Biotronik, Berlin, Germany) is a device that utilizes this algorithm.
Methods and result: This was a retrospective single-centre study of 112 patients who received a dual-chamber Evia DR-T Biotronik (Biotronik, Berlin, Germany) pacemaker. Pacemaker interrogation was performed at the time of implantation and one day post implantation to evaluate the success of the automatic algorithm program, focusing on atrial and ventricular auto capture and lead pacing polarity. The sensing, atrial and ventricular threshold, impedance and indication of implantation were analysed as possible predictors.
Conclusion: In conclusion, automatic programming of the pacing threshold measurements using the Biotronik post-implant algorithm was successfully predicted from the sensing values and the manual threshold during lead implantation. Therefore, fewer requirements are necessary for post-implant auto program control than for presently available systems. Such pacemaker functions may reduce the time taken for device interrogation and patient discomfort during pacemaker implantation and hospitalization.