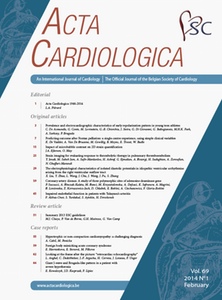 Document Details :

Title: Prognostic utility of biomarker growth differentiation factor- 15 in patients with acute decompensated heart failure
Author(s): R. Jankovic-Tomasevic , S.U. Pavlovic , T. Jevtovic-Stoimenov , S. Apostolovic , D. Stanojevic , I. Jovanovic , G. Koracevic , D. Djordjevic-Radojkovic , M. Damjanovic , S. Salinger-Martinovic , M. Pavlovic
Journal: Acta Cardiologica
Volume: 71 Issue: 5 Date: 2016
Pages: 587-595
DOI: 10.2143/AC.71.5.3167503

Abstract :
Objective: Growth differentiation factor-15 (GDF-15) has established promising prognostic value in various cardiovascular diseases, although there is very little information available about it in patients with acute heart failure, particularly with regard to long-term outcomes. The aim of our study was to determine the prognostic value of GDF-15 in patients with acute decompensated heart failure (ADHF).
Methods and results: A total of 107 consecutive patients (median age 70 [interquartile range, IQR: 60-73.5]; 36% women), hospitalized for ADHF, were examined. The primary and secondary endpoints were to determine the differences in both mortality and rehospitalization due to heart failure after one year, depending on the GDF-15 plasma level. The control group consisted of 25 healthy people of a similar age. The patients with ADHF had significantly higher level of GDF-15 on admission (median 3481 [IQR: 2113-5090]), than the subjects in the control group (887.5 (IQR: 763.75-960.25] ng/L). A high GDF-15 level on admission remained a significant predictor for adverse clinical events, shown by a multivariable regression analysis (hazard ratio [HR], 3.08; 95% confidence interval [CI], 1.06-8.35, P < 0.05), together with left ventricle ejection fraction (P < 0.05). Kaplan-Meier curve analysis showed a significantly higher probability of death and HF rehospitalization in patients with higher levels of GDF-15. Patients with both GDF-15 and BNP levels above the median on admission had the highest mortality rate.
Conclusion: In patients with ADHF, an elevated GDF-15 value on admission was a strong predictor of an adverse clinical outcome regarding mortality and HF rehospitalization 1-year after the initial hospitalization.