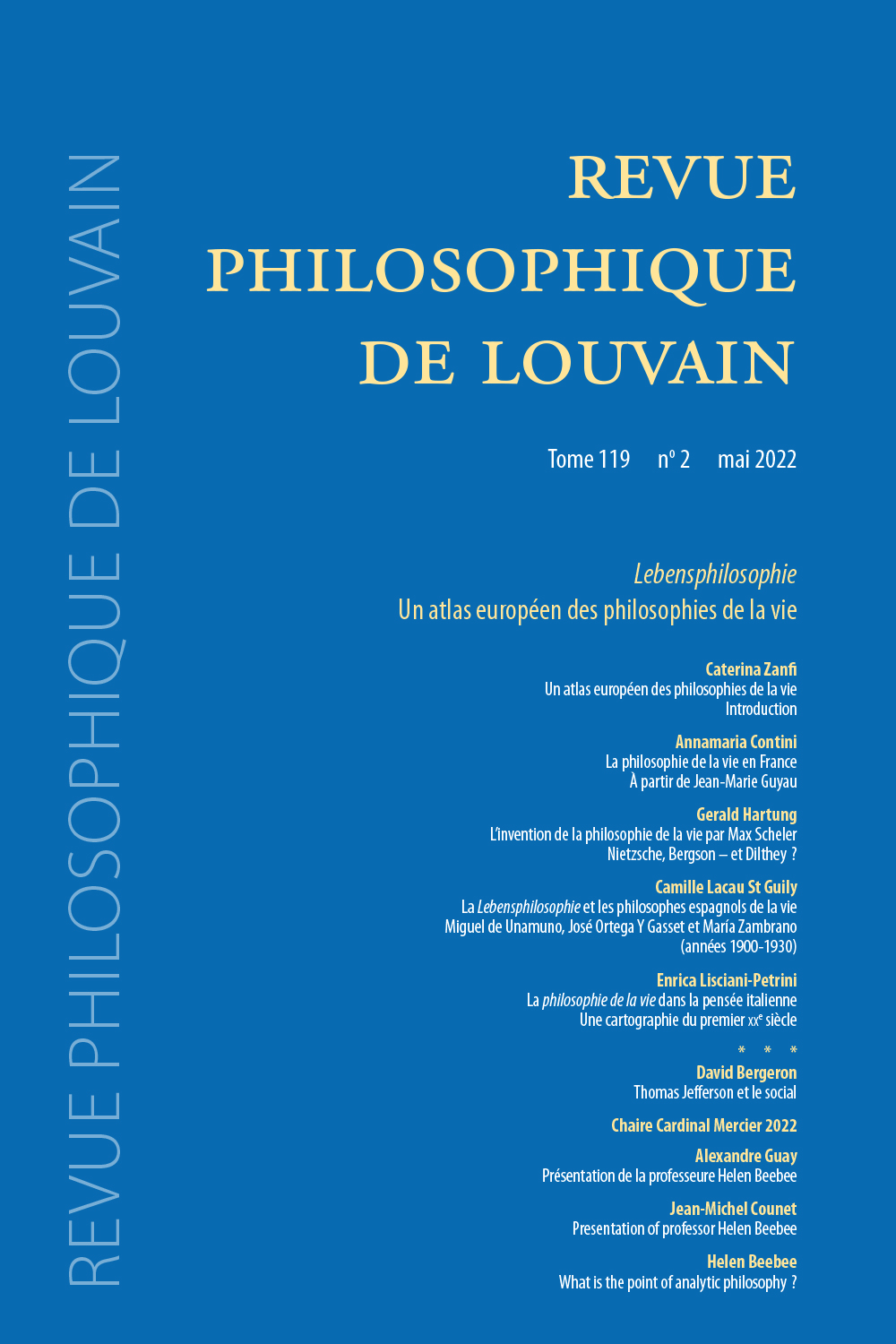 Document Details :

Title: Le dilemme de la raison et le problème de la «facticité»
Author(s): ST-LAURENT, Guillaume
Journal: Revue Philosophique de Louvain
Volume: 114 Issue: 2 Date: mai 2016
Pages: 245-272
DOI: 10.2143/RPL.114.2.3162210

Abstract :
L'objectif du présent essai est de soutenir que l'horizon de la philosophie moderne est circonscrit par un dilemme inéluctable, qui gouverne toutes les instances de la raison critique depuis les Méditations métaphysiques de René Descartes. Ce dilemme est le suivant: ou bien (I) nous assumons l'exercice du doute radical de manière à le surmonter dans une ontologie du «sujet transcendantal», et nous sommes alors confrontés à des apories insurmontables, ou bien (II) nous outrepassons la possibilité du doute radical en adoptant pour point de départ notre relation «effective» (ou factuelle) au monde, et nous sommes alors contraints d'admettre la contingence possible des structures de l'expérience – ce que nous pourrions appeler le «problème de la facticité». En ce sens, nous indiquerons comment ce dilemme détermine le passage de Descartes à Kant, puis de Husserl à Heidegger, c'est-à-dire aussi bien le «tournant critique» que ce qu'il convient d'appeler le «tournant existentiel de la phénoménologie».


---

The aim of this essay is to maintain that the horizon of modern philosophy is limited by an unavoidable dilemma that directs all instances of critical reason since René Descartes' Metaphysical Meditations. The dilemma is as follows: either (I) we take on the exercise of radical doubt in such a way as to overcome it in an ontology of the «transcendental subject», and we are then confronted with insurmountable difficulties, or else (II) we override the possibility of radical doubt by taking as point of departure our «effective» (or factual) relationship to the world, and we are then obliged to admit the possible contingency of the structures of experience – what we could call the «problem of facticity». In this way we will indicate how this dilemma determines the transition from Descartes to Kant, then from Husserl to Heidegger, that is to say, both the «critical turn» and that which may be called the «existential turn in phenomenology».


Download article