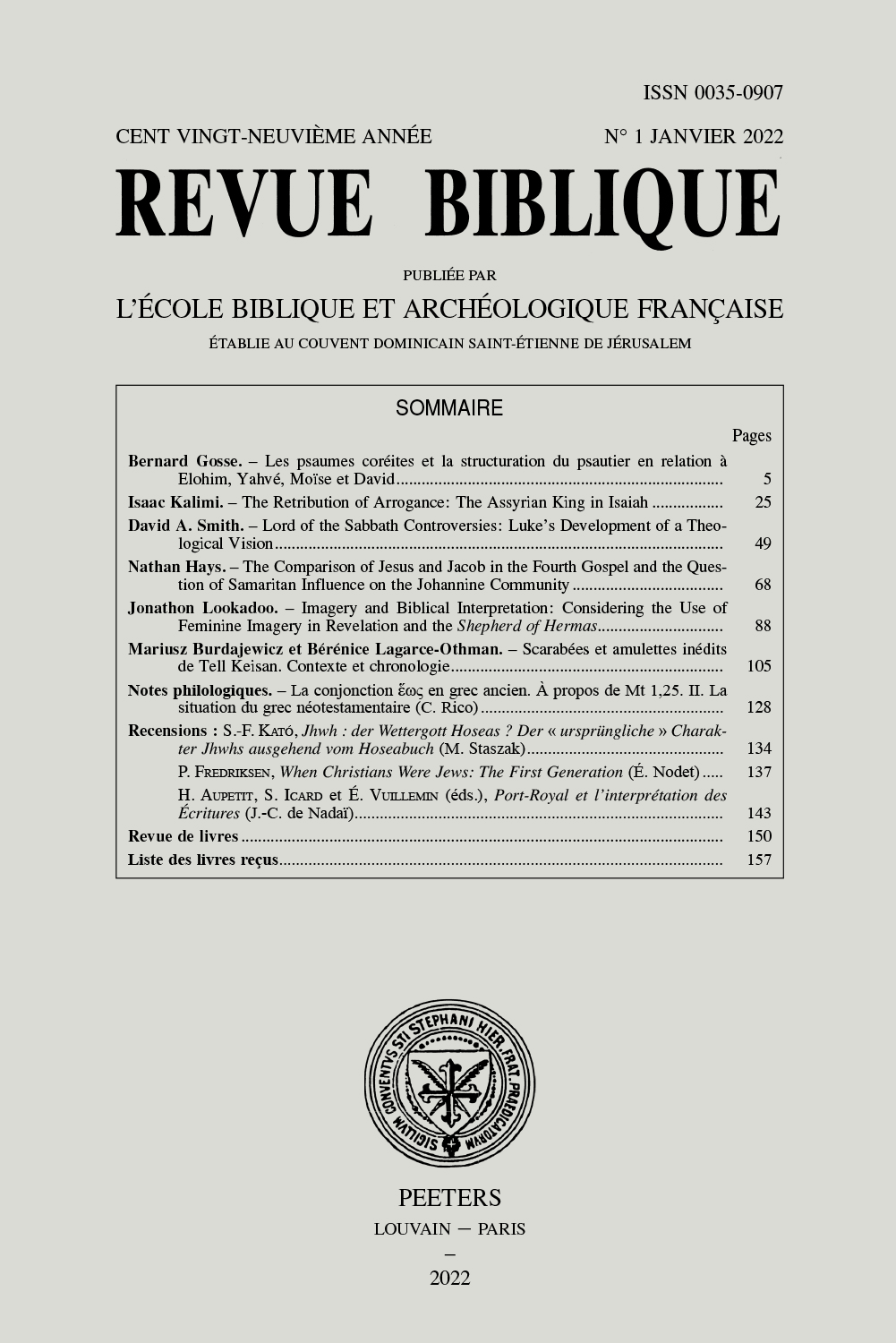 Document Details :

Title: Structure littéraire et interprétation en Osée 4
Author(s): RICHELLE, Matthieu
Journal: Revue Biblique
Volume: 121 Issue: 1 Date: 2014
Pages: 5-20
DOI: 10.2143/RBI.121.1.3157160

Abstract :
Durant l'histoire de la recherche, certains commentateurs ont vu en Osée 4 un assemblage de multiples fragments épars, tandis que d'autres ont tenté de discerner quelques unités, mais sans parvenir à un consensus. Rares sont les exégètes qui proposent de discerner de véritables structures littéraires dans ce chapitre. Cet article montre qu'il comprend quatre unités bien structurées: un oracle de type rîb (v. 1-3), un parallélisme alterné (v. 4-6) et deux chiasmes (v. 7-10; 11-19). En outre, les structures littéraires dégagées mettent en évidence le thème central de ce passage, qui donne sa cohésion au chapitre dans son état final: la «contagion» spirituelle, des prêtres au peuple et des Israélites à leurs filles.


---

At various points in the history of research, certain scholars have viewed Hosea 4 as a sewing together of multiple scattered fragments, while others have attempted to discern some units, but without reaching a consensus. The exegetes who propose real literary structures in this chapter are rare. This article shows that the chapter is composed of four well-structured units: a rîb oracle (v. 1-3), an alternated parallelism (v. 4-6) and two chiasms (v. 7-10; 11-19). In addition, these literary structures reveal the central theme of this passage, which gives cohesion to the chapter in its final state: spiritual «contagion», from the priests to the people and from the Israelites to their daughters.


Download article