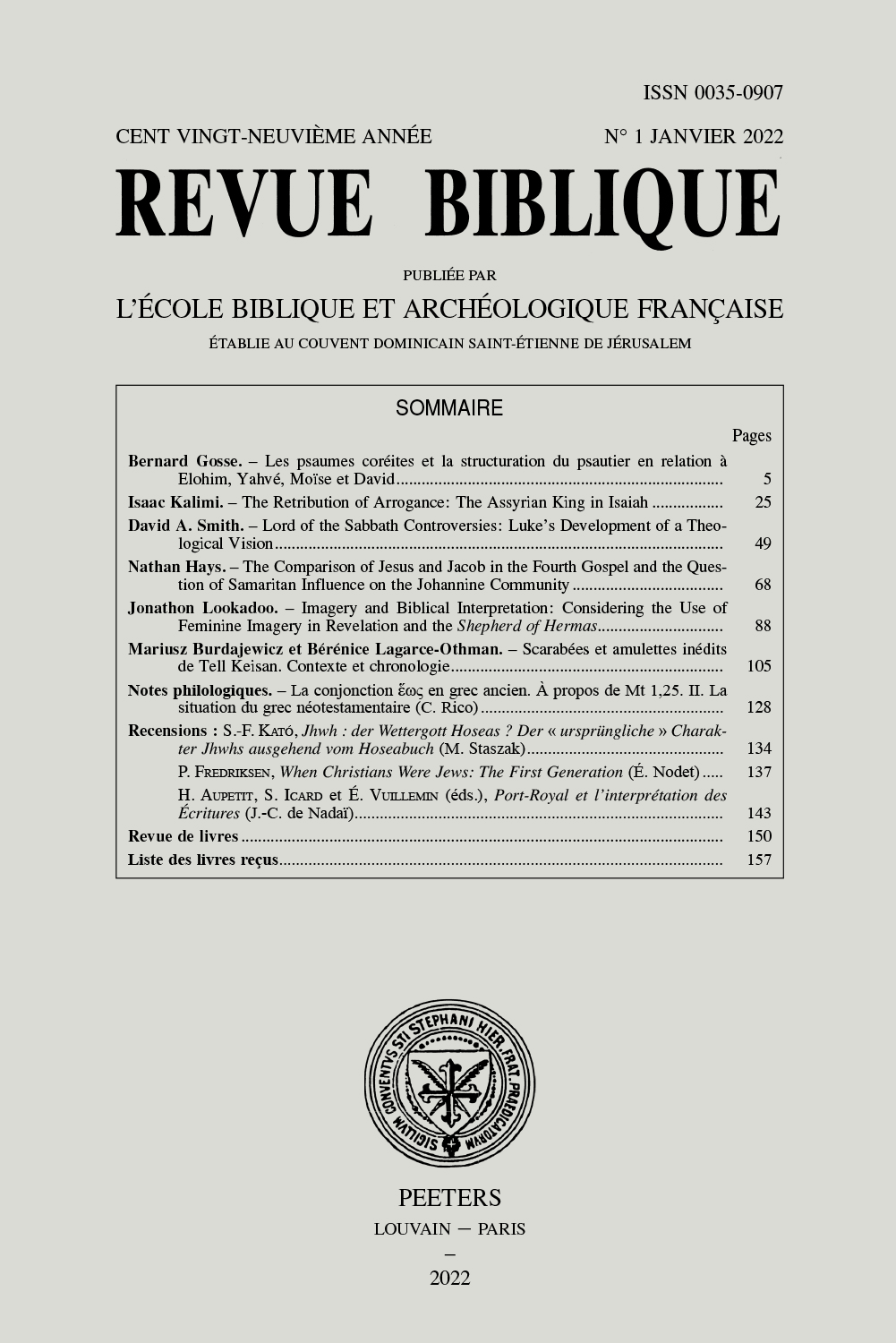 Document Details :

Title: Der ursprüngliche biblische Text von Ez 33,24 und 33,33
Subtitle: Die altlateinische Handschrift der Stiftsbibliothek St. Gallen 1398B als einziger Zeuge der ursprünglichen Lesart von Ez 33,24 und ihr Zeugnis für Ez 33,33
Author(s): SCHENKER, Adrian
Journal: Revue Biblique
Volume: 121 Issue: 2 Date: 2014
Pages: 217-228
DOI: 10.2143/RBI.121.2.3157152

Abstract :
Ez 33,24 occurs in the Old Latin Bible in a fragmentary manuscript of the Stiftsbibliothek St-Gall, 1398b, written in the early 9th cent. The reading of this manuscript differs from that of the Old Greek Bible which here is identical with the Masoretic text. For reasons of textual criticism this Latin reading is likely to represent the original text, lost by all other text witnesses of Ezechiel. In Ez 33,33 the same Latin manuscript may preserve an original Ezechiel reading as well. However, here it is confirmed by the Greek Papyrus 967 and the Coptic versions.


---

Ez 33,24 existe dans la version de la Vetus latina, attesteée par un seul manuscrit fragmentaire de la Stiftsbibliothek de St-Gall, 1398b, écrit au début du 9e s. La leçon de ce manuscrit se distingue de la Bible grecque ancienne, identique ici au texte masorétique. Pour des raisons de critique textuelle, cette leçon latine représente très probablement le texte original, disparu de tous les autres témoins d'Ezéchiel. En Ez 33,33 la leçon de ce manuscrit conserve également la leçon originale, mais ici elle est appuyée par le Pap. grec 967 et les versions coptes.


Download article