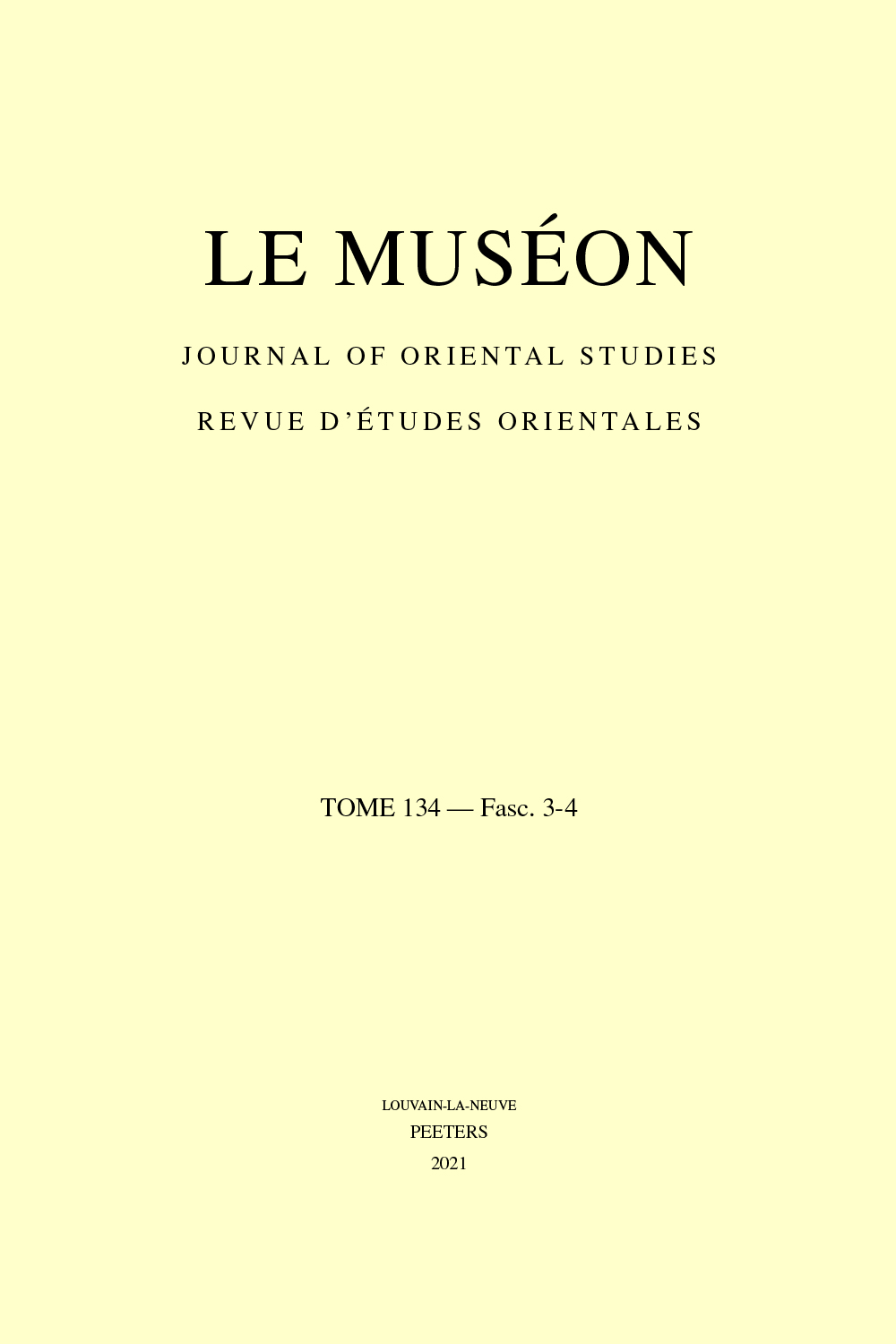 Document Details :

Title: Syro Asianica Scripta Minora - X
Author(s): LEBRUN-DELHAYE, Charlotte , LEBRUN, René , TAVERNIER, Jan , FOURNET, Arnaud , GODDEERIS, Anne , VAN QUICKELBERGHE, Étienne
Journal: Le Muséon
Volume: 129 Issue: 1-2 Date: 2016
Pages: 1-27
DOI: 10.2143/MUS.129.1.3154604

Abstract :
I. À propos de divinités hittites mal connues (II): Lilaya, Anna, Auwatta (Ch. Lebrun-Delhaye) – The Anatolian divinities Lilaya, Anna, and Auwatta are still badly known. This article presents some fragments mentioning them and gives an overview of these divinities.
II. Réflexions autour du relief de Kamani et ses frères (Kargémish) (R. Lebrun) – In this article we find a new interpretation of Luwian personal names in -tispa (circa 800 B.C.) relating to children of the same Kargamisean family.
III. The meaning of Elamite men (J. Tavernier) – This article focuses on the meaning of the Elamite root men- and its derivatives menik, menin and menir. A new critical study of this root is conducted and a proposal of a general meaning is made.
IV. Kuntar(r)a-/i-, le tabernacle hourro-hittite (A. Fournet) – This paper deals with the lexemes Hittite kuntarra-, and Hurrian kuntari. These words are compared with Akkadian kultaru, kuštaru 'tent'. One therefore reaches the conclusion that the Hurro-Hittite loanword Ékuntar- should be translated as 'tabernacle', which originally described the Hebrew 'tent'.
V. Une nouvelle tablette paléo-babylonienne (A. Goddeeris – É. Van Quickelberghe) – This paper is about the publication of a small Akkadian tablet from a private collection, in which a debt is recorded before several witnesses. We propose dating this tablet from the reign of the King Damiq-ilišu of Isin (v. 1816-1794).


Download article