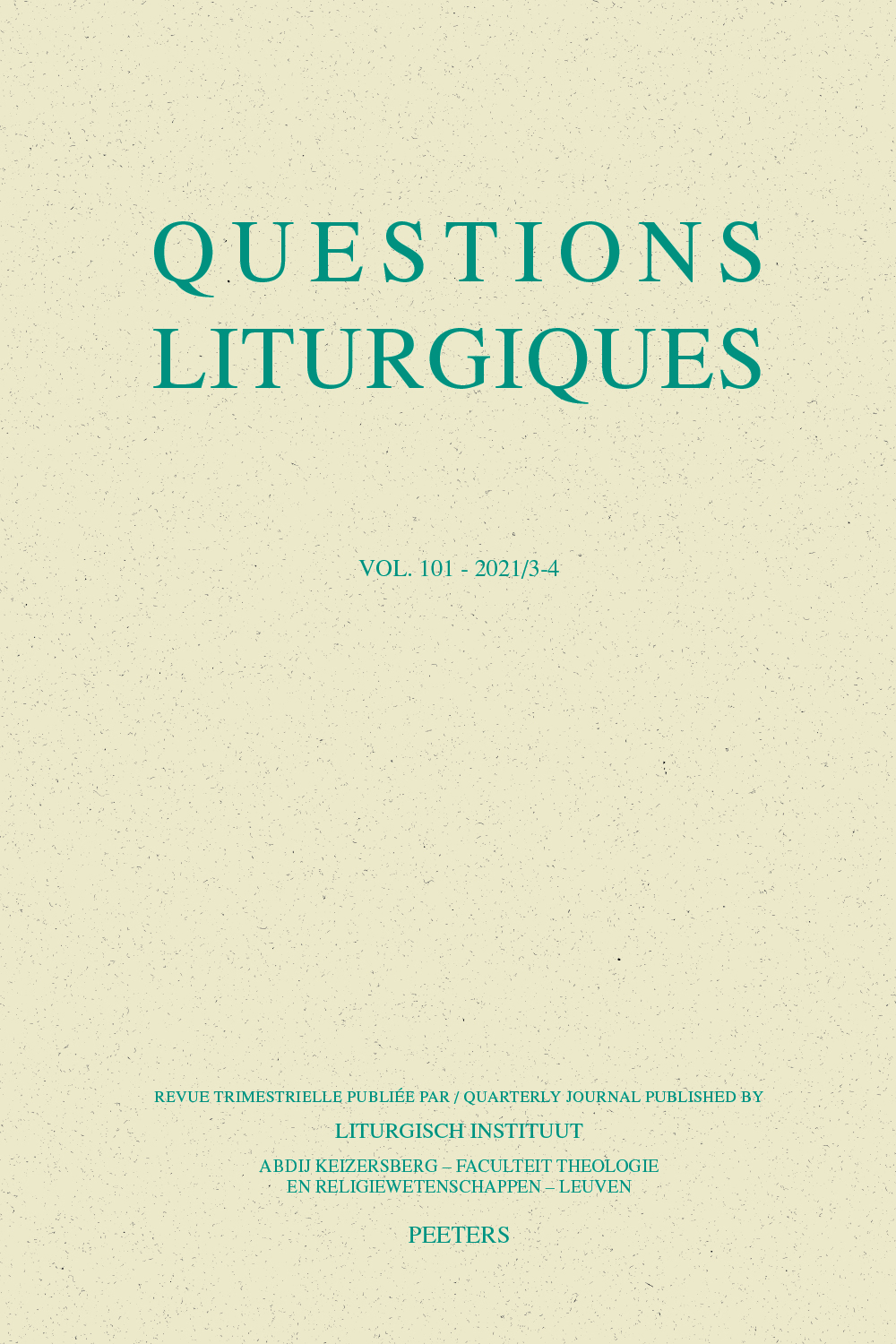 Document Details :

Title: Liturgical Observations on the Second Vatican Council by a Forgotten Catholic
Subtitle: The Old Catholic Observer's Perspective on the Liturgical Develpments at the Second Vatican Council
Author(s): SMIT, Peter-Ben
Journal: Questions Liturgiques/Studies in Liturgy
Volume: 97 Issue: 1-2 Date: 2016
Pages: 84-103
DOI: 10.2143/QL.97.1.3154577

Abstract :
At the Second Vatican Council liturgy proved to be of paramount importance, both for council fathers and observers. This paper explores the observations made by the Old Catholic observer (and his substitutes) at the Second Vatican Council concerning both the liturgical practice and discussions about the renewal of the liturgy. It demonstrates that the three men involved are keen participators in the liturgical life at the council: they seek to relate this life to the direction that the council is taking, both devotionally and ecclesiologically, and they attempt to consider it in relation to the Old Catholic liturgical and ecclesiological tradition, while noting mutual convergence with the ecumenically composed 'liturgical movement'. The paper uses new source material, in particular the personal papers of the primary Old Catholic observer, the Dutch seminary professor Peter J. Maan (1913-1993), rector of St. Gertrud's Cathedral, Utrecht. Comments by his two substitutes, the German professor Werner Küppers (1905-1980) and the Swiss priest Herwig Aldenhoven (1933-2002), are also included into this study.


---

Lors du concile Vatican II la liturgie s'avérait d'une importance souveraine à la fois pour les Pères du concile et les observateurs. Cet article explore les observations consignées par l'observateur vieux-catholique (et ses substituts) au Concile, concernant à la fois la pratique liturgique et les discussions au sujet du renouveau de la liturgie. Il établit que les trois personnes concernées étaient des participants actifs dans la vie liturgique du concile. Ils essaient de conformer cette vie à la direction prise par le Concile, à la fois dévotionnelle et ecclésiologique et ils tentent de la considérer en rapport avec la tradition vieille-catholique, tout en notant une convergence mutuelle avec le mouvement liturgique dans sa direction œcuménique. Cet article utilise des nouvelles sources, en particulier les documents personnels du principal observateur vieux-catholique, le professeur de séminaire néerlandais Peter J. Maan (1913-1993), recteur de la cathédrale Ste Gertrude à Utrecht. Des commentaires par ses deux substituts, le professeur allemand Werner Küppers (1905-1980) et le prêtre suisse Herwig Aldenhoven (1933-2002) sont également inclus dans cette étude.


Download article