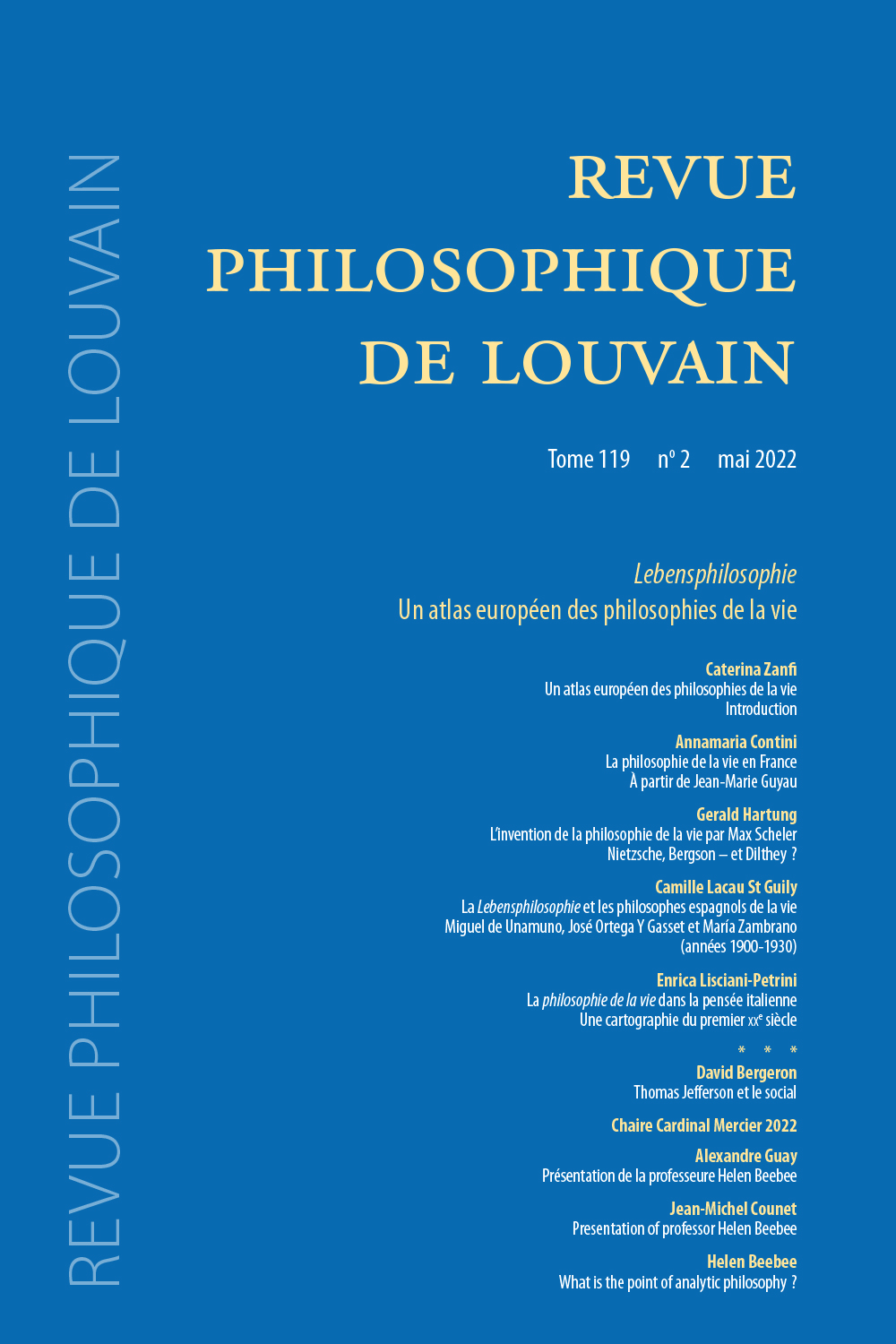 Document Details :

Title: Champ perceptif et hors-champ cinématographique
Author(s): PIGEARD DE GURBERT, Guillaume
Journal: Revue Philosophique de Louvain
Volume: 114 Issue: 1 Date: février 2016
Pages: 25-48
DOI: 10.2143/RPL.114.1.3149615

Abstract :
La phénoménologie a sondé l'unité dynamique du perçu et du perceptible au moyen de la notion de champ qui incarne une spontanéité d'avant la pensée. Jusqu'à Kant, la philosophie avait attribué cette unité du champ perceptif à un acte de l'entendement sans oser remonter ainsi dans le dos de la pensée. Si mon champ perceptif se déploie dans le sens de la succession, le champ d'autrui qui vient le compléter existe, lui, simultanément. C'est à Kant que la phénoménologie est redevable de l'exploration de la perception selon les trois modes du temps que sont la succession, la simultanéité et la permanence. En contestant que l'Autre constitue un simple collaborateur égologique, Levinas rétablit contre Husserl le privilège de la succession sur la simultanéité. Si la notion cinématographique de hors-champ offre à une phénoménologie de la perception un laboratoire d'élection, elle permet encore et surtout d'éprouver la relation à l'Autre comme relation éthique de subordination à l'antérieur, l'Autre étant, comme dit Levinas, le «premier venu». Le cinéma permet de penser un hors-champ de la perception non seulement dynamique, mais discordant.


---

Phenomenology has probed the dynamic unity of the perceived and the perceptible by means of the notion of field, which embodies a spontaneity prior to thought. Up to Kant philosophy had attributed this unity of the perceptive field to an act of the understanding without daring to separate itself from thought. If my perceptive field unfolds in the direction of successiveness, the field of someone else who completes it exists simultaneously. It is to Kant that phenomenology is indebted for the exploration of perception according to the three modes of time, namely succession, simultaneity, and permanence. By contesting that the Other constitutes a simple egological collaborator, Levinas reestablishes against Husserl the privilege of succession over simultaneity. If the cinematographic notion of off-camera offers a phenomenology of perception a choice laboratory, it also and above all makes it possible to experience the relationship to the Other as an ethical relationship of subordination to the prior, the Other being the «firstcomer», as Levinas says. Cinema makes it possible to envisage an off-camera of perfection that is not merely dynamic, but discordant.


Download article