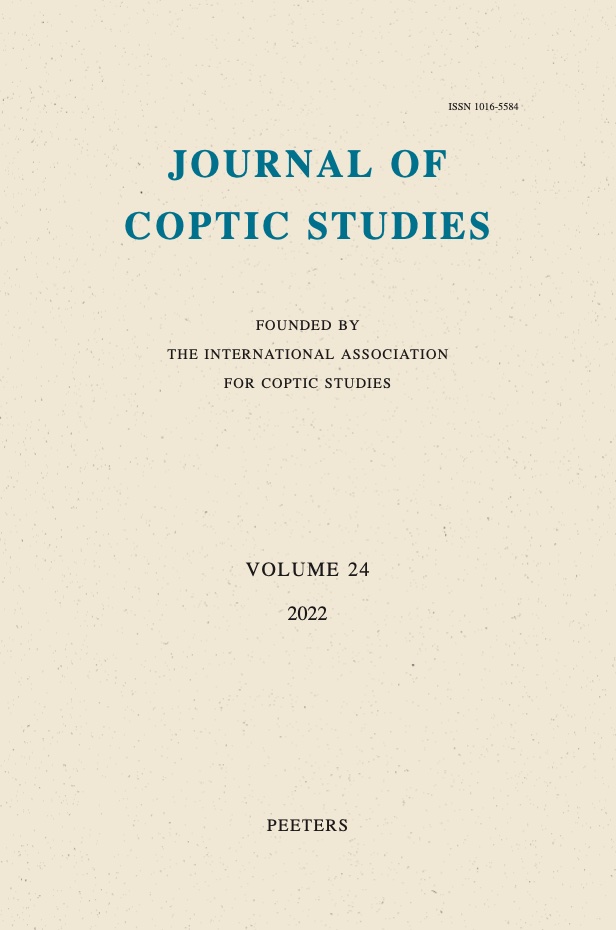 Document Details :

Title: Papyrus coptes de la Pierpont Morgan Library I
Subtitle: Cinq documents du monastère de Baouît
Author(s): DELATTRE, Alain , PILETTE, Perrine , VANTHIEGHEM, Naïm
Journal: Journal of Coptic Studies
Volume: 17 Date: 2015
Pages: 33-53
DOI: 10.2143/JCS.17.0.3132118

Abstract :
This article offers the edition of five Coptic documents from the Pierpont Morgan Library (New York), newly identified as coming from the Monastery of Bawit and dating back to the 7th-8th centuries A.D. Three papyri (numbers 1, 2 and 5 in the article) are being published for the first time. The first one (P. Pierpont Morgan Libr. Inv. M 662B (26a)) belongs to the 'It is the father who writes'-type, well-attested elsewhere, although in this case the formula applies to a receipt rather than an order of payment. The second papyrus (Inv. M 662B (5b)) is a document concerning a delivery of wine, displaying specific lay out and format that suggest a provenance from Bawit. The third one (Inv. M 662B (23b)) is a fragment from a larger register, still keeping forty-six names, probably members of the monastic community. Moreover, the reader will find a new edition of two other Coptic documents (numbers 3 and 4 in the article) the first being (Inv. M 662B (6a) verso) a letter related to a land lease, and the second (Inv. M 662B (6a)recto) a wine account, containing names attested in other Bawit documents.


Download article