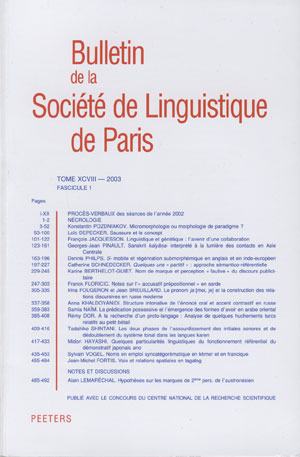 Document Details :

Title: Questions de terminologie institutionnelle sabellique
Subtitle: «Nation», «peuple», «cité» et «ville» en osque, ombrien et sud-picénien
Author(s): HADAS-LEBEL, Jean
Journal: Bulletin de la Société de Linguistique de Paris
Volume: 110 Issue: 1 Date: 2015
Pages: 237-288
DOI: 10.2143/BSL.110.1.3132110

Abstract :
Le latin, on le sait, établit dans sa terminologie institutionnelle une assez subtile distinction entre les notions d'urbs, de cīuitās, de populus et de nōmen. Ces quatre notions entretiennent entre elles des rapports très étroits: l'urbs est en effet le lieu de la cīuitās, qui est la version politique et sédentaire du populus, lequel est en définitive une émanation du nōmen. On pourrait même dire qu'il y a entre ces notions — rangées dans cet ordre — une sorte un continuum sémantique au sein duquel chacune possède un lien métonymique avec sa voisine: urbs avec cīuitās, cīuitās avec populus, populus avec nōmen. Si elle est centrale en latin, cette triple opposition n'existe cependant pas dans toutes les langues. Était-elle connue des langues sabelliques, cousines du latin? Telle est la question qu'il s'agira ici d'élucider. Seront analysés quatre termes capables de correspondre, pour le sens, à l'une ou l'autre des quatre notions susdites: toutā-, okri- (tous deux pan-sabelliques), nōm(e)n- (attesté en osque et en ombrien) ainsi que vereiā- (connu de l'osque seulement), pour lequel nous proposons une nouvelle étymologie.


---

Latin, it is well-known, makes a very subtle distinction, in its institutional terminology, between the notions of urbs, cīuitās, populus and nōmen. These four notions are closely related, since the urbs is the place of the cīuitās, which in turn is the political aspect of the populus, the latter being an emanation of the nōmen. One might even say that between these notions, arranged in this order, there is a kind of semantic continuum in which each one is metonymically linked to the following: urbs to cīuitās, cīuitās to populus, populus to nōmen. This threefold opposition, which is central in Latin, does not exist in every language. Did sabellic languages possess the same threefold distinction as Latin, which was genetically closely related to them? This is the question that the present article seeks to address. Four sabellic terms, likely to render one of the four above mentioned notions, have been considered: toutā-, okri- (both of them pan-sabellic), nōm(e)n- (attested in Oscan and Umbrian) and vereiā- (only known in Oscan), for which we propose a new etymology.


Download article