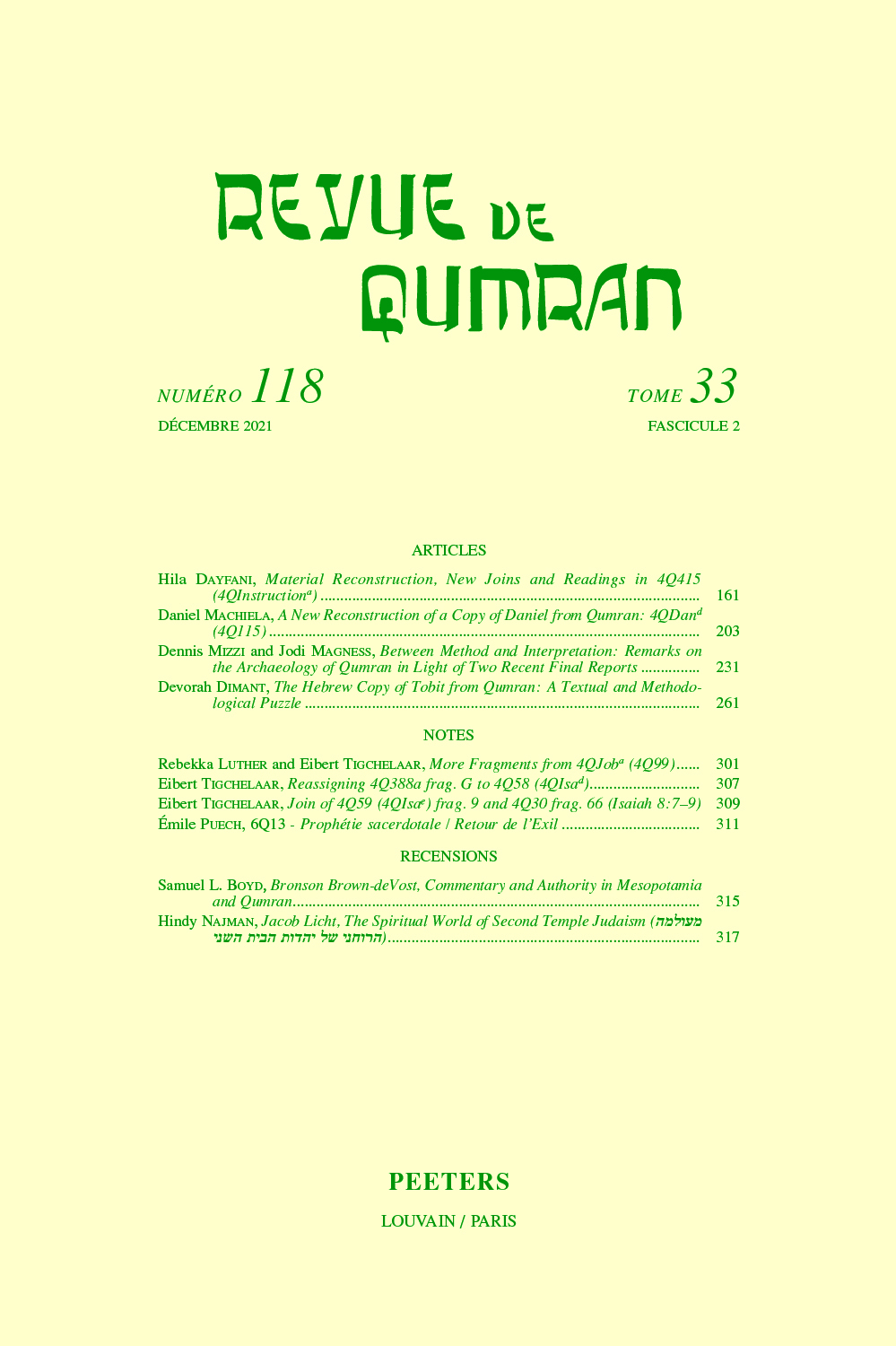 Document Details :

Title: Fiery Sheol in the Dead Sea Scrolls
Author(s): LEE, Lydia
Journal: Revue de Qumran
Volume: 27 Issue: 2 Date: 2015
Pages: 249-270
DOI: 10.2143/RQ.27.2.3127282

Abstract :
This paper highlights that a fiery underworld is attested in several Qumran texts, expressed through the uniquely Hebraic term 'Sheol'. This topic has often gone unnoticed in studies of the Dead Sea Scrolls (DSS). A scholarly consensus has been reached about the existence of a dualistic post-mortem judgment in several DSS, such that people await either reward or punishment after death. As noted by Klawans, however, primary emphasis has been placed on the kinds of reward, whether in the form of physical resurrection or immortality of the soul, envisioned in these texts. There is a general neglect of the DSS's perceptions of the post-mortem punishment. The situation is most recently remedied by Nebe's article entitled 'Scheol in den Schriften vom Toten Meer'. Even though Nebe does summarily notice that one scroll (4Q491 frg. 10 II 17) depicts the fiery judgment of God reaching down to Sheol, he does not observe that several other scrolls from Qumran (1QM XIV 16-18; 4Q491 frgs. 8-10 I 13b-15; 1QHa IV 25-26a; 4Q184 frg. 1 6-11a) begin to associate Sheol with fire even more closely. This paper thus fills the lacuna by elucidating the fiery nature of post-mortem punishments in the Sheol of the DSS.


Download article