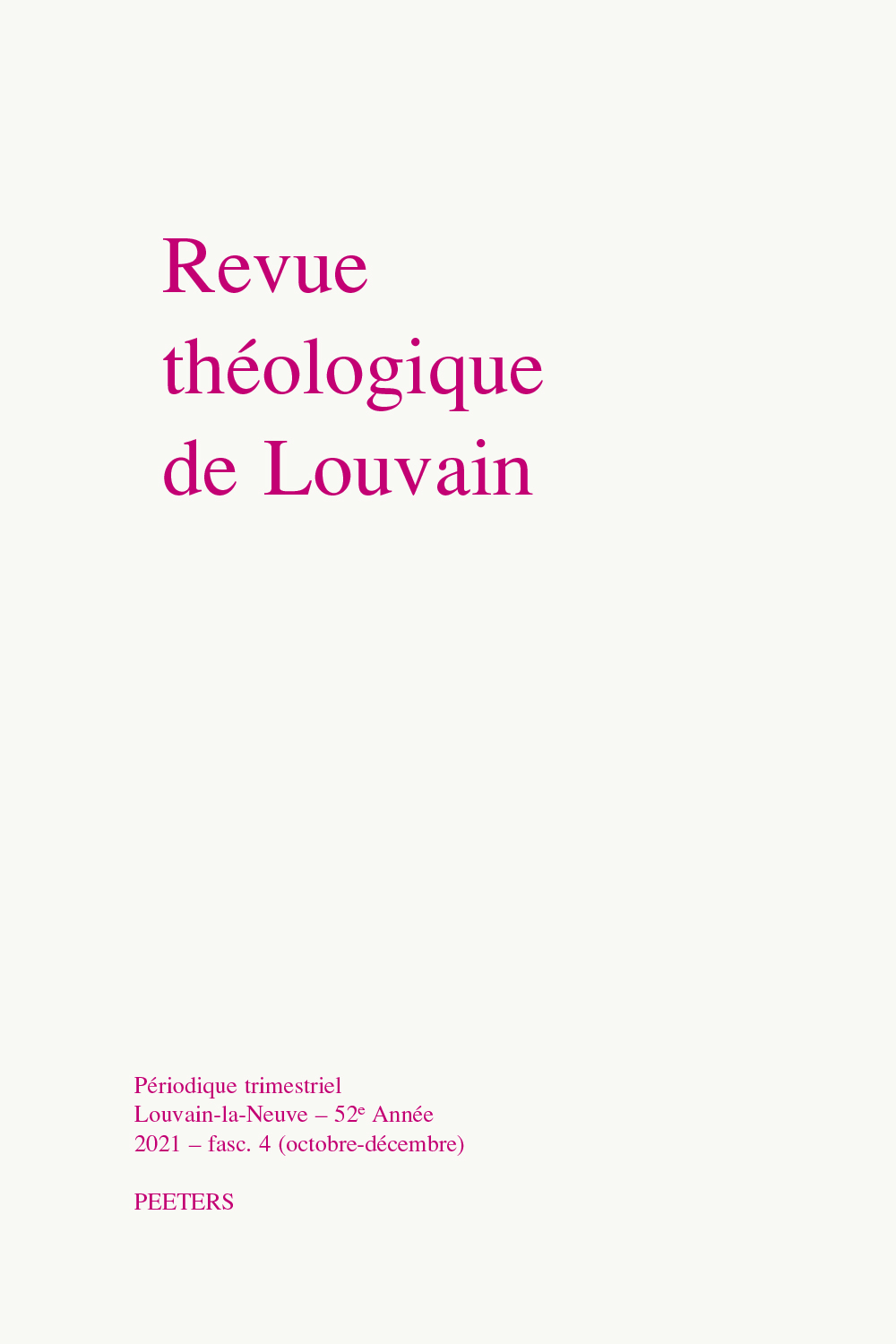 Document Details :

Title: Une théologie à l'école des pauvres
Subtitle: Les nouvelles 'frontières' de la théologie de la libération
Author(s): DE MORI, Geraldo
Journal: Revue Théologique de Louvain
Volume: 46 Issue: 3 Date: 2015
Pages: 369-398
DOI: 10.2143/RTL.46.3.3103640

Abstract :
Née en Amérique latine après Vatican II et l'un des fruits de sa réception dans ce continent marqué par plusieurs régimes d'exception et par une situation historique d'injustice et de pauvreté, la théologie de la libération a produit pendant plus de quarante ans une réflexion et une praxis créative et prophétique, conférant à la foi chrétienne un nouveau sens et une pertinence accrue. Malgré ses vastes contributions à la transformation de la société et de l'Église, cette pensée traverse depuis déjà quelques années une crise profonde. Celle-ci est le résultat des grands changements de la société et de la culture à la même période. Ce texte propose une lecture des principales étapes de ce courant de la pensée chrétienne, en montrant ses riches apports à l'ensemble de la théologie. Il reprend ensuite les principaux débats dans lesquels les théologiens latino-américains sont impliqués aujourd'hui, et qui étaient présents aux discussions du Congrès continental de théologie tenu au Brésil en 2012, lequel répondait à la question suivante: comment la théologie latino-américaine se voit-elle elle-même aujourd'hui? Dans un troisième moment le texte indique les nouvelles «frontières» des sociétés et des Églises chrétiennes en Amérique latine, les défis qu'elles posent à la théologie et les tâches que celle-ci doit assumer pour continuer à offrir aux peuples latino-américains des raisons de croire, d'espérer, d'aimer et de vivre.


---

As a result of the creative reception of Vatican II in Latin America, on a continent particularly marked by harsh regimes and a longstanding situation of injustice and poverty, Liberation Theology produced a way of thinking and a prophetic and creative praxis over more than forty years, giving the Christian faith new meaning and relevance. Despite its contributions to the transformation of the Church and society, this line of thought has experienced a profound crisis over the last few years, as a result of the major changes in society and culture underway. This article takes a closer look at the main stages in this line of Christian thought, showing how they bring valuable contributions to theology as a whole. It then examines the main debates in which Latin American theologians are involved today, particularly those who participated in the discussions of the Continental Congress of Theology held in Brazil in 2012, which addressed the question: How does Latin American Theology see itself today? The third part of the text indicates the new 'frontiers' of the societies and Christian churches in Latin America, and discusses how theology must rise to the challenges they pose if it is to continue to offer to Latin Americans the reasons to believe, to hope, to love and to live.


Download article